News > Spokane
With a donation and a discount, homeless protesters build tent city outside Spokane City Hall
Thu., Nov. 29, 2018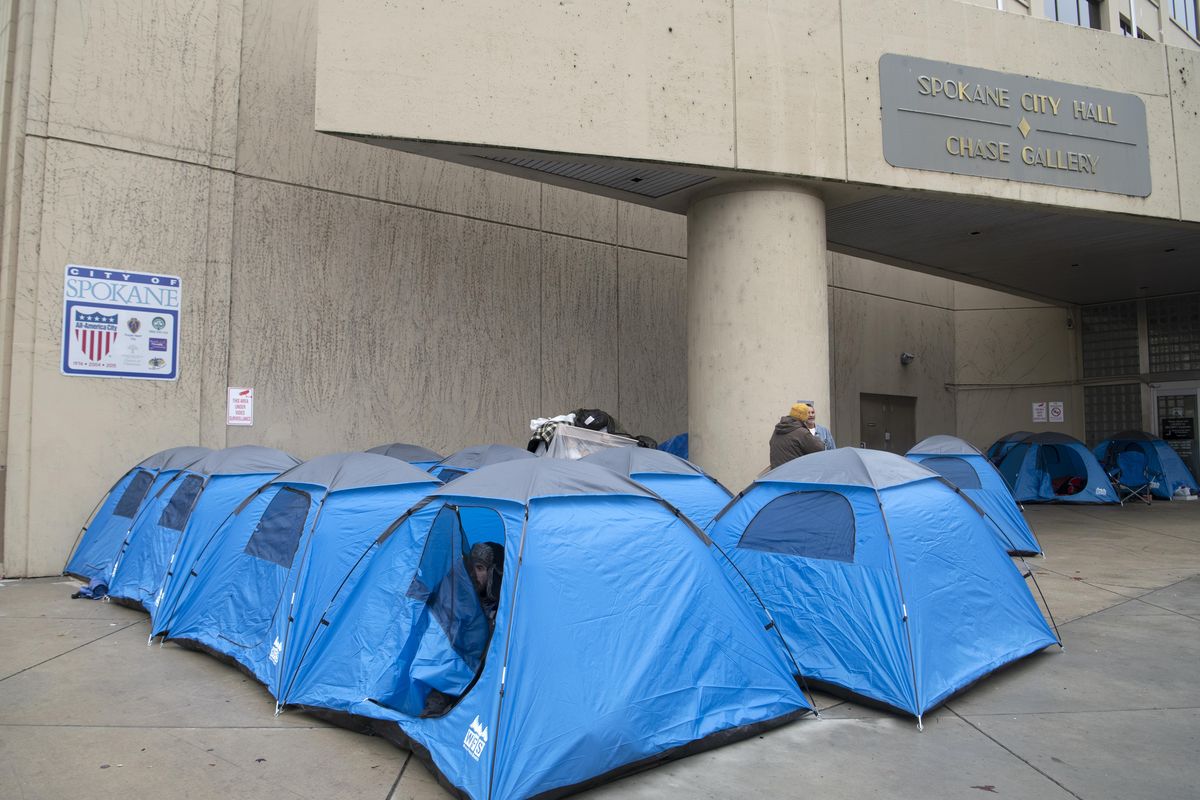 A homeless protest has spawned a tent city at Spokane City Hall Wednesday, on Nov. 28, 2018. A cash donation, and a discount from The General Store, allowed the homeless encampment to buy tents to place in the entryway of City Hall in Spokane. (Jesse Tinsley / The Spokesman-Review)Buy a print of this photo
A $500 donation went a long way to provide some comfort for the dozens of people who have been sleeping outside Spokane City Hall in protest of the city's homelessness policies.
Alfredo LLamedo, who spearheaded the protest with a weeklong hunger strike earlier this month, arrived at the makeshift camp Wednesday morning with 25 blue tents.
As winter sets in and city officials grapple with a shortage of shelter beds, the tents are a necessity for those homeless people striving to make their voices heard, LLamedo said.
"People showed up with tarps, but that wasn't enough," he said. "The water was seeping in. It was getting their sleeping bags wet. It was just horrible."
After putting out a call for donations, LLamedo received $500 from local philanthropists Sharon Smith and Don Barbieri and took the money to the General Store on North Division Street.
"I said, 'I've only got $500, and I really need to maximize this $500,' " LLamedo said.
Dan Gabriel, an assistant general manager at the General Store, gave LLamedo a 50 percent discount on the two-person tents, which usually sell for $40 apiece.
"We tried to give them the best deal we could to help the community," Gabriel said.
About a dozen of the tents were assembled just outside the northeast entrance to City Hall on Wednesday, replacing piles of wet blankets and cardboard that the demonstrators had been using as beds.
In response to the demonstration and LLamedo's hunger strike, the City Council voted on Nov. 19 to suspend the so-called sit-lie ordinance, a controversial law that banned people from sitting or sleeping on downtown sidewalks. A federal appeals court ruled in September that a similar law in Boise violated the constitutional rights of homeless people because there wasn't room for them at local shelters.
"My intent wasn't to die. My intent was to make a point," LLamedo said of his hunger strike, during which he consumed only chicken broth and protein shakes. "It's unfortunate that nowadays it takes something so serious to get somebody to act. But it got them to act."
The City Council is scheduled to take action Thursday afternoon on a contract for additional warming shelters.
Smith, one of the founders of the Smith-Barbieri Progressive Fund, said the $500 was a personal donation from the couple, not from the foundation. She said the sit-lie ordinance is cruel to homeless people, who spend much of their time on their feet, carrying or carting around all their belongings.
"They live a pretty hard existence," Smith said. "To not allow them to sit down and to not allow them to rest, we think it's pretty unconscionable."
Smith said the city should have secured additional shelter space months ago, when Catholic Charities announced that its House of Charity would lose 150 of its 400 beds because of a funding shortfall. The city should also allow public facilities, like the Spokane Convention Center and the Spokane Veterans Memorial Arena, to be used as shelters, she said. Local service providers can't provide enough space without municipal support, she said.
"If they had more capacity and more resources to provide these beds, they'd be doing it already," she said.
City spokeswoman Marlene Feist said the camp outside City Hall would be allowed to remain in place until the city secures additional shelter beds. The city provided the demonstrators with trash bags, and code enforcement officers planned to sweep the area for litter on Monday, but the demonstrators "have done a good job of policing themselves" and have kept the area fairly clean, Feist said.
"As long as that continues, we're going to be fine," she said.
Despite requests from activists and concerns about human waste, the city administration as of Wednesday had not provided a portable toilet or extra garbage cans for the demonstrators. Community members, meanwhile, have stopped by the camp almost daily to donate blankets, sleeping bags, hot coffee, baked goods and more.
"All the help that we've received here has been local," LLamedo said. "People in this city have opened their hearts, their wallets and their minds, most of all, and realized that this is a serious issue that affects all of us."
David Ham, who has been sleeping outside City Hall with his wife, Cynthia, said the tents that arrived on Wednesday were a blessing. She has health problems and uses a motorized wheelchair to get around, and he's grappled with drug addiction.
"Until they stop criminalizing homelessness, we'll be here," he said.
Local journalism is essential.
Give directly to The Spokesman-Review's Northwest Passages community forums series -- which helps to offset the costs of several reporter and editor positions at the newspaper -- by using the easy options below. Gifts processed in this system are not tax deductible, but are predominately used to help meet the local financial requirements needed to receive national matching-grant funds.
Subscribe now to get breaking news alerts in your email inbox
Get breaking news delivered to your inbox as it happens.
---