Sports > Gonzaga women
Gonzaga guard Jessie Loera gives Bulldogs a boost of energy on the court
Nov. 30, 2018 Updated Fri., Nov. 30, 2018 at 11:05 p.m.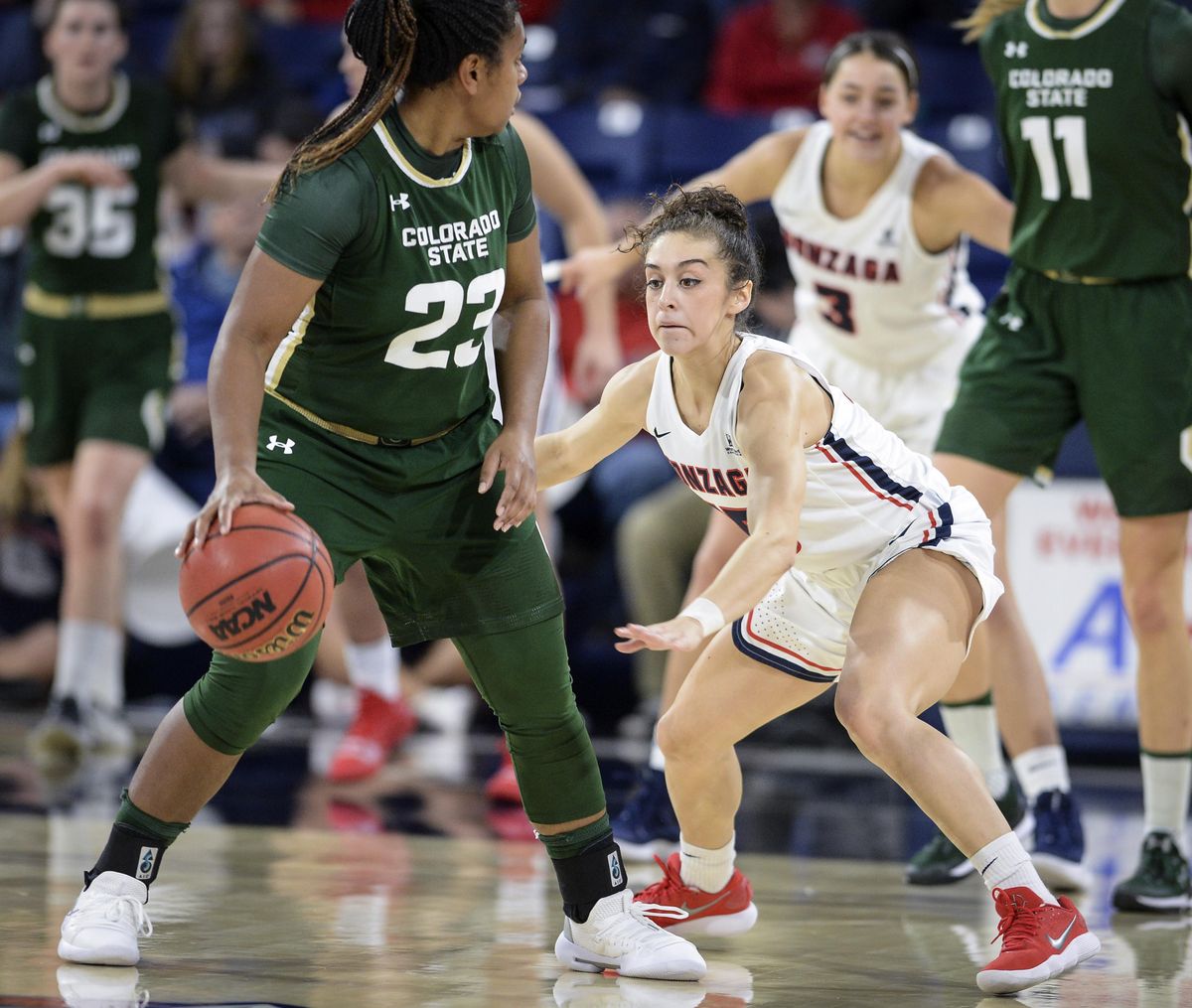 Gonzaga guard Jessie Loera plays tight defense on Colorado State guard Grace Colaivalu, Nov. 28, 2018, in the McCarthey Athletic Center. (Dan Pelle / The Spokesman-Review)
Jessie Loera knows how to bring energy to the basketball court.
Now she's learning when to back off, and that maturity figures to pay off big this year for the Gonzaga women.
"I have tended to have too much energy at moments, but now I feel like I'm bringing the right pace," said Loera, the quickest player on the team and a fan favorite the past two years as a backup to Laura Stockton.
Now they're both starting, fulfilling coach Lisa Fortier's plan to push the pace this year. So far, so good, as GU is 7-1 going into Sunday's home game against Stanford.
Turning up the tempo has also turned up the heat on opponents, who are turning over the ball almost 18 times a game. Most of those are the product of 74 steals, which are setting up the Bulldogs on the other end of the court.
"It's a lot of fun, this style of play," said Loera, who averages 5.3 points and three assists in 25 minutes.
The whole point is to bring the fun, something the Loera family of Moses Lake has been doing since Jessie's mother played at Oregon in the early 1980s.
The former Lori Carver helped the Ducks win a pair of Pac-10 North Division titles before settling in Moses Lake with husband Javier.
Their four children weren't pushed into sports but embraced them just the same. Josh played football at Big Bend Community College, Jordan at Oregon and Jessie's younger sister Jamie is a basketball commit to Arizona State.
"My mom is full of energy and life, and pushes us in a good way," Loera said.
"My parents loved to put us in every sport, to see what we liked."
Softball, gymnastics, soccer and basketball … Loera loved them all and played them at a high level, but tough choices had to be made as she excelled on the court.
She stuck with soccer into her senior year at Moses Lake High School, but basketball was always No. 1 – even when Loera wasn't on the court.
When older sister Jordan played at Oregon for former GU coach Kelly Graves, weekends meant road trips to Eugene. That meant bonding time with dad and mom – "She loved to show us around the gym where she played," Loera said – and a glimpse of her own future in Division I basketball.
"My parents were so dedicated to watch us play, and I also looked up to my sister and older brother," said Loera, who also found the time to catch a few GU games in Spokane.
Her favorite: a quadruple-overtime win over San Francisco in February 2015 under Fortier.
"The crowd, the atmosphere, that was something I'd never seen before," Loera said.
The recruiting game was short and sweet for the dynamic, 5-foot-6 point guard, a first-team all-state selection by the Seattle Times and (Tacoma) News-Tribune.
Washington and Washington State offered full rides and Loera considered playing for Army, but GU offered a winning tradition, big crowds at the Kennel and a short trip for the family back home.
On top of that, Loera embraced the idea of smaller classes and one-on-one attention from professors.
"I could tell it was going to be a great fit," said Loera, who's planning on a career in special education.
Loera fit in right away on the court as a true freshman in 2016-17, appearing in 30 games and seeing double-digit minutes while backing up Stockton at the point.
Last year she played in all 33 games – starting seven while Stockton was injured – and finished second in the West Coast Conference with a 2.2 assist-to-turnover ratio. Loera also averaged 6.2 points to help GU win WCC regular-season and tournament titles for the second straight year.
"She's got a motor and she's super quick, and that takes a lot of pressure off me," Stockton said.
"She's always go, go, go, and a pest on defense."
Loera's defense is better thanks to two years watching Emma Stach shut down the opponents' leading scorer. That demands the right kind of energy, and Loera is happy to bring it.
The Zags did it again Wednesday night, forcing 18 turnovers in a 50-39 win over Colorado State.
"I love it when we're picking up the pace," Loera said.
Local journalism is essential.
Give directly to The Spokesman-Review's Northwest Passages community forums series -- which helps to offset the costs of several reporter and editor positions at the newspaper -- by using the easy options below. Gifts processed in this system are not tax deductible, but are predominately used to help meet the local financial requirements needed to receive national matching-grant funds.
Subscribe to the sports newsletter
Get the day's top sports headlines and breaking news delivered to your inbox by subscribing here.
---