News > Crime/Public Safety
Here's how to keep your Christmas packages from getting stolen this year
Nov. 30, 2018 Updated Fri., Nov. 30, 2018 at 7:05 a.m.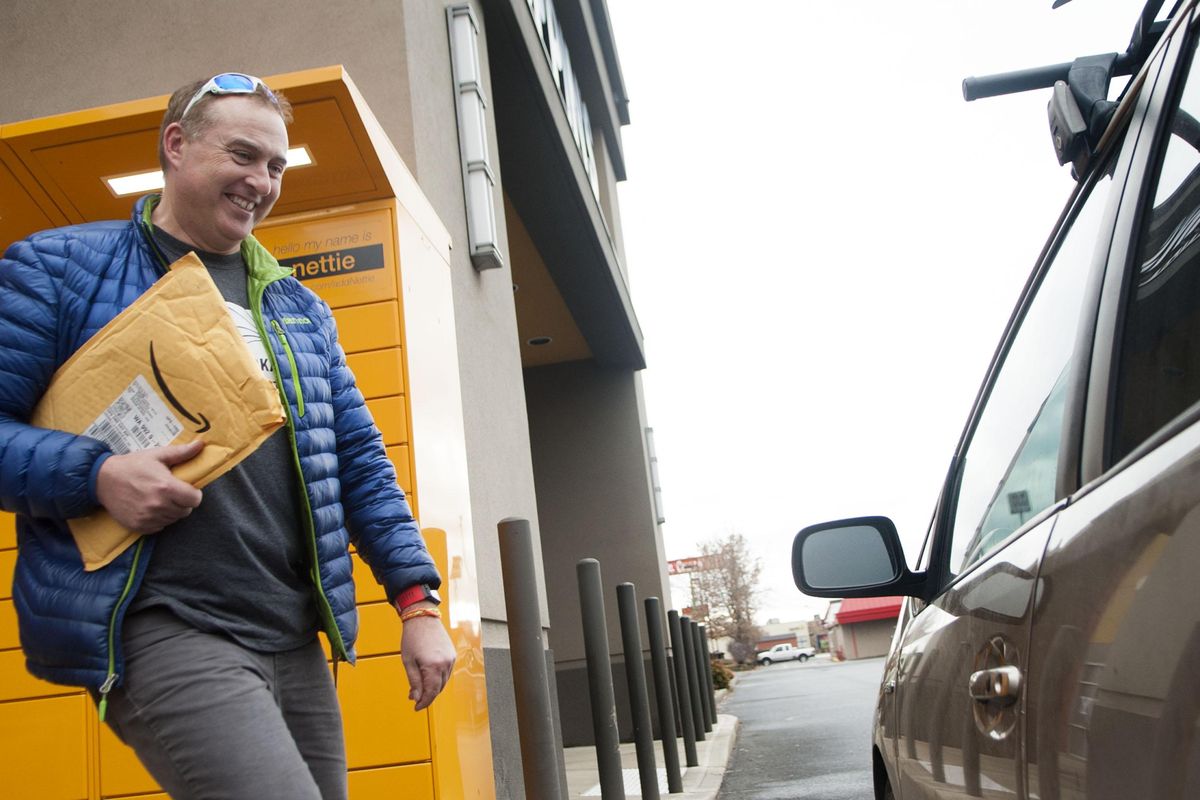 Brian Comstock, of Mead, gets a package from an Amazon Locker at Huppin's on Wednesday, Nov. 28, 2018, in Spokane. Customers can ship packages there instead of getting them delivered to their homes. (Kathy Plonka / The Spokesman-Review)Buy a print of this photo
Mindy Simonson remembers watching a video of a thief from her front-door camera.
Dressed in everyday clothing, a person she's never seen walked up to her front door and wedged a Victoria's Secret perfume card into the frame, "probably trying to make it look like she was leaving a note," Simonson said.
Then the thief grabbed a package meant for her on her doorstep and left.
"The package was delivered, and within 30 minutes it was stolen," Simonson said. "I couldn't believe people have the indecency to do that crap in broad daylight."
That was in August, when Simonson lost two Polly Pockets for her daughter's birthday gift, worth about $25, she said. She reported the theft but never heard if the woman was caught.
With the holiday season, more package deliveries go hand-in-hand with more package thefts, and police are advising people to be more careful.
John O'Brien, spokesman for the Spokane Police Department, said the holidays are a peak time for package thieves.
"I can definitely say we see an increase in theft reports from packages," he said.
Last year, there were 76 mail thefts reported across Spokane County during December, according to police records. Over the course of the year, the total reached 492 theft reports. That total tracks fairly closely with the previous four years: There were 444 reported package thefts in 2013; 505 in 2014; 391 in 2015; and 487 in 2016.
O'Brien said a common practice for package thieves is to drive or walk up and down streets looking for an opportunity, so keeping packages out of sight is important.
Amazon, UPS and the United States Post Office have mobile apps or websites that show where your package is and when it is delivered, and asking a neighbor to pick up your package can lower the risk.
One way to prevent theft is to ship a package to a secure retailer that will hold it for you. In Spokane, one option is University Mercantile, at 1514 E. Sprague Ave. The charge is $1.95.
Another option is the Amazon Locker. There is one in Spokane, located at the entrance of Huppin's Electronics, 8016 N. Division St.
Brian Comstock drove from Mead to pick up a package at the Amazon Locker on Wednesday. He entered a code into a screen attached to the yellow wall of lockers. A door popped open, allowing him to collect the package inside. He said he's been using the locker for about four years because he wants to avoid theft.
"With all the package thefts we see on the news, we want to use (the Amazon Locker) as much as we can," he said. "We're just being proactive on not giving thieves an opportunity."
Comstock said he hasn't had any packages stolen from his house, but he has friends who have.
"It would be nice if Amazon could put in a couple more," he said.
During checkout from Amazon.com, there's an option to get the package delivered to the locker, for free, with some exceptions, including size.
Another way to prevent theft is to buy or build a lock box to put outside the front door. Companies such as Landport make lock boxes specifically for package safety, and locks allow deliverymen to easily use them.
"It's full all the time," said Chris Del Pizzo, Huppin's store manager. "I see cars pulling up to it every day."
Comstock said he also installed a camera near his house's front door so he can see when other packages are delivered, which enables him to call a neighbor to grab it and keep it safe.
A security camera, such as a "Nest" Camera, is a common way to catch thieves stealing packages from doors.
Package thefts can be reported to Spokane police by calling Crime Check at (509) 456-2233.
Local journalism is essential.
Give directly to The Spokesman-Review's Northwest Passages community forums series -- which helps to offset the costs of several reporter and editor positions at the newspaper -- by using the easy options below. Gifts processed in this system are not tax deductible, but are predominately used to help meet the local financial requirements needed to receive national matching-grant funds.
Subscribe now to get breaking news alerts in your email inbox
Get breaking news delivered to your inbox as it happens.
---