News > Business
These 5 Spokane-area business startups won up to $50,000 from Mind to Market
UPDATED: Fri., Nov. 30, 2018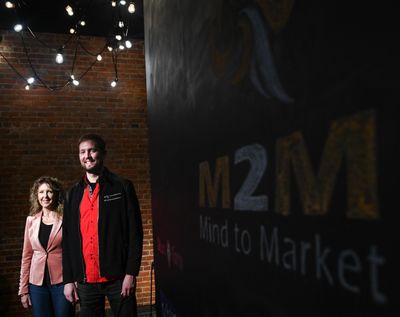 Spokane-area investors launched a new fund this year to help Inland Northwest companies with early stage equity funding.
Mind to Market LLC has made its first awards to five companies, providing a total of $200,000 in funding.
The fund addresses a need among local entrepreneurs for "little bits of money" early in the development of their companies, said Megan Hulsey, program manager for Startup Spokane.
Sometimes entrepreneurs need money to make product prototypes to show to prospective clients.
"They have these great ideas," Hulsey said. "This helps get them to the prototype, to see if the product is viable in the market."
Mind to Market helps address a shortage of very early round funding in the area, said Mark Gustafson, the fund's managing partner and a manager of business development at Avista Corp.
In bigger markets – such as Seattle or the Silicon Valley – budding entrepreneurs can sometimes tap family or friends for $10,000 or $20,000 in initial funding. But fewer of those resources are available for startups in the Spokane area, Gustafson said.
"These are people who aren't taking a salary," he said of the entrepreneurs. "They are sacrificing quite a bit. They are leaving their day jobs and choosing to create jobs."
The startup companies make their pitches to Mind to Market after a two-week workshop with an assigned entrepreneur in residence. To date, about 1 in 4 companies have received funds.
WildRide, which was founded by three Gonzaga University students, is among the first five startups to receive funding. The award was $50,000.
The company's mobile app was created to encourage people to try new bars and restaurants. Chloe Sabo, WildRide's founder and chief executive officer, said the funding will help further develop the app and support marketing into other new markets, including Seattle, Portland and Denver.
Medicurity also received $50,000 from the fund. The local technology startup helps health care organizations reduce the administrative burden of complying with federal privacy laws.
Other startups to receive awards are:
Perpetua Inc., which developed a nonrotary fan that can be used in harsh environments. One of the fan's uses is in LED lighting in greenhouses, where heat and humidity typically shorten the lifespan of fans, company founder Tim Lucas said. The company received $50,000.
Vivihue, a facial media platform that allows users to paint their faces with special effects. The system allows phone cameras to put advertising on the user's face. Vivihue received $30,000.
Share.Farm is a mobile app that connects users to local growers and locally produced artisan foods. The company received $20,000.
Mind to Market launched with $825,000 and a goal of supporting up to 15 companies during an 18-month pilot. The fund's investors include Avista Corp. and Cowles Co., which owns The Spokesman-Review.
If it's successful, a Mind to Market 2 fund could be launched in the future, Gustafson said.
In addition to the funding, the startup companies receive mentoring and other business help from Startup Spokane, a program of Greater Spokane Incorporated, and CoMotion Labs, a business incubator program run through the University of Washington. Neither Startup Spokane nor CoMotion are fund investors.
Local journalism is essential.
Give directly to The Spokesman-Review's Northwest Passages community forums series -- which helps to offset the costs of several reporter and editor positions at the newspaper -- by using the easy options below. Gifts processed in this system are not tax deductible, but are predominately used to help meet the local financial requirements needed to receive national matching-grant funds.
Subscribe to the Coronavirus newsletter
Get the day's latest Coronavirus news delivered to your inbox by subscribing to our newsletter.
---