News > Education
Spokane Public Schools look to $495.3 million bond to rebuild 3 mid-century middle schools
Oct. 1, 2018 Updated Wed., Oct. 3, 2018 at 8:46 a.m.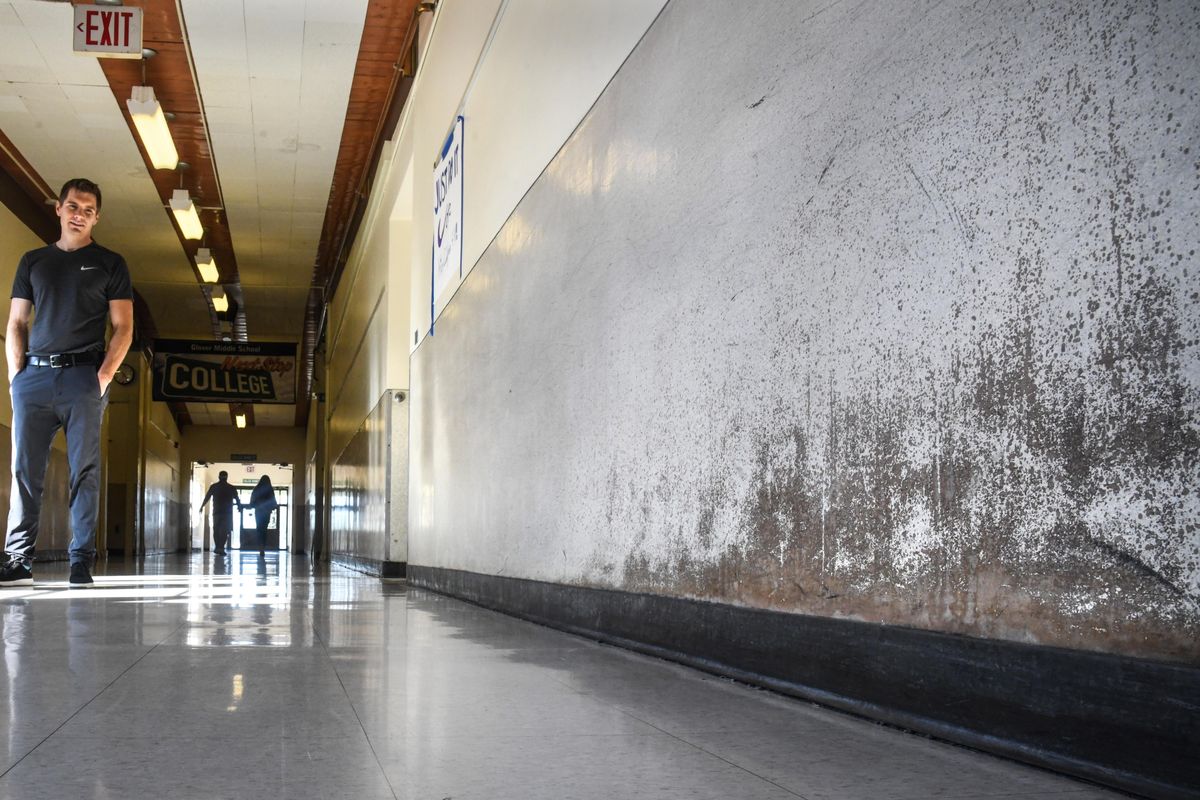 Glover Middle School Principal Mark Lund views the damaged hallway coverings that are not fixable because of asbestos issues. (Dan Pelle / DAN PELLE/The Spokesman-Review)Buy a print of this photo
Welcome to Glover Middle School, where the principal doesn't wear a button-down shirt because his office is too warm, where students recently went five days without hot water and where asbestos lurks behind every wall.
"You'd better step away from there," joked teacher Danial Witkowski, who teaches robotics in a classroom that dates from when the school opened in 1959.
"But seriously, there's a lot of things that can't be fixed because of the asbestos," Witkowski said.
To walk into Glover Middle School is to enter another era, when students performed Cold War drills and took typing classes.
The school hasn't aged well. And neither have two other middle schools built in the same cookie-cutter mold, Shaw and Sacajawea.
All will be replaced if Spokane voters approve the $495 million bond on the Nov. 6 ballot.
Along with three new middle schools, the replacement buildings would complete Spokane Public Schools' dual goals of easing overcrowded classes for kindergarten through third grade by moving sixth-graders into those new buildings.
In other words, the new buildings would offer a transformative experience for roughly one-third of the nearly 30,000 students in Spokane Public Schools: the youngest would thrive in smaller classrooms, while sixth-graders are more likely to do the same in a three-year setting, according to school administrators.
Citing national studies, district leaders believe that a three-year middle-school model would be a major improvement over the current system.
"The six-through-eight model provides an opportunity to have a wider range of elective experiences and extra support," said Adam Swinyard, the district's chief academic officer.
Besides better access to electives, the larger middle school also would offer basic instruction that's better tailored to individual needs.
The move is a response to feedback gained last year by a district grade configuration committee. Faced with the prospect of building five new elementary schools to alleviate overcrowding, it received input from more than 3,700 people on three major configurations:
The first included elementary schools for kindergarten through fifth grade, middle schools for students in the sixth through eighth grades, and high school for grades nine through 12.

The second configuration was schools for students in kindergarten through the eighth grade, and then high schools for grades nine through 12.

The third was to maintain the current model of kindergarten through sixth grade, then middle school for seventh and eighth grade, and then high school for grades nine through 12.
By an overwhelming margin – 91 percent – respondents favored the first option, which also is used by about two-thirds of school districts in the United States.
The model rose to prominence in the 1970s. Besides the curriculum advantages, educators cite the fact that because of better nutrition and socioeconomic conditions, today's youngsters reach adolescence earlier.
They also believe that a three-year middle school would enhance some students' sense of belonging. Others would get a fresh start a year earlier than before, shedding old labels, making new friends and being introduced to different teaching styles.
Following the Spokane survey, planning began for new middle-school sites and a critical examination of sixth grade.
Already the district is overseeing a teacher-parent committee that Swinyard says is "developing principles for what the experience should be like for sixth-graders."
In November, panel members will hold forums in middle schools to explain the changes.
"The purpose is to make sure we have an intentional process, to prepare families and staff and give an opportunity to folks to weigh in," Swinyard said.
At the same time, voters will be weighing in on the bond, which will allocate roughly $60 million for each middle school. That's $360 million, or almost three-quarters of the entire bond.
It would be money well-spent, argues Lund, who keeps close tabs on Glover's feeder elementary schools.
"All the feedback is that the sixth-graders are really ready to move up," Lund said. "At the elementary level it's harder to get electives – the kids are really excited to get into woodshop, choir and band."
A new middle school "would bring a different set of opportunities, but it also helps students develop social skills," Lund said.
In the meantime, Lund and his staff are trying to deliver a quality education to Glover's 503 seventh- and eighth-graders.
Lund points proudly to test scores showing that last year's seventh-graders have gained two years' worth of math proficiency in one year.
"We're building a track record here," said Lund. Those students will move on to high school at Shadle Park or North Central.
But it could be so much better. The HVAC system is unreliable and costly to operate. And like Shaw and Sacajawea, there's no air-conditioning at Glover.
Even in late September, the late-morning sun makes Lund's office barely habitable, so he wears a short-sleeved, open-collared shirt.
"The temperature is the No. 1 thing," said Lund, who said he notices the mental fatigue at the beginning and end of the school year.
Every classroom has a second, exterior door in case of fire. In recent years, those fears have been trumped by security issues. Single-point entry means those doors stay closed, even on the warmest May afternoon.
"We have all these doors that we can't open," Lund said.
However, Lund is full of energy and optimism even as he gazes at the warped gym floor and the ancient heating system.
"Our kids and staff don't walk around complaining," he said. "But it would be exciting to welcome our West Central community with a new middle school.
"We want to make sure that all our kids have a chance for opportunity and growth," Lund said.
Local journalism is essential.
Give directly to The Spokesman-Review's Northwest Passages community forums series -- which helps to offset the costs of several reporter and editor positions at the newspaper -- by using the easy options below. Gifts processed in this system are not tax deductible, but are predominately used to help meet the local financial requirements needed to receive national matching-grant funds.
Subscribe now to get breaking news alerts in your email inbox
Get breaking news delivered to your inbox as it happens.
---