News > Spokane
What's new in the housing market? Public gets a primer at 14th annual Fall Festival of Homes
Mon., Oct. 1, 2018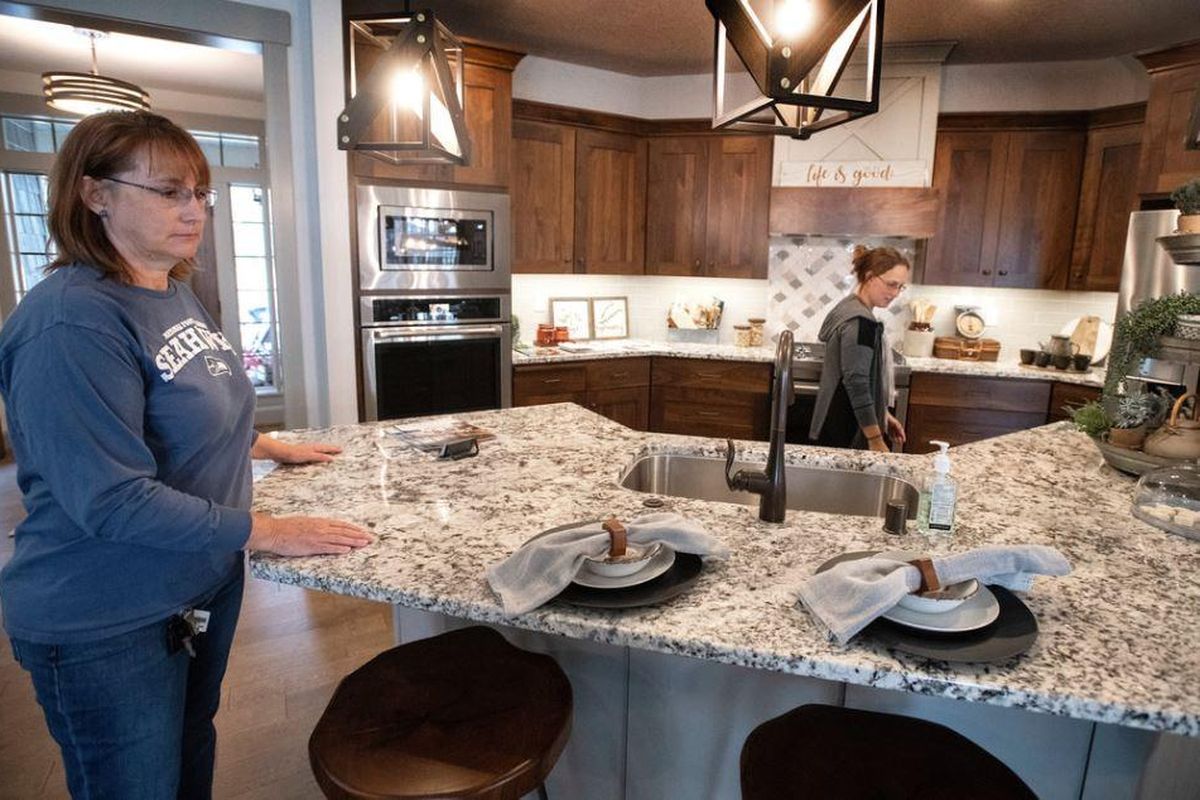 During the 14th annual Fall Festival of Homes tour, Mary Wier, on left, and her daughter Erika O'Callaghan check out a high-end kitchen in the Paras Homes Huntington model in Eagle Ridge on Sunday, Sept. 30, 2018. The festival is a showcase of new home construction, and features 30 houses this year.The show will continue next weekend. (Colin Mulvaney / SR)
After removing their shoes and donning a pair of wrinkled industrial bootees, most prospective homebuyers walking into the modern, contemporary structure perched atop a hill on the 5-Mile Prairie are struck by the view.
One of the most expensive of the 30 buildings featured in the Spokane Home Builders Association Fall Festival of Homes show, the 5-Mile Prairie home is listed at $975,000, but the Realtor showing the property, Jody Lee, said if it goes on the market, it will likely sell for between $1.1 to $1.3 million due to builder Josh Adkins' additional improvements.
The six-bedroom, five-bathroom house on the hill includes a two-door garage, an open kitchen with quartz countertops and LED-lighted stove. Most of the house is painted and carpeted in slick shades of gray, accented by dark-wood shade flooring.
With housing prices on the rise and new developments planned for areas like the Indian Trail neighborhood and the proposed South Hill Garden District, the festival was a chance for the public to see not only the kinds of properties under development, but also the latest in housing design.
Many of the guests who filtered through during the Festival of Homes on Sunday weren't looking to buy, but instead searching for inspiration, examples and local builders to someday complete their own dream homes.
Lee said the house might not sell because Adkins purchased the property for the view and built it to his own specifications as his personal residence. Adkins himself is still unsure if he'd choose to sell at all. However, as the city courts an influx of home buyers from places like Seattle and California – places where similar, modern design styles are more commonplace – an offer could emerge in the future.
Sue Hartman, who spent Sunday touring houses around Spokane and Spokane Valley with her husband Rex, said they came across two ideas to solve design issues in their own home while taking the tour. She said their house, a 1910 Craftsman bungalow, was built before modern garages or wash machines were needed, and they often go to house shows to see how other homeowners solve their versions of those issues.
Mark and Becky Scheel, who were also on the tour, said they were looking to downsize to a smaller home, but probably wouldn't purchase anything for about five years. The couple, who are retired, said they do enjoy some aspects of modern design, but are looking for something that will stay in vogue for years, instead of following trends, which can go out of fashion quickly.
"We've lived long enough to see how things have changed over the decades," she said. "So we kind of like to keep a style that's kind of in the middle."
Most of the houses on the tour were closer to the Scheels' price range, between $190,000 and $600,000, and featured more contemporary design.
Across town in the Eagle Ridge neighborhood, most of the homes were priced between $450,000 and $650,000. One of the builders in the Eagle Ridge complex, Western Homes owner Phil Folyer, said that a few years ago, brown and wood finishes were on trend, but now most of the houses he builds are painted, carpeted and decorated in shades of gray.
"Five years from now, it could be something completely different," he said. "It all comes down to what people are looking for and what's the latest and greatest in design."
Joan Cramer and her son Cameron Triplett, who toured both the Eagle Ridge neighborhood and the 5-Mile-Prairie home, said participating in the Fall Festival of Homes tour is an annual family tradition. Cramer said they weren't shopping for homes, but use the tour to find ideas and look at buildings that are interesting and very different from her own.
Cramer said she is also a big fan of HGTV and participating in home tours is a way to see some of the ideas she sees on TV constructed in real life.
Sue Hartman said the Spokane Builders Association show is one of several her and her husband participate in. They usually prefer to tour homes similar in age and style to their own, she said, but they also like to explore houses that aren't in their normal taste or price range.
"It's like winning a lottery ticket," she said. "What would you do with a million dollars?"
The Spokane Home Builders Association Fall Festival of Homes event is a two-weekend show, with home tours also open from 10 a.m. to 5 p.m. Oct. 5 - 7. The map of homes can be accessed through the event website or app.
Local journalism is essential.
Give directly to The Spokesman-Review's Northwest Passages community forums series -- which helps to offset the costs of several reporter and editor positions at the newspaper -- by using the easy options below. Gifts processed in this system are not tax deductible, but are predominately used to help meet the local financial requirements needed to receive national matching-grant funds.
Subscribe now to get breaking news alerts in your email inbox
Get breaking news delivered to your inbox as it happens.
---