A&E > TV
In-the-box thinking: Spokane couple pitches flame-resistant, fold-able Bear Bowls on season premiere of 'Shark Tank'
Oct. 2, 2018 Updated Mon., Oct. 8, 2018 at 12:03 p.m.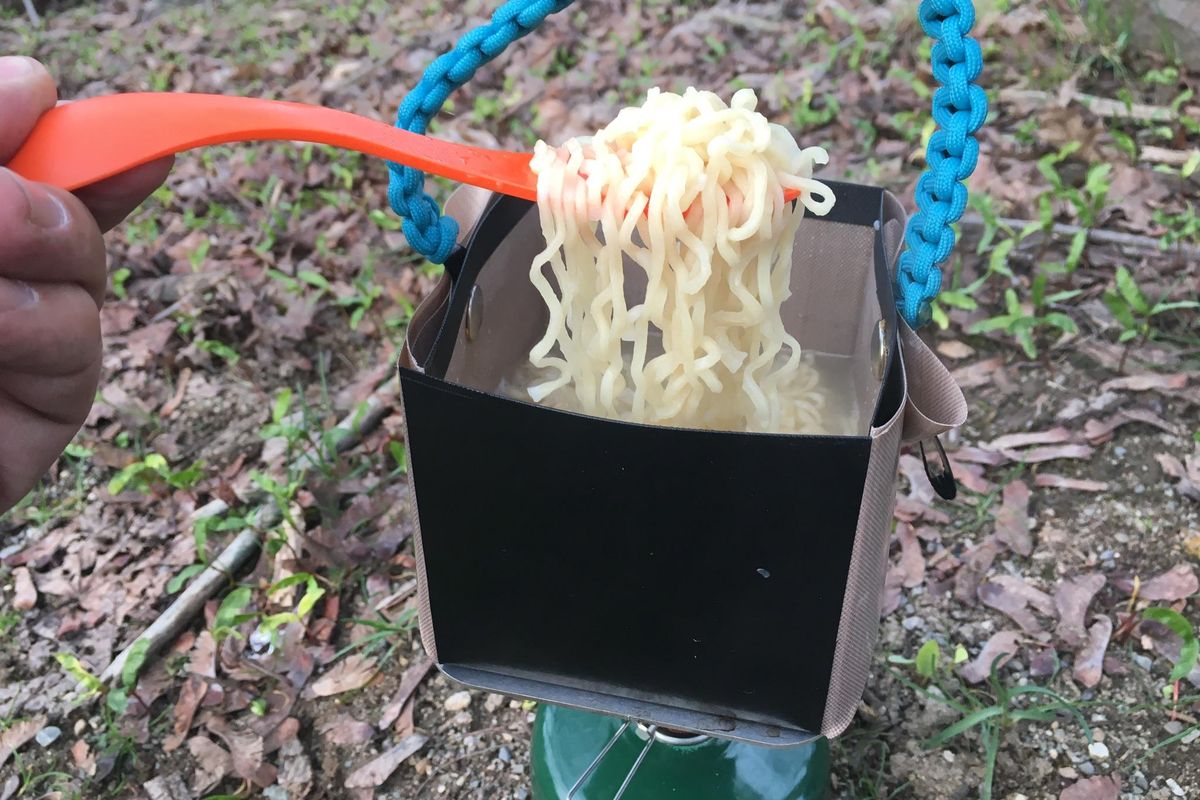 Cory Santiago demonstrates how to cook noodles using one of his Bear Bowls. (Courtesy of Bear Minimum)
They're flame-resistant and fold-able, and they fit in your pocket. And they were created right here in Spokane.
Sunday, Cory and Heidi Santiago of Spokane will pitch their product – square camping cook pots called Bear Bowls – on the season premiere of "Shark Tank." The start of the 10th season airs at 10 p.m. on ABC and marks the 200th episode of Emmy-winning show on which self-made tycoons search for their next business deals.
The Santiagos, the husband-and-wife owners of Bear Minimum, the company behind the camping cook pots that double as bowls, won't say how they fared on the show, which was filmed back in June. But, they did spend most of the weekend making Bear Bowls just in case their first shipment from China doesn't arrive on time.
"We've been working on a shoestring budget," Heidi Santiago said. "We do Bear Bowl parties."
They've made about 3,000 Bear Bowls so far, working largely out of their South Hill living room. They were hoping to have another 1,000 completed by Sunday.
Their first China shipment is expected to arrive anywhere between Saturday and Tuesday, right around the time they're expecting "a huge spike" in orders, Cory Santiago said. "Because we're cutting it so close, we brought in more materials to fill the gap ourselves."
An avid outdoorsman and the inventor of the Bear Bowl, Cory Santiago, 47, began working on creating a compact pot for camping because "I like cool gear – cool gear for camping, cool gear for survival. I'm not a zombie apocalypse person."
But, he said, "I want to be prepared for whatever."
Bear Bowls are made from a sheet of flame-resistant, food-grade, coated fiberglass that's anchored to an aluminum base. The entire bowl folds down into the size and shape of a wallet.
"It does look like a wallet," Cory Santiago said. "But most wallets you can't cook food in."
Bear Bowls can also double as baskets for berry-picking or as a portable dog dish. They come in three sizes: Baby, Mama and Papa. Mama has twice the capacity as Baby, and Papa has twice the capacity as Mama.
The Bear Bones option, a little lighter and a little less expensive, comes without paracord, lightweight nylon rope used on parachutes. It's the same size as Baby Bear.
"The ultra-light backpackers, they like that," Cory Santiago said. "Some of the bush-craft people, they like it, too."
Bear Bowls are designed to be used on butane backpacking stoves.
Most come with 12 feet of paracord that's braided around the cook pot's handle. The cord is decorative as well as functional. It holds up to 550 pounds and includes seven inner strands that can be used in emergencies as fishing line, shoelaces, snares or thread for sewing or mending.
On their back deck on Friday, Cory Santiago and his son Jordan were measuring 12 feet of eight strands of paracord at a time. They were using their arms – both have a 6-foot "wingspan" – then cutting the ropes with an electric hot knife, taking care to ensure the ends didn't stick together.
"It's been really cool to see how hard my parents can work," Jordan, 16, said.
His mom was sitting at the kitchen table, using a dowel to roll eight creases into coated fiberglass sheet.
"Your hands start to hurt," she said.
"It builds character," her husband said.
He has a background in manufacturing. He's managed a small food processing business as well as worked at a local custom manufacturer.
He got the idea for a fire-resistant, fold-able cook pot years ago but didn't really get going on product development until late in 2014. That's when he found the coated fiberglass material and started making a prototype. He worked on his invention at the kitchen table and counter tops in the kitchen and bathroom.
"My first iteration didn't have a metal plate, and they would burn up after four or five times," he said. "So I went back to the drawing board and added the metal plate. I developed it for probably a good nine months. I wanted something that would collapse on itself and become its smallest section. I didn't want it to be disposable. I know it's not an heirloom product. You're not going to pass it down to your kids. But it's also not a disposable, one-camping- trip-and-you-toss-it item. It's functional. And, since it's square it holds more than a round pot."
Baby Bear weighs just less than 7 ounces, stretches just 4 cubic inches and holds 32 ounces of water or food. Mama Bear weighs about 10 ounces, stretches 5 cubic inches and holds 64 ounces. And Papa Bear weighs about 13 ounces, stretches 6 cubic inches and holds a gallon.
Bowls sell singly as well as in sets of three. They're available on Amazon as well as the Bear Minimum website at www.bearminimum.org. Soon, Cory Santiago said, Bear Bowls will also be available in stores.
Baby Bear sells for $30. Or, save $2 and get it without the paracord handle. Mama Bear is $40. Papa Bear is $50. The family pack – one of each size – is $99. And that's a "pretty popular" option, Corey Santiago said.
He's "the packer" in the family. "You need something, he has it," his wife said.
He wasn't a Boy Scout. But he grew up camping with his dad and his church. He was a member of the Royal Rangers, an Assembles of God youth organization.
He was invited to apply for "Shark Tank" after a successful Kickstarter campaign raised a little more than $41,000 last year. An executive producer for the show reached out via email saying, Cory Santiago said, "They saw the Kickstarter. They thought it was cool."
But, "I ignored it. I didn't believe it."
"Shark Tank," which airs on ABC, features self-made successful entrepreneurs Mark Cuban, Barbara Corcoran, Lori Greiner, Robert Herjavec, Draymond John and Kevin O'Leary. The "sharks" evaluate the businesses being pitched, make counter proposals and even offer advice. Some businesses are funded. Many are not. The show has amassed $100 million in deals offered and accepted and won four Emmy Awards for best reality programming.
The couple, Mead High School graduates who have been married 19 years, had applied for season one of "Shark Tank," but, Heidi Santiago said, "didn't get any response." She had invented the Wee-Minder, a watch-like gadget to help with potty training.
When Cory Santiago finally responded months later, he discovered the sender "was legit." And, in early 2018, he began to fill out paperwork for what he said was an "extensive" vetting process.
"It's easier to get into Harvard," said Heidi Santiago, a singer and performer. "I was more scared for this than any show. It's so nerve-wracking. They know what they're doing. They keep you on edge. It's very stressful."
Filming took place over four days in Culver City, California.
"There's no stopping," Cory Santiago said. "There's no retakes. It's straight through."
Their business partner Tim Krauss appeared on the show with them but, they said, wasn't allowed to say anything. He dressed in a bear costume for the presentation. The trio also has a couple of silent investors.
To prepare for the anticipated bump in orders after the show airs, the Santiagos held an on-going work party all weekend. Friday, Saturday and Sunday, friends and family came over to help manufacture their Bear Bowls.
"It's an open-door policy," Heidi Santiago said.
"Or a sweatshop," Cory Santiago joked.
Friday's help was mostly made up of friends of the Santiagos' kids, Jordan and 13-year-old Leilani. About a dozen teens and tweens crowded into their living room after school to braid handles, snack and watch the 2007 film "Bridge to Terabithia."
Heidi Santiago recorded a Facebook live post from the work party, making a plea near the end: "Come come help us!"
Adeline Dibble, 17, a Running Start student at Spokane Falls Community College, was sitting on the couch near a container of red licorice. This was her "fourth of fifth" work party.
"I'm excited to see the results from the show," she said. "I hope it will help this take off. I watch 'Shark Tank,' like, all the time at the gym. It's going to be cool that they're actually on it. If there's ever a zombie apocalypse, people need to get these."
Jovie Leaver, 13, an eighth-grader at Chase Middle School, has known Leilani since elementary school. She was nearing the end of her eighth handle by 5:30 p.m. and had to leave soon to be home in time for dinner. But she was planning to attend the viewing party Sunday night at Caruso's Sandwich & Artisan Pizza at 1120 N. Division St. The Santiagos are planning to arrive at 6 p.m., and supporters are invited.
"I hope that they get the money from it for their company because I think it's a really cool idea," Leaver said. "I don't camp very much. But (the Bear Bowl) is so compact and light. It's very convenient. It's not a bulky pot."
In fact, Cory Santiago is never without his.
"He just carries it in his pocket all of the time," his wife said.
Local journalism is essential.
Give directly to The Spokesman-Review's Northwest Passages community forums series -- which helps to offset the costs of several reporter and editor positions at the newspaper -- by using the easy options below. Gifts processed in this system are not tax deductible, but are predominately used to help meet the local financial requirements needed to receive national matching-grant funds.
Subscribe to the Spokane7 email newsletter
Get the day's top entertainment headlines delivered to your inbox every morning.
---