News > Spokane
Pence, on campaign stop in Spokane, says D.C. needs McMorris Rodgers
Oct. 2, 2018 Updated Tue., Oct. 2, 2018 at 10:51 p.m.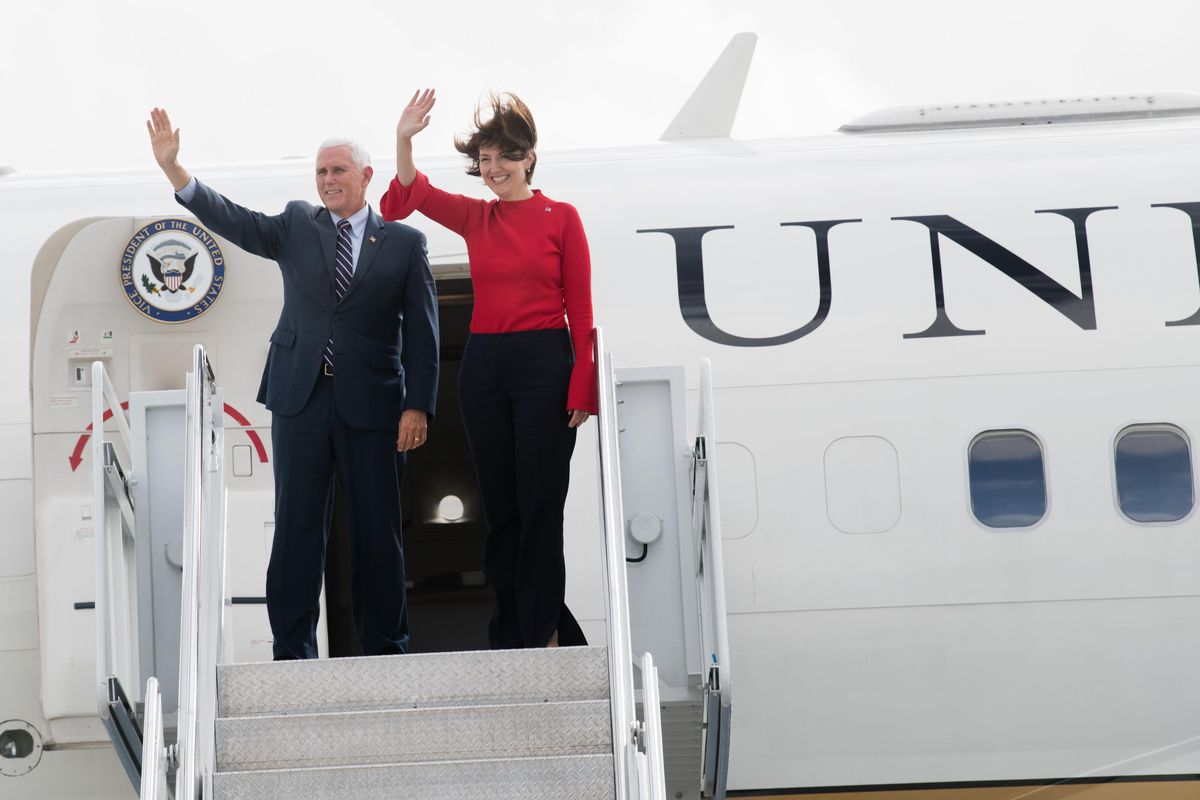 Vice President Mike Pence exits Air Force Two after visiting with Cathy McMorris Rodgers on Tuesday, Oct. 2, 2018, at the Spokane International Airport in Spokane, Wash. (Tyler Tjomsland / The Spokesman-Review)Buy a print of this photo
Vice President Mike Pence urged Eastern Washington voters to retain U.S. Rep. Cathy McMorris Rodgers in a stump speech Tuesday afternoon to push the administration's economic policies and continue its momentum.
Retaining Republican majorities in the House and Senate would enable the White House to continue pushing for conservative judges like embattled Supreme Court nominee Brett Kavanaugh, Pence said.
"I'm here for one reason and one reason only," the vice president told an assembled late-lunch crowd of 900-plus that filled an auditorium at the Spokane Convention Center. "Washington and Washington, D.C., need Cathy McMorris Rodgers back."
In a 30-minute speech to donors that had gifted at least $125 to McMorris Rodgers in her re-election campaign against Lisa Brown, Pence credited Republican majorities in both chambers for eliminating bureaucratic regulations and passing President Donald Trump's signature tax bill. He called McMorris Rodgers "one of the most important voices in Washington, D.C."
Though the House won't weigh in directly on the Kavanaugh appointment, Pence made it clear the White House stood behind its pick and accused Senate Democrats of acting dishonestly in the confirmation process.
"Judge Brett Kavanaugh is a man of integrity and impeccable credentials," the vice president said, after the crowd stood and applauded for Trump's second nominee to the Supreme Court.
Kavanaugh has faced multiple allegations of sexual misconduct during drinking episodes in the early 1980s at his high school and Yale University, including by Christine Blasey Ford, who testified last week before a Senate panel tasked with reviewing his nomination.
"Soon, the Senate will have the opportunity to vote," Pence continued. "When all the facts are in, and the report is done, President Trump and I believe that Judge Brett Kavanaugh will be confirmed."
In remarks after the vice president's speech, McMorris Rodgers – who initially offered strong support for Kavanaugh's nomination when he was first picked by Trump – said it is important to let the ongoing FBI investigation into the claims play out.
"I think it's an appropriate decision that was made by the Senate, and then President Trump has backed up that decision," McMorris Rodgers said. "I think it was very important that Dr. Ford be heard. I've said that from the very beginning."
Pence lauded the administration's accomplishments on the economy and trade, giving McMorris Rodgers high praise for shepherding through the tax bill, which among other things eliminated the mandate in the Affordable Care Act that required Americans to purchase health care or face a tax penalty.
"We cut out the core of Obamacare," Pence said. "We got rid of the individual mandate."
He also said he was confident McMorris Rodgers, the fourth-ranking Republican in the House, would work quickly to get Congress to approve the trade deal between Mexico, Canada and the U.S. announced by the White House on Monday.
McMorris Rodgers said the speech was about celebrating GOP accomplishments and providing a clear choice in the November election, which is 34 days away.
"There's a lot to celebrate, and today was a day to celebrate," McMorris Rodgers said.
The congresswoman shied away in her remarks from directly attacking Democrat Brown, but Pence offered rebukes that plucked several talking points from the campaign so far. He said Brown idolized socialists, a reference to a 1986 university thesis in which Brown said she supported labor rights activist Elizabeth Gurley Flynn, who would eventually became chairwoman of the Communist Party in the United States. He called Brown "too liberal for this district."
"If she gets to Washington, D.C., Lisa Brown will sign up for the resistance on day one," Pence said.
In a phone call Tuesday, Brown was critical of the congresswoman's big-name campaign events.
"I think that she might be missing the point, because we know she's connected to D.C.," Brown said. "But … I think there are many people who feel she's not connected to Eastern Washington anymore."
"The race is really close," she added. "We have a poll that shows that it's statistically a tie, and I think that is probably part of the motivation for bringing some of the D.C. heavy hitters to town."
Seated in the audience at the McMorris Rodgers fundraiser were three generations of the Fode family: Marilyn Fode; her daughter, Laura Hyde; and Laura's daughter, Hailey Hyde. Marilyn Fode said her family grew wheat and that she has long supported McMorris Rodgers in the district, and she snatched up tickets for her family once the event was announced.
Fode called Pence's visit a "momentous occasion" and said she was struck by how personable he was in his speech.
"He is amazing," Fode said after the speech. "It makes you proud to be an American."
Her granddaughter, Hailey Hyde, said before the speech and lunch that she hoped the vice president would speak about bringing a divided political country together.
Pence closed his remarks with a request for prayer.
"I'd encourage you to pray for everybody in this country, the prosperity and the well-being of everybody in this nation," he said.
After stumping for a GOP Senate candidate in Bozeman on Tuesday morning, Pence landed at the Spokane International Airport aboard Air Force Two in the afternoon. McMorris Rodgers boarded the plane after it landed and then descended the stairs out of the plane with the vice president.
Before getting in cars to travel to the convention center, they spent about 20 minutes taking pictures and shaking hands with a crowd of several hundred people, mostly airmen from neighboring Fairchild Air Force Base.
Among those in attendance were state Sens. Michael Baumgartner and Mike Padden; Spokane County Prosecutor Larry Haskell; U.S. Rep. Dan Newhouse, R-Sunnyside; and state House candidates Dave Lucas and Jenny Graham.
Spokane Mayor David Condon, the emcee of the event who worked for McMorris Rodgers before running for mayor, told the crowd, "Cathy is an advocate. Cathy is a voice for all of us."
McMorris Rodgers has brought some conservative star power to town to back her candidacy. Rep. Devin Nunes of California and Kellyanne Conway, Trump's counselor, have both stumped for the congresswoman in Spokane this year.
Reporters Chad Sokol and Will Campbell contributed to this report.
Local journalism is essential.
Give directly to The Spokesman-Review's Northwest Passages community forums series -- which helps to offset the costs of several reporter and editor positions at the newspaper -- by using the easy options below. Gifts processed in this system are not tax deductible, but are predominately used to help meet the local financial requirements needed to receive national matching-grant funds.
Subscribe now to get breaking news alerts in your email inbox
Get breaking news delivered to your inbox as it happens.
---