News > Spokane
Protesters inflate Baby Trump balloon outside Spokane campaign fundraiser featuring Mike Pence
Oct. 2, 2018 Updated Wed., Oct. 3, 2018 at 3:26 p.m.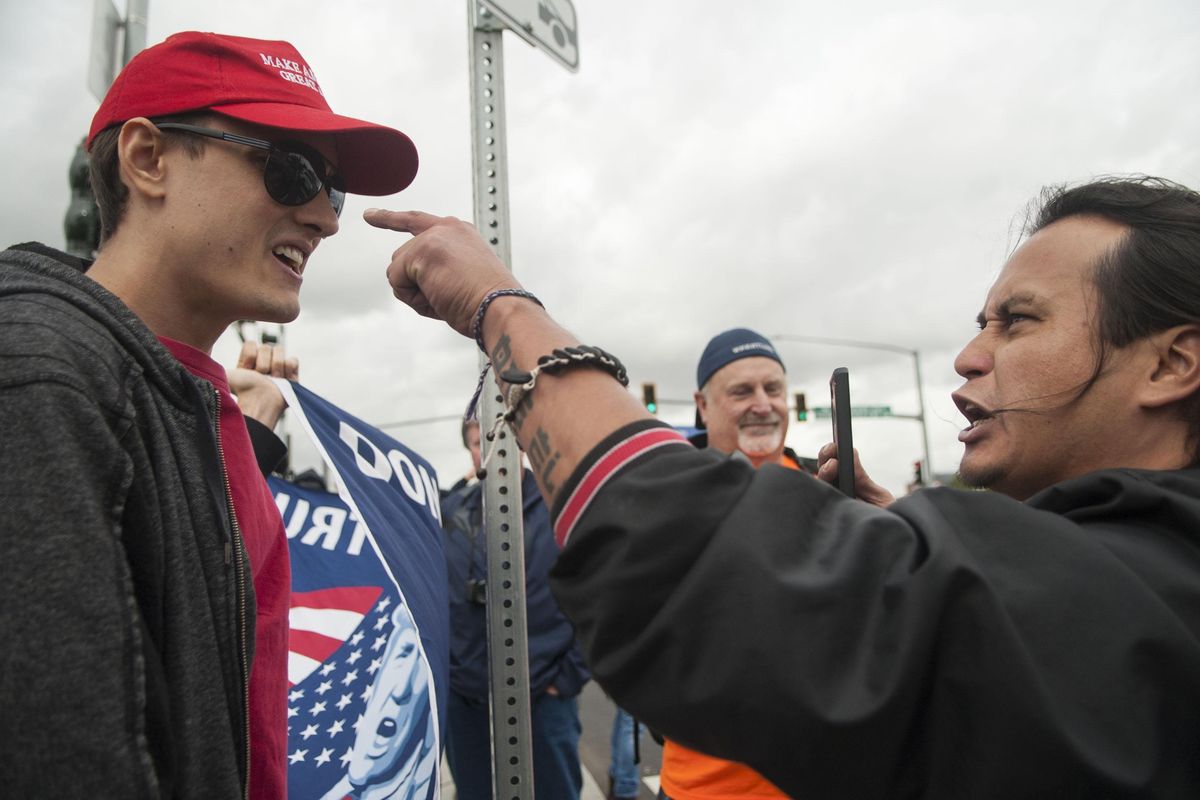 Jacob Johns, right, of Spokane, argues with a Trump supporter, left, in Spokane on Tuesday. Protesters lined the streets in preparation for Vice President Mike Pence's campaign stop in support of Congresswoman Cathy McMorris Rodgers. (Kathy Plonka / The Spokesman-Review)Buy a print of this photo
It was Vice President Mike Pence who visited Spokane on Tuesday. But the focus of protesters outside his campaign fundraiser for U.S. Rep. Cathy McMorris Rodgers was his boss.
The protest started about noon with the inflation of a giant Trump Baby balloon. The custom-made inflatable, a replica of one flown in London during Trump's trip to the United Kingdom this summer, depicts the president as a snarling orange baby holding a smartphone with tiny hands.
Unlike the British version, Spokane's Trump Baby sat atop a giant black-and-red inflatable missile. Several protesters held onto ropes saddled at the balloon's sides, keeping it from blowing away in the strong gusts of wind.
Setting up in the entryway park to Washington State University's Spokane campus at Division Avenue and Martin Luther King Jr. Way, about 150 protesters came to denounce the president and Pence, who spoke at the Spokane Convention Center. A few dozen Trump supporters stood on the opposite side of the busy roadway, while outspoken critics on both sides lobbed criticisms across the street.
"We're giving Trump the military parade he deserves," said Bill Moyer, the director of Backbone Campaign, which helped organize the protest. "With a sort of 'Dr. Strangelove' twist."
Pence landed at Spokane International Airport aboard Air Force Two at about 2:30 p.m. to stump for McMorris Rodgers, who faces a stiff challenge from Democrat Lisa Brown in November. As his motorcade made its way to the Spokane Convention Center, traffic became snarled as people rushed to get out of the downtown core.
Several protesters brought signs denouncing Trump and McMorris Rodgers. They stood along Division, where they hoped Pence's motorcade would pass. Some came in costumes, draped in American flags or as the comic book character Wonder Woman.
Jennifer Pacheco and her mother, Jeannine Pacheco, came dressed as handmaids from the dystopian novel and TV show "The Handmaid's Tale," about a fundamentalist regime in a near-future America that treats women as property of the state.
"To me, it's a symbol of oppression," she said of her red dress and white bonnet that the main character is forced to wear. "And I feel like it's not that far off from being a reality."
A few Trump supporters also demonstrated outside the convention center and on the opposite side of Division near Martin Luther King Jr. Way, where a majority of the protesters had set up. Justin Springer, 20, repeatedly shouted "Trump, Trump, Trump" through a megaphone into several protester's faces, including one woman in particular.
The woman, Genesis Heede, 19, said she was there to demonstrate for women's rights, and that she had to stop herself from reacting to Springer's yelling. Instead, she just continued holding up her protest sign.
"It scares me being a young woman in our society," she said. "He just started screaming in my face. I have respect for their party, but not this."
Springer, meanwhile, who came to the protest with his 17-year-old brother, indicated the megaphone was his best option for engaging in civil discourse.
"I have 50 people around me," he said. "I have to use the blow horn to talk peacefully."
After several hours, the Trump balloon was deflated and many protesters trickled out of the area. Once Pence was inside the building, however, nearly 100 women lined up and stood silently outside the convention center, all dressed as handmaids.
"Vice President Pence's record and words show that his agenda would lead us into a world that is based on this chauvinistic, white supremacist, hypertheocratic, militaristic dystopia," said Liz Moore, who organized the gathering of the handmaids, called the Handmaid Brigade. "It's not that far off from the book. That terrifies me as a young woman."
The demonstrations picked up again, and many causes were on display. Some women shouted, "We believe survivors," likely in reference to the sexual assault allegations against Trump's Supreme Court nominee, Brett Kavanaugh. One man, holding a sign opposing a Washington gun-control initiative, shouted back at them through a makeshift blow horn. Another man grinned at the demonstration while wearing a star-spangled "Trump 45" jersey.
Several protesters and Trump supporters got into shouting matches, though nobody became violent. About a dozen Spokane police officers stood in the distance to keep the peace, though they only entered the crowd to make a path on the sidewalk when a person in a wheelchair needed to come through.
As Pence's speech came to an end, the protesters gathered on the corner of Spokane Falls Boulevard and Bernard Street and chanted at the people filing out. Many of those inside came out holding McMorris Rodgers signs, turning them toward the protesters as they cheered.
"Lisa, Lisa, Lisa," the crowd shouted, in support of McMorris Rodgers' Democratic challenger. "Hey hey, ho ho, Trump and Pence have got to go."
Local journalism is essential.
Give directly to The Spokesman-Review's Northwest Passages community forums series -- which helps to offset the costs of several reporter and editor positions at the newspaper -- by using the easy options below. Gifts processed in this system are not tax deductible, but are predominately used to help meet the local financial requirements needed to receive national matching-grant funds.
Subscribe now to get breaking news alerts in your email inbox
Get breaking news delivered to your inbox as it happens.
---