Three Gonzaga seniors have high expectations as women's basketball practice opens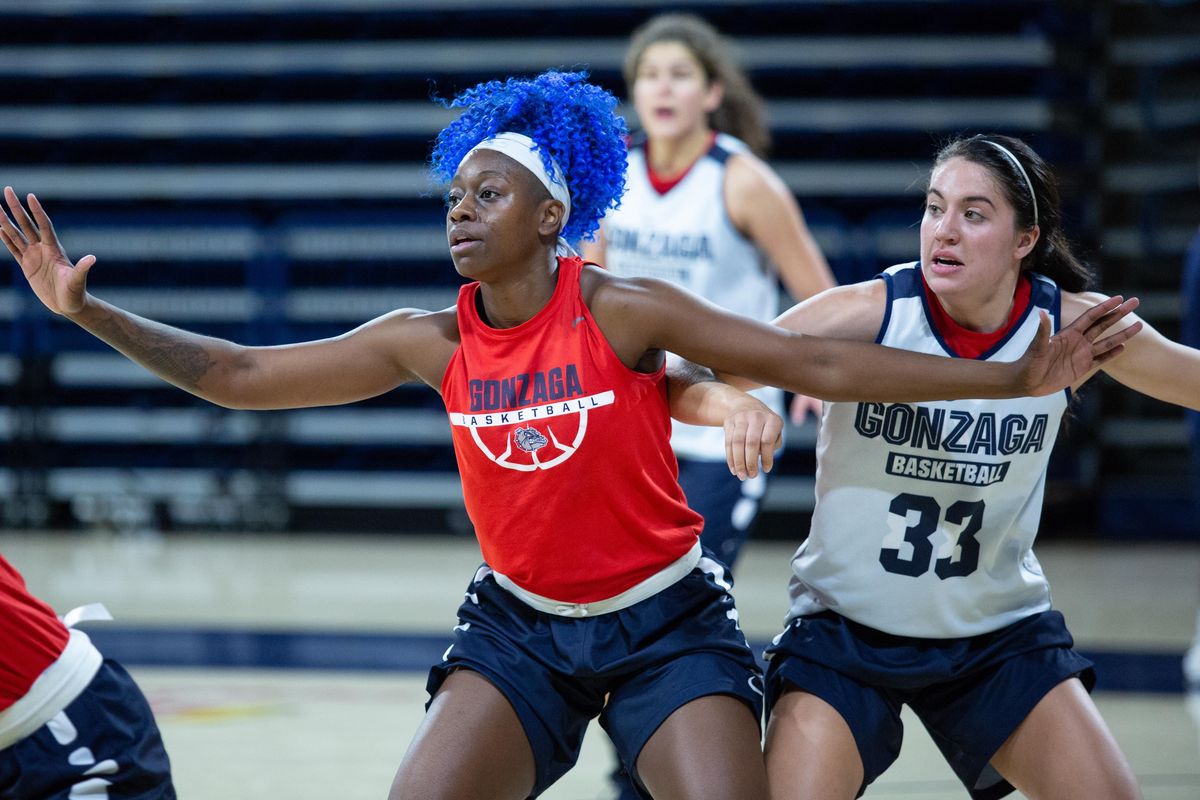 Great expectations are the norm every fall at the Kennel.
That goes triple for the three senior starters on the Gonzaga women's team, who also expect to win a third consecutive West Coast Conference title this year.
Point guard Laura Stockton will set the tone on the floor, wing Chandler Smith will do a lot of everything, and forward Zykera Rice expects to dunk at least once this year.
"Of course I will," said Rice, who came oh-so-close last year. More important, she shot 50 percent from the field and averaged 11.7 points and 5.2 rebounds.
By a unanimous vote of coaches and players, all three will be team captains for coach Lisa Fortier's fifth year.
"They all have differed leadership styles, and they all want it," Fortier said Tuesday, after the Zags' third practice of the year.
They'll have to. The graduation of Emma Stach and early departure of Jill Barta cost GU much of its versatility and outside firepower from a team that went 27-6 overall and 17-1 in the WCC.
"Emma could guard anyone and Jill could score on anyone," Fortier said.
GU returns one of the league's best forwards in Rice and perhaps its most versatile player in Smith.
"Every year, players' roles change," said Smith, who averaged 9.4 points and 5.7 boards last year. "By midseason I plan to fit into my new role."
She may not have that much time. GU's nonconference schedule opens with an exhibition game Nov. 2 against Carroll, but the learning curve will steepen in a hurry with games against Notre Dame (Nov. 22 in the Vancouver Showcase), Stanford (Dec. 2 in the Kennel) and Washington State (Dec. 9 at GU).
"I just want to play every game like it's my last, because you never know," Smith said.
In the frontcourt, the uncertainties following Barta's departure are softened by the heavy playing time Fortier gave to twins Jenn and LeeAnne Wirth (18 and 11 minutes per game, respectively). Both made major strides last year, especially on defense.
GU also expects to get contributions from sophomore Gillian Barfield, 6-foot-5 transfer Anamaria Virjoghe (of Romania and Northwest Christian University in Eugene) and freshman Melody Kempton of Post Falls.
The Zags are in great shape at the point with Stockton and junior Jesse Loera, both of whom could start along with Smith.
"They've all made a lot of improvement in their shooting, and that's what I asked them to do in the offseason," Fortier said.
That will be crucial: Barta and Stach were a combined 37.5 percent last year from beyond the arc. The rest of the team shot 24.3 percent.
Junior Katie Campbell will get plenty of open looks, and Canadian Louise Forsyth – "a shooter with stamina," according to Fortier – should see plenty of court time.
The Zags should learn more about themselves in the next two weeks. An annual fan event, the Numerica Fanfest in the Kennel, is Oct. 13.
Four days later, GU will learn more about the expectations of others. That's when the WCC will release its preseason poll.
---