News > Spokane
Mary Dye, Jenn Goulet battle in rematch for 9th District House seat
Wed., Oct. 3, 2018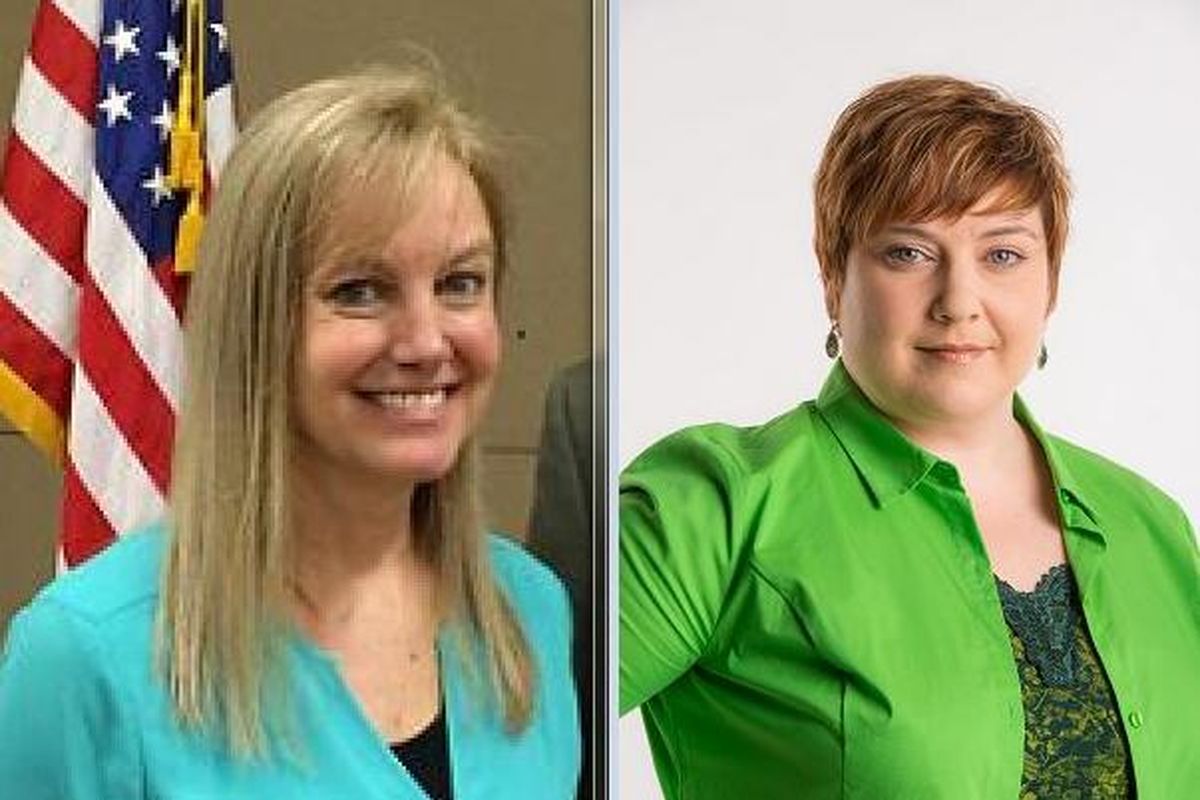 Goulet (Jonathan Brunt / The Spokesman-Review)
In southeastern Washington, state Rep. Mary Dye faces a familiar opponent in the November election.
Democrat Jenn Goulet is challenging Dye for a chance to represent Washington's 9th District two years after she lost to Dye for the same seat.
Goulet said the possible outpouring of Democrats this year could boost her chances, but she's not counting on it. She said she's focused on turning out moderate and independent voters because Democrats already are motivated to vote.
Her task won't be easy. In the August primary, Dye took 63 percent of the vote.
In the most recent legislative session, Dye played a crucial role in passing a bill that makes broadband internet accessible in rural areas of the state. The bipartisan bill allows ports to build networks capable of facilitating high-speed internet as well as allow contracts with private companies.
In 2017, Dye pushed for and passed a bill that reduced regulations on trains carrying vegetable oil, a product she says plays a crucial role to the 9th District economy.
Conservation group Environment Washington has criticized her voting record, but Dye said some legislation she has opposed doesn't take into account economic consequences.
"It takes a tremendous amount of money to invest in environmental mitigation, and that money comes from the private industries that are producing the wealth," Dye said. "We cannot risk threatening the economy and threatening those industries viability by imposing extreme taxes on energy. It just will not work. I totally disagree with the policy."
Goulet said bringing down carbon emissions is a priority for her, something she wants to accomplish by supporting nuclear energy. She said she also is a supporter of maintaining and developing state parks and trails to help boost the economy in small towns throughout the district.
Dye voted against the 2017 state budget that included a $1.8 billion boost of education in response to a state Supreme Court ruling that determined the state was not providing enough funding for education. However, she was the only Republican House member whose district includes Spokane County who voted to change the property tax system the state uses to fund education. That change cuts the amount of taxes school districts can collect, while increasing the amount the state collects.
Goulet said the state needs to clarify how much of the boosted education funding was set aside for increases to teacher salaries, getting rid of the ambiguity suggested by recent teachers' strikes.
"We needed to be doing a better job by our students and by our teachers and other staff," Goulet said.
Dye said the money was pretty well defined in the bill itself, and it was the removal of salary schedules that created dissatisfaction among teachers.
"It's unfortunate because this is a substantial increase in pay for all teachers across the state, and as a result I think there should be more job satisfaction – they're being compensated well for the work that they do," Dye said.
Dye said mounting student debt is unfortunate, but the state is not suited to handle the problem. She said giving students easy access to loans inflates the cost of education, and the state should encourage people to make prudent financial decisions based on their own abilities to pay for their education.
Goulet suggested returning to prerecession funding for student loans, in which the state covered two-thirds of the cost. She said the debt crisis is hurting the economy by forcing graduates into financial submission.
She also said the state should fund apprenticeships and trade schools to fill positions in the workforce being created by retiring labor union members.
Dye said she is troubled by the "myth" of the secondary labor track. She suggested reducing regulations on high school students who want to go into the labor force, as well as making education more exploratory and less specific.
Local journalism is essential.
Give directly to The Spokesman-Review's Northwest Passages community forums series -- which helps to offset the costs of several reporter and editor positions at the newspaper -- by using the easy options below. Gifts processed in this system are not tax deductible, but are predominately used to help meet the local financial requirements needed to receive national matching-grant funds.
Subscribe now to get breaking news alerts in your email inbox
Get breaking news delivered to your inbox as it happens.
---