News > Spokane
Spokane school bond would help Spanish immersion and On Track Academy programs
Oct. 3, 2018 Updated Wed., Oct. 3, 2018 at 8:41 a.m.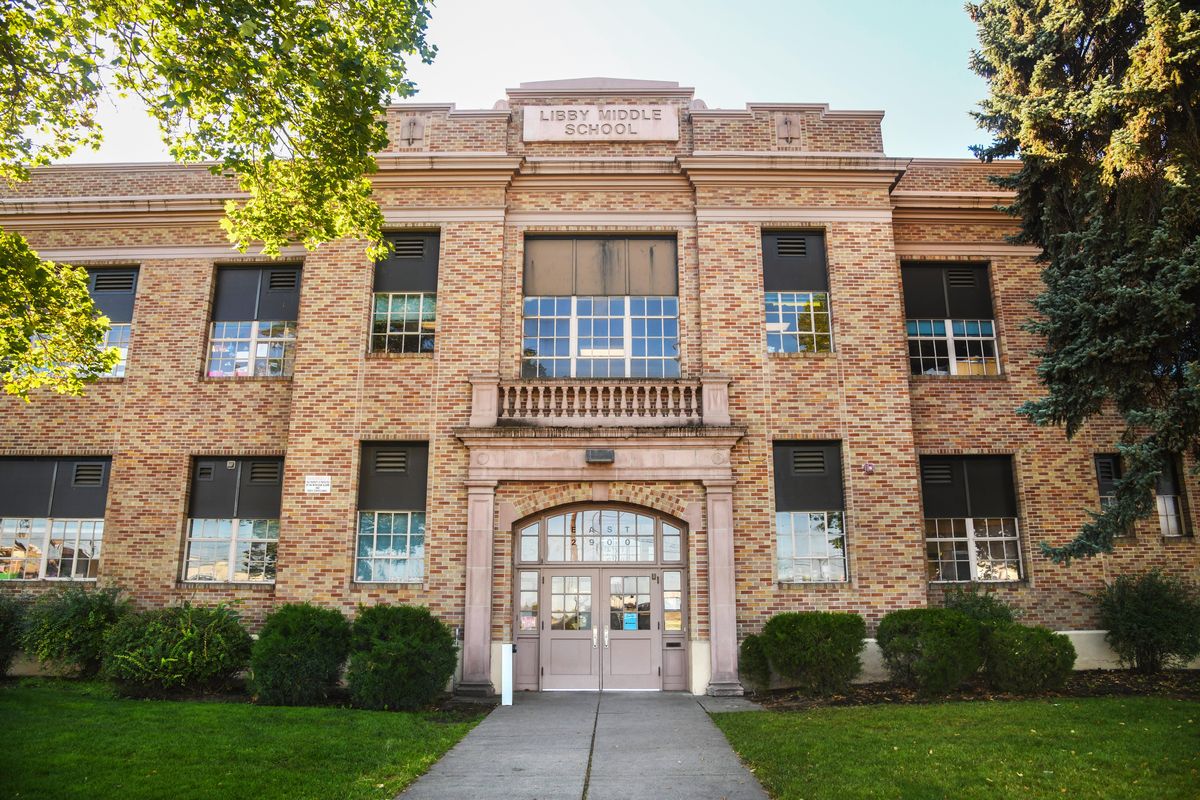 The Libby Center at 2900 E. First Ave. in Spokane. (Dan Pelle / The Spokesman-Review)Buy a print of this photo
Two special programs that serve opposite ends of Spokane Public Schools' broad collection of students stand to gain more space and traction as voters decide on a $495 million bond next month.
At the Libby Center, kindergartners and first-graders are spending half their days learning nothing but Spanish, an immersion curriculum with a goal of fluency by the third or fourth grade.
The On Track Academy, now in its 10th year, is a school of last resort for teens with school troubles and has earned several awards for helping these high school students refocus and find their way.
Both are thriving as they focus on opening new worlds for the youngest and oldest students in Spokane.
'Seeing them blossom'
The Libby Center is 90 years old but ranks among the most innovative learning centers in the district. It's also home to the Tessera and Odyssey gifted learning programs serving students in the fourth through eighth grades. The building also houses the Spokane Virtual Learning online program and hosts professional development for the district.
"We're squeezed," principal Debra De Witt said as she walked the halls of the former junior high school located in the East Central neighborhood just north of Interstate 90.
In the classroom of Melina Rios, kindergartners were singing and speaking, albeit haltingly, in Spanish during a recent school day.
She said she loves her job, because, "I have the opportunity to teach kids content in a different language, seeing them blossom and how independent they can be."
Students spend half their time reading and speaking Spanish – while learning subject content – and the other half doing the same in English.
Teachers work as a team, planning instruction to ensure that learning is seamless between the two languages. Students learn math, science, literacy skills and social studies in both languages.
It's one of the most popular option programs in the district, which started a year ago and plans to add one grade level – and 50 more students – each year for a full elementary-level experience.
With opportunity comes challenge: At the rate of 50 new students per year, Libby would need to free up about 10 more classrooms by the 2023-24 school year to fully implement the Spanish immersion program.
Already, some classes are conducted in portable classroom buildings, while large meeting rooms are used for professional development and Spokane Virtual Learning.
Passage of the bond would move those programs to a collaborative library to be built on a nearby 2-acre parcel the district purchased last year.
The Libby building would see the staff development spaces in the building turned into classrooms. The estimated project budget is $5.1 million, with an additional $1 million in state school construction matching funds.
"Having a good school and a public library here, how great would that be?" De Witt said.
It was a rhetorical question, but Spokane Mayor David Condon had a ready answer when asked about the city-school collaboration.
"It's a great leveraging of city-owned assets," Condon said. "When you make that investment in a place like Libby, you're going to have more interest. … The library will draw more people back to Libby."
'These are not throwaway kids'
In contrast, the On Track Academy might be seen as a last chance for teens who are struggling in a traditional high school setting.
Many are dealing with self-esteem issues, which begs the question: How can some of Spokane's most fragile students succeed in a setting where classes are held at four sites, including a string of five old portables?
But if On Track has an identity crisis, it's only physical. Now in its 10th year, the program has won national and state awards and last year graduated 91 percent of its seniors.
"This year, we're closer to 95 percent," said principal Lisa Mattson, who since day one has overseen a school whose mission embraces the entire district from its setting in northeast Spokane.
The problem is the setting. On Track holds 10 classes in the portables, while others are held in the nearby NewTech vocational building.
On Track also uses one wing of Shaw Middle School, which is accessed across a grass field. Another classroom is at Spokane Falls Community College.
"We walk a lot," said Mattson, who oversees about 500 students and staff from her office at NewTech.
The walks would be much shorter if voters approve the bond, which contains $39 million for a permanent 40,000-square-foot facility.
The idea is still conceptual, but larger spaces, such as a cafeteria, gym and library, would be shared with a new Shaw building, which also is on the November ballot.
Passage would reinforce the success that has been hard-earned for On Track and its students, said Mattson, who has seen the program grow to serve 500 juniors and seniors.
Mattson has been there for every growth spurt, and she's passionate about the need for another.
"We could have space where we could be together," Mattson said. Her students are graduating, going to college, pursuing jobs and joining the military.
"These are not throwaway kids."
Local journalism is essential.
Give directly to The Spokesman-Review's Northwest Passages community forums series -- which helps to offset the costs of several reporter and editor positions at the newspaper -- by using the easy options below. Gifts processed in this system are not tax deductible, but are predominately used to help meet the local financial requirements needed to receive national matching-grant funds.
Subscribe now to get breaking news alerts in your email inbox
Get breaking news delivered to your inbox as it happens.
---