News > Crime/Public Safety
Early morning house fire injures two firefighters and left a dozen people displaced
Oct. 4, 2018 Updated Fri., Oct. 5, 2018 at 8:09 a.m.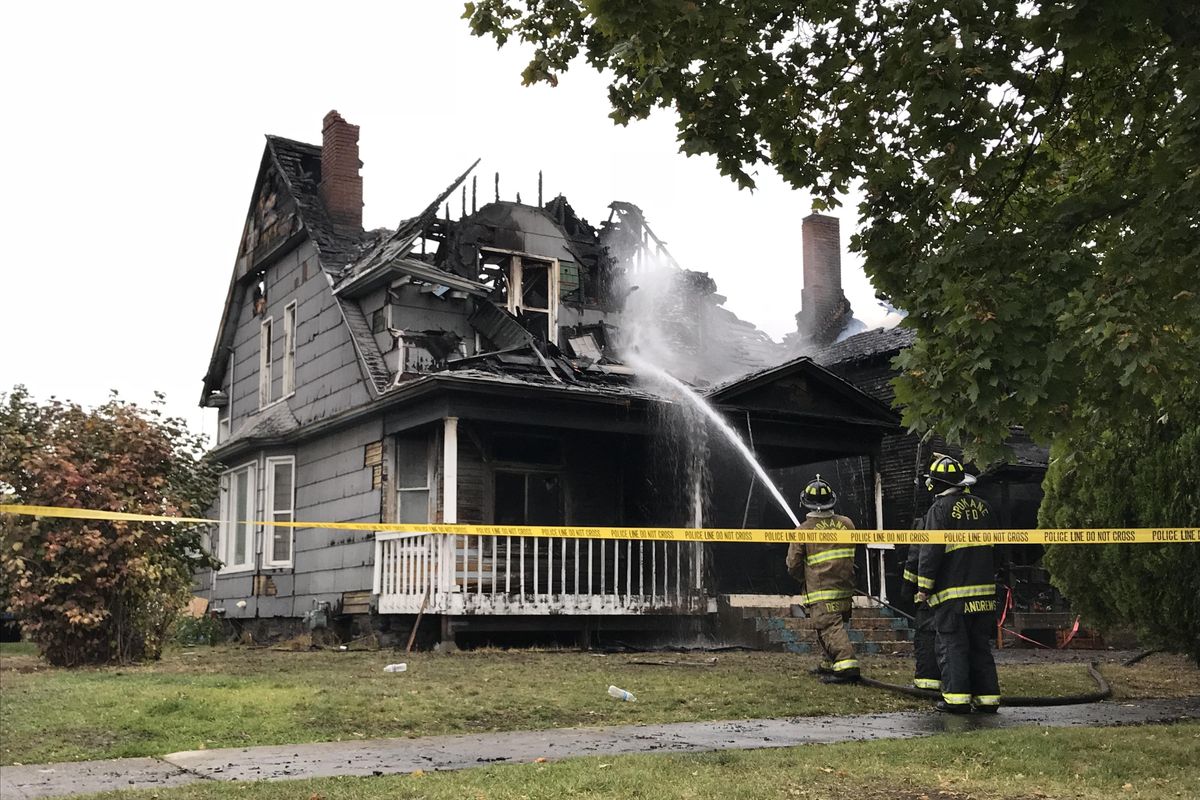 Two firefighters were injured and at least a dozen people displaced early Thursday, Oct. 4, 2018 after a house fire spread to another home and a garage at Ruby Street and Sinto Avenue. (Jonathan Glover / The Spokesman-Review)
Devan Howe-Kizzar's eyes welled with tears as she sat near the smoldering remains of the two-story Gonzaga-area home she shared with roommates and children.
Hours earlier, she had evacuated everyone in a panic, floor by floor, and made sure her roommate in the basement, a friend and all five children upstairs made it out alive. They did. But all of her belongings didn't.
"All of my kids' clothes. My wallet. My keys. Phone. Everything," she said as she sat on a nearby porch wrapped in a blanket. "My daughter just turned 8. She got a new pair of boots. Gone."
At about 2:15 a.m., Spokane firefighters arrivedat the home, at 111 E. Sinto Ave., as heavy smoke and flames poured from the building.
Tenants would later tell firefighters they believed the fire started on the home's porch, where they smelled the heavy odor of gasoline, which they theorized spurred the fire's quick movement.
The fire grew so intense so quickly that it spread to a neighbor's house, forcing another family to evacuate. It also melted the tarp draped over a nearby car.
It took about 90 minutes to get the blaze under control. By that time, both homes and a detached garage were destroyed, and perhaps a dozen people were displaced. American Red Cross workers helped find temporary housing.
Two firefighters were injured while inside one of the homes when falling debris struck them, Deputy Fire Chief Mark John said. One was treated and released from a hospital and the other "will be off for a short period of time as a result of the injury." No other injuries requiring medical attention were reported.
The home's owner, Janet Dressel, who along with her husband, Vincent, owns multiple properties around Gonzaga, said that while it was "too early to even say anything about it," she heard from investigators the cause of the fire was likely arson.
"They have cameras on the building across the street," she said. "From what I understand, they're looking at those … But that's all I know."
Assistant Fire Chief Trisha Wolford wasn't ready Thursday afternoon to rule on an official cause, instead saying fire investigators were still working the scene along with Spokane police.
"I don't have any final determination from them," she said. "They're still working on whether it's accidental. Nothing has been ruled out. Accidental is still a possibility and incendiary is still a possibility. And then there's the undetermined."
Howe-Kizzar credited her friend Chris Thrasher, who was up at the time and drawing in the kitchen, with saving everyone's life. She said the home did not have any working smoke detectors.
"If it hadn't been for him, we all would probably be dead," she said. "It was so fast. So fast."
Thrasher said he noticed an intense orange glow coming from a large window on the front of the house overlooking the porch. When he got up and walked outside, the first thing he noticed was the raging fire making its way up the wooden columns. The second thing he noticed was the smell of gasoline.
"As soon I opened the door, it just reeked," he said. "And it was fast."
Alan Watts, who was lying in the basement of Howe-Kizzar's home when the fire started, said he, too, believed the fire's origin was suspicious, especially since another fire happened on the same block months prior.
"But you gotta just start over and move on," he said as he packed blankets and clothes into a car. "That's all we can do."
The July 5 blaze, at 127 E. Sinto Ave., displaced 11 people and multiple pets. Family members told KHQ at the time they believed the fire was started in an upstairs bedroom by one of the occupants, who suffers from mental illness.
Janet Dressel said the person responsible, the daughter of the tenant who lived there at the time, was not arrested and was instead placed into mental health services.
All three properties that burned on the stretch of Sinto between Ruby and Pearl streets are owned by the Dressels.
In 2005, the Gonzaga Bulletin reported the Dressels were sued in U.S. District Court by more than 40 Logan Neighborhood residents, who said the couple failed to protect the historical qualities of homes on Mission Avenue between Ruby and Hamilton.
The lawsuit was dismissed the following year, and again upon appeal a year later.
Local journalism is essential.
Give directly to The Spokesman-Review's Northwest Passages community forums series -- which helps to offset the costs of several reporter and editor positions at the newspaper -- by using the easy options below. Gifts processed in this system are not tax deductible, but are predominately used to help meet the local financial requirements needed to receive national matching-grant funds.
Subscribe now to get breaking news alerts in your email inbox
Get breaking news delivered to your inbox as it happens.
---