Sports
Grip on Sports: No matter where you are, you never are far from making new fan friends
Thu., Oct. 4, 2018 A GRIP ON SPORTS • Sports brings people together, right? And just as often drives them apart. Read on.
••••••••••
• Speaking of "apart," is there anyway we can get social media apps to autocorrect that word when young athletes say they are excited to become "apart" of this or that program? Don't they know that means to get away from? And that they want to use "a part" of?
OK, now that's off my chest, let's get back to my main point this morning. Which is … wait, I'll remember … oh ya, sports bringing people together.
I was explaining my weekend plans (see below) to my sister the other day and she recounted a story of a trip a few years back to Nashville. She's a UCLA graduate and football season-ticket holder but was in Tennessee the weekend the Bruins were playing Stanford. She wanted to watch.
Luckily she was able to find a bar in Nashville – a bar in Nashville, go figure – that hosted Stanford fans each week – my guess, they do the books for the record companies. So she went there to watch the game.
Enemy territory, so to speak. It didn't matter. The game was on, the place was jumping and everyone was nice – even when the Bruins jumped out to a lead.
Linda even harbored hopes her team would hold on, though looking back, she was probably better off with the ensuing Stanford comeback win. After all, no one wants to be surrounded by a bunch of guys with sweaters tied around the necks, drunk on white zinfandel and ready to hire someone to rough her up.
All in all, a happy memory for my sister. Which probably comes as no surprise. Other than Oakland Raiders' fans, I've pretty well discovered a live-and-let-live attitude every time I've been a fan in enemy territory. Of course, I'm 6-foot-9 and weigh a muscular 250, so maybe that's why. (OK, subtract a foot and you have my build.)
Most times, though, it's not that bad to root for the visiting team. Oh sure, rivalry games are different. They should be. But if you want to watch a Mariner game in Baltimore, say, then do it. Or a Seahawk game in Tampa. It's fun. And it brings you into contact with others of a different point of view.
That's always a good thing, right?
• I will be in Washington D.C. this weekend. No, I'm not going to be appointed to some major federal judicial position, though I do believe I have the bonafides for it – and it is my dream job.
It's a long-planned vacation as part of a birthday celebration. Anyway, I will still be writing my TV Take for the S-R. Yep, I will be watching the Cougar game in D.C.
Thanks to a WSU alum I know who works for our government (no, he's not a UB40 fan), I've been able to learn the name of a Cougar gathering place in the capital. I will be at the Ventnor Sports Café in the Adams Morgan area. And if you know what that all means, then you probably will be around. (I don't, but I figure the Uber driver will.)
If you are, stop by and say hello. I'll be the guy in the corner with the legal pad. Wait, that's probably not a clear enough description. How about with a legal pad, a computer and a diet soda?
The woman sitting next to me will probably be yelling at the TV.
•••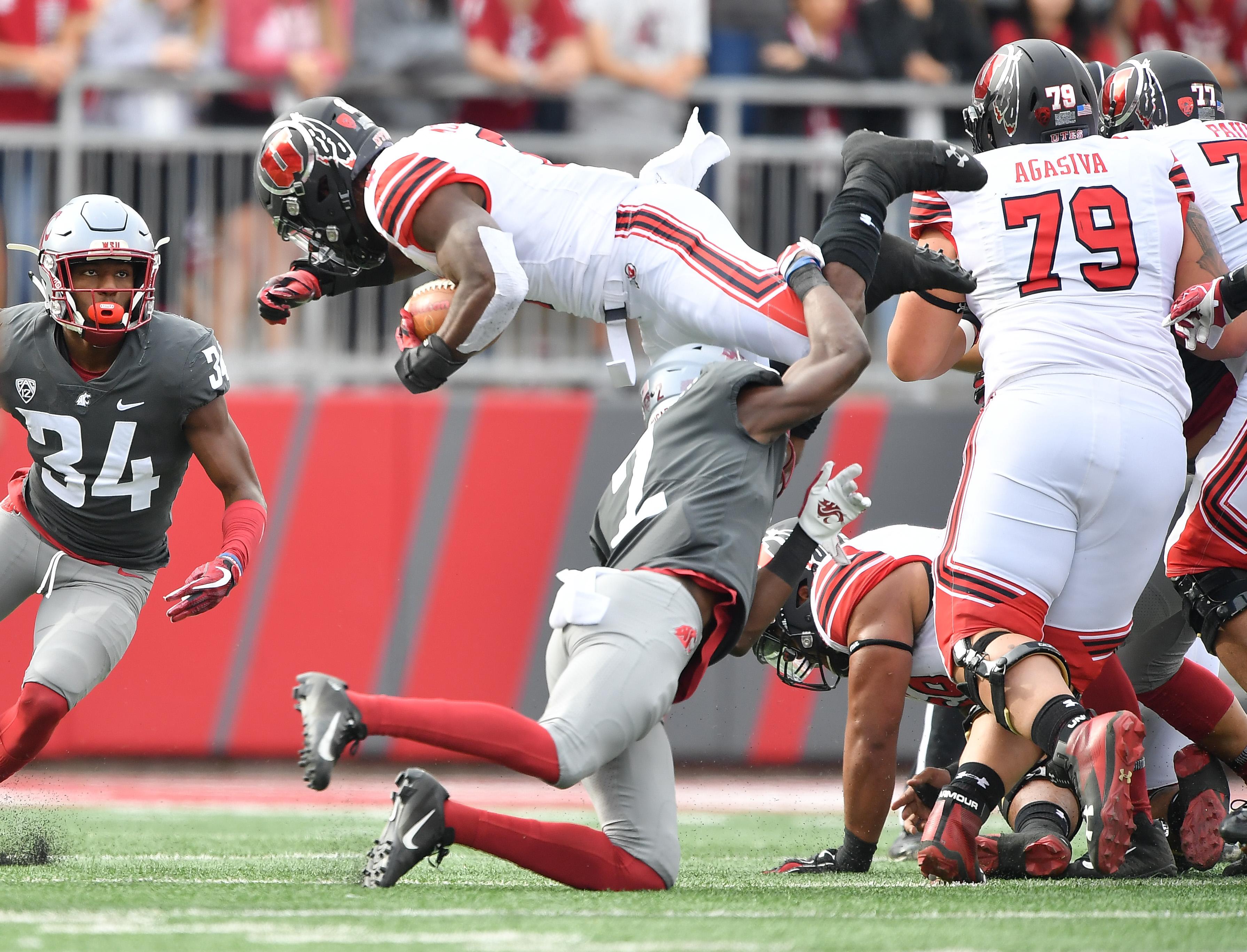 WSU: If the Cougars win twice more – or once, if you've already marked down this week as a win – they will be bowling again. Don't yawn. Where that will be, Theo Lawson tries to figure out. … As for who will win the Pac-12 games this week, Theo tries to figure that out as well. I disagree on one. Utah is going to upset Stanford. … If you joined Theo for his chat yesterday, you may not need to read the transcript. … After practice last night, Theo chatted with Eric Mele. … The headline of this ESPN piece is pretty funny, considering Mike Leach went in-depth into this subterfuge in his first book. … Leach's "balanced offense" quotes are getting more play this week. … If Oregon State tackles better, the Beavers have a better chance to win. … Finally, I have about a dozen years around Washington State athletics. In that time this story was always on my mind. I finally got around to writing it. It's about the football numbers game, and how one person tries to honor the past.
Elsewhere in the Pac-12, targeting is the penalty de semaine in the conference right now. … Washington not only is the best team in the conference right now, the Huskies have the highest-paid coach. … But Oregon has an off week before their showdown with UW. And the Ducks are using it to shore up areas Washington attacks. … Stanford's offensive line was exposed by Notre Dame – and may not be blocking for Bryce Love this week. … California struggled midseason last year. Will it happen again? … Better play up front has really helped Colorado's defense. … Utah needs to improve its pass catching. So it is using a drill I first saw in a basketball practice. … During its bye week, USC is giving some youngsters opportunities. … Does UCLA have enough talent to win this season? One player won't be around to help. … Arizona State won last week despite its quarterback being under the weather. … Arizona's success is numbers driven.
Gonzaga: So where did the Kennel Club come from? John Blanchette delves into a new book that answers that question and more.
EWU: The offensive line has size, experience and, this season, success. Ryan Collingwood's Eastern football notebook starts off with a look at that group's play. … Around the Big Sky, UC Davis is ranked, which is good for its fans. … Idaho State is on the upswing. … Southern Utah is going the other way this season, but there are reasons for optimism. … Montana wants to be ready for whatever Portland State offers. … Weber State's quarterback has recovered from his knee injury.
Whitworth: College athletes make great nurses. At least that has been my personal experience. The Pirates' Erin White is studying to be one while doing exceptional in volleyball. Jim Meehan has her story in his volleyball notebook.
Chiefs: Around the WHL, Portland won at Kamloops last night. … The Winterhawks have a player who didn't expect to be back. … Everett is holding a special event.
Preps: It's Thursday, and it is a busy day, as usual. We start with the Pick 6, with Dave Nichols and Sam Adams trying to determine who will win football games this weekend. … Dave takes a look at the league races, which are starting the sprint to the finish. … Mead won the state slowpitch title last season. As Dave's story shows, the Panthers have started over this season. … Steve Christilaw is a fan of a new WIAA rule. … We also have roundups from volleyball and soccer.
Seahawks: The Hawks will have a handful of untested players dealing with the Rams this weekend, especially on defense. … Earl Thomas was the last link to a Seattle sports institution. … There will be a lot of smack talking, even before the game.
Mariners: Kyle Seager wants to go back to the past at the plate.
Sounders: A starter is back and that's good.
•••
• Remember, no Grip on Sports tomorrow. I'm on an airplane. Yes, I know that's no excuse these days thanks to in-flight wi-fi but I would rather watch episodes of "The Wire" than write. And yes, if the IRS asks, that's research for a side trip to Baltimore. Until later …
Subscribe to the sports newsletter
Get the day's top sports headlines and breaking news delivered to your inbox by subscribing here.
You have been successfully subscribed!
There was a problem subscribing you to the newsletter. Double check your email and try again, or email
webteam@spokesman.com
---