A&E > Music
Music director finalist Morihiko Nakahara leads Spokane Symphony in 'Classics 2'
Thu., Oct. 4, 2018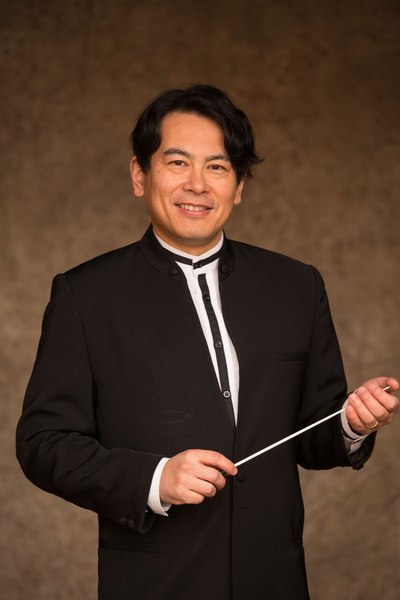 Music director finalist and conductor Morihiko Nakahara was joking – mostly – when he said he thought Spokane Symphony executive director Jeff vom Saal was trying to kill him.
Since arriving in Spokane from South Carolina, where he is beginning his 11th season as the music director of the South Carolina Philharmonic, on Sunday night, Nakahara had met with members of the orchestra, the chorale, symphony staff, the board, and the community, on top of rehearsals for "Classics 2: The Red Violin," which he will conduct on Saturday and Sunday.
In total, he had about 40 events on his schedule in his effort to become Eckart Preu's replacement.
"The ideal structure is that the activities expressed throughout the week are beautifully architected to be consistent with the actual job," vom Saal said. "We're a pretty busy place and there's a lot of people to talk to and listen to."
But compared to the audition process he went through when applying for the music director role in South Carolina, Nakahara said this week has been manageable.
"I had that experience so I'm not fazed by it," he said. "The only thing is I'm choosing to prioritize sleep and mental downtime over working out this week."
Plus this week hasn't been all work and no play. The symphony is treating each of the five finalists to a non-musical Spokane experience.
On Monday, Nakahara sampled beer at Steel Barrel and got a lesson in making octopus ceviche at Zona Blanca from chef Chad White.
Having joined the Spokane Symphony as associate conductor in 2003 (he is now the resident conductor), Spokane is not new territory for Nakahara, but this week has taught him more about the inner workings of the symphony.
"In my position as resident conductor, I could get away with not knowing what the budgeting process is here, for instance," he said. "Even though I know the people who are involved and I have a vague idea, now I'm learning in detail what it is. That's been very illuminating and very useful."
Nakahara thinks his familiarity with the symphony could be seen as both a positive and a negative.
On one hand, he knows the core of the orchestra and they're all familiar with how he conducts.
But on the other hand, Nakahara said it's good to have new blood and there can be a difference in how an orchestra accepts the resident conductor versus the music director.
"With the number two person, it's like you're more one of them sometimes whereas in some orchestras, the music director has a target on his or her back," he said. "Part of the thing that comes with the music director position, you have to make the hard decisions, especially when it comes to personnel. That's just in the contract."
But thinking back to advice former music director Fabio Mechetti gave him when he first began working with the symphony, Nakahara feels like he understands how the musicians work.
"He set me aside and said 'This orchestra has a very unique vibe and environment. This is like a family. They consider themselves a musical family,' " he said. "Essentially his message was 'Treat them with respect and love and they will welcome you into their family.' "
Nakahara is trying not to approach "Classics 2" any differently than he would a regular concert, seeing any guest conducting gig as an interview of sorts.
A symphony he guest conducted once, for example, might ask him back or consider him for a position later on.
"I try not to think about it from 'This is a job interview' when I'm on the stage rehearsing," he said. "We have work to do."
If selected as music director, Nakahara would like to bring in more guest conductors to give both the orchestra and audiences different perspectives.
He'd like to collaborate more with organizations like Inland Northwest Opera and Spokane Civic Theatre, and would like to work with dance troupes throughout the year, not just for performances of "The Nutcracker."
But above all, he hopes, no matter who is selected as music director, that the family element of the orchestra remains.
"The sense of family still runs through here and it continued that way under Eckart as well," he said. "Whoever ends up becoming the next person, whether it be me or someone else, hopefully that will continue that way."
Nakahara is one of five music director finalists. The other finalists will conduct later in the season.
James Lowe will conduct "Classics 6: Passion's Pursuit" Feb. 16-17, and Rei Hotoda will conduct "Classics 7: Korngold and Shostakovich" March 9-10. Arthur Arnold will conduct "Classics 8: French Mystique" March 23-24, and Jayce Ogren will conduct "Classics 9: Russian Virtuosity" April 13-14.
"The candidates do offer a real variety of expression and personality and style among each other," vom Saal said. "I feel really lucky that we were able to get such a response from the orchestra world."
In considering the music director finalists, vom Saal is looking at three major categories: competence, character and commitment.
He wants to know that the music director will be competent when it comes to the repertoire but also in being organized and interacting with a variety of people.
When considering character, vom Saal wants to make sure the finalist selected is able to represent themselves and the symphony well in any scenario, be it with a member of the orchestra, symphony staff or in public.
"People are watching and it is a public position," he said.
And when looking at commitment, vom Saal wants to choose a candidate who will evolve with the symphony over time and bring new ideas to the table.
Ultimately, vom Saal wants someone who can help further the symphony's mission to create programming that is educational, engaging, entertaining and intellectually stimulating.
"What I want is for people to implicitly trust us and know that what we are going to do is going to be meaningful. It's going to be done very well," he said. "They're going to leave changed and want to come back for more."
Local journalism is essential.
The journalists of The Spokesman-Review are a part of the community. They live here. They work here. They care. You can help keep local journalism strong right now with your contribution. Thank you.
Subscribe to the Spokane7 email newsletter
Get the day's top entertainment headlines delivered to your inbox every morning.
---