Sports > WSU football
Rushing kings: Oregon State's Jermar Jefferson leads a new wave of talented Pac-12 running backs
Oct. 4, 2018 Updated Thu., Oct. 4, 2018 at 6:53 p.m.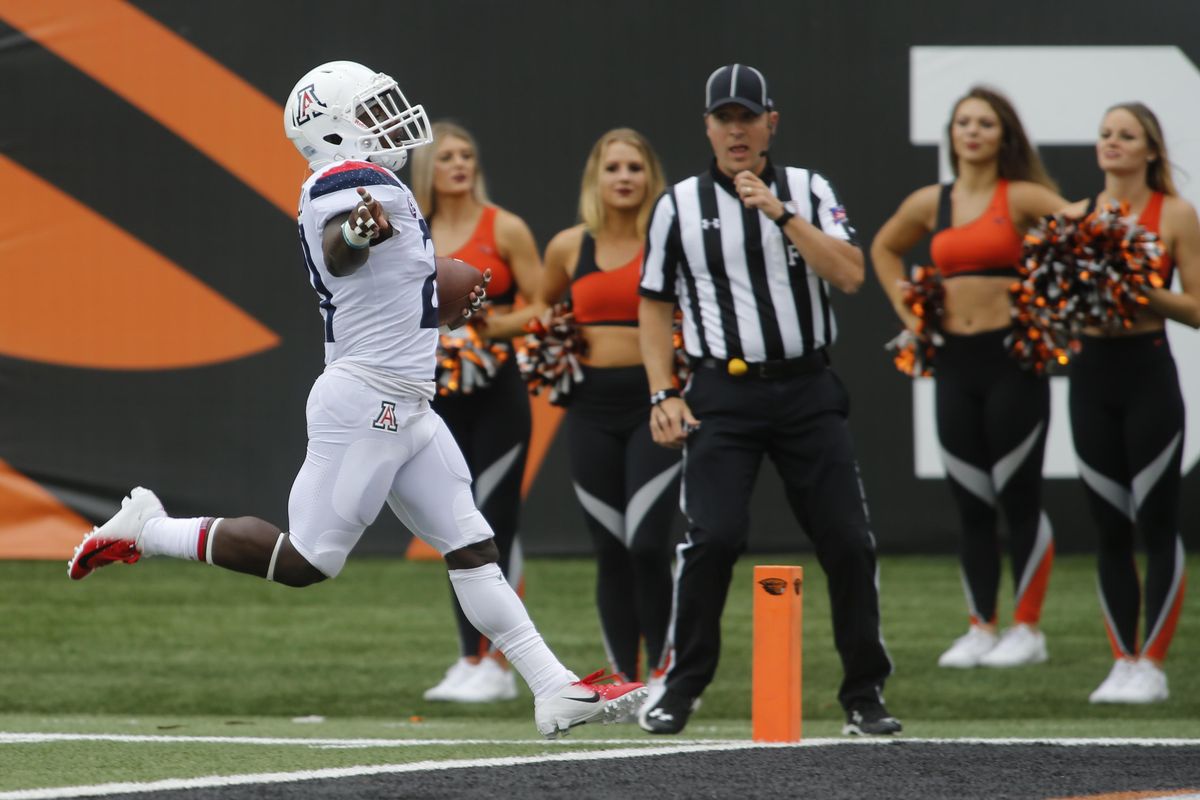 Arizona running back J.J. Taylor, celebrates as he crosses the goal line on a 40 yard touchdown run in the first quarter of an NCAA college football game against Oregon State, in Corvallis, Ore., Saturday, Sept 22, 2018. (Timothy J. Gonzalez / AP)
PULLMAN – It may be a fresh-faced 18-year-old from Oregon State, and not a decorated 21-year-old from Stanford, sprinting away with the Pac-12's rushing crown by the end of the 2018 season.
Jermar Jefferson, a true freshman from Los Angeles, has been a jolting presence for the Beavers' backfield this year and will certainly be a focal point of Washington State's defensive schemes when the Cougars travel to Corvallis on Saturday for a 6 p.m. game at Reser Stadium.
At a point of the season when many thought Bryce Love would be building his Heisman candidacy, Stanford's dynamic tailback has struggled to stay healthy. His 327 rushing yards place him eighth among the Pac-12's rushing leaders.
Meanwhile, Jefferson and a wave of youngsters have taken off.
"It's been fun to see," WSU running backs coach Eric Mele said Wednesday. "Everybody's got these weapons, kind of keep on reloading with different teams, that. … (The) Pac-12's kind of known for a lot of those skill guys and speed. That's what kind of attracts recruits, too. You're going to be catching the ball, running the ball, be all over the field making plays. And a few more points scored than a couple of other leagues, so it's exciting to come be a skill guy in the Pac-12."
You won't find Royce Freeman, Phillip Lindsay, Ryan Nall, Ronald Jones or Jamal Morrow in the end zone this season – and Love isn't getting there quite as often – but the Pac-12 has certainly restocked its cupboard at the running back position.
We take an in-depth look at seven freshmen and sophomores who make up the conference's new, and possibly improved, class of running backs.
Jermar Jefferson, Fr., Oregon State
Summary: In terms of pure workload, Jefferson has the heaviest in the conference this season. The rookie who chose OSU despite heavy interest from USC and Tennessee is not only the Pac-12's leader in rushing yards per game (145.4) and rushing touchdowns (eight), but he's the first to 100 carries and averages 21 rushing attempts per game. Jefferson shows outstanding field version and patience for a true freshman and runs with a low center of gravity at 5-foot-10, 211 pounds.
Defining stat: 727: Jefferson leads the Pac-12 and is second nationally in total rushing yards.
What they're saying: "I feel like he runs really, really hard so we've got to do a good job of tackling this weekend. Hopefully, we can bring him down." – Washington State safety Jalen Thompson.
Eno Benjamin, So., Arizona State
Summary: In a game in which Jefferson rushed 31 times for 254 yards and two touchdowns, the OSU back was only the second-best offensive player on the field. With one fewer carry, Benjamin burned the Beavers for 312 yards and three touchdowns, also catching three passes for 27 yards and a touchdown. The elusive sophomore is able to run between tackles, but also proved he could be a home-run hitter when he ripped off TDs of 44 and 47 yards last weekend in Tempe.
Defining stat: 312: Benjamin's yardage total against OSU marked the first 300-yard rushing game in school history.
What they're saying: "He's a very instinctive runner and remember, he didn't play a lot last year. My concern with him was, a guy who hasn't played a lot, can he carry it that many times? Thirty times. Can he do that three weeks in a row? I don't know. I don't know that because it's the first time I've been around Eno. He can." – Arizona State coach Herm Edwards.
CJ Verdell, RFr., Oregon
Summary: With the depth Oregon has in the backfield, and a future NFL first-round draft pick at QB, Verdell doesn't need to be the workhorse Jefferson and Benjamin are. But with 68 rushing attempts through five games, his yards-per-carry (6.2) stacks up with that of both players. Verdell's small stature (5-9, 200) makes him hard to bring down. Even after his late fumble cost the Ducks a chance to beat Stanford, the second-year freshman played with a short memory the next week against Cal and hit the century mark with 106 yards on nine carries.
Defining stat: 3: The number of 100-yard games for Verdell in five college appearances.
What they're saying: "Very happy for him. Quite honestly, we expected it. We know what kind of competitor he is and there's no fear in him and we completely trust him." – Oregon coach Mario Cristobal.
Max Borghi, Fr., Washington State
Summary: Borghi would thrive in a more run-oriented offense, but as one of two tailbacks in WSU's Air Raid, he's only carried the ball 18 times in five games and didn't run it once last Saturday against Utah. But Borghi is still getting touches in and he's recorded as many catches as he has rushing attempts. Plus, among Pac-12 tailbacks, he ranks sixth in total scoring with four touchdowns. Just 10 other offensive players in the conference have more.
Defining stat: 18: Next to teammate James Williams, Borghi leads all Pac-12 running backs in total receptions.
What they're saying: "I think (USC) was kind of the last checkmark for him going into the season. First Pac-12 game, on the road, a hostile environment like that. He was able to kind of impose his will a little bit as a freshman. It was pretty impressive." – Mele, WSU running backs coach.
JJ Taylor, RSo., Arizona
Summary: Khalil Tate's ankle injury has taken away a dimension of Arizona's running game, but the Wildcats are still leading the conference in the ground with 1,087 yards. Taylor's been responsible for nearly half of that, with 527 on 89 carries. As a third-year sophomore who obtained a medical redshirt his freshman season, Taylor's the oldest player on the list with 21 games under his belt. Without Nick Wilson roaming the Wildcats' backfield, Taylor's usage has increased. He's on pace for 200-plus carries and more than 1,200 yards after gaining 847 as a redshirt freshman in 2017.
Defining stat: 284: Taylor ran circles around Oregon State in a game that saw Arizona rush for 442 total yards.
What they're saying: "Well, obviously, he played a lot last year. We want to rotate our running backs … but a little bit like anything else, he had a pretty hot hand going and I think the rotation was still pretty good for him because he was able to rip off some long runs." – Arizona coach Kevin Sumlin.
Vavae Malepeai, So., USC
Summary: Aca'cedric Ware and Stephen Carr are often the running backs getting USC to the red zone, but once the Trojans arrive there, they typically like to feed Malepeai. The 6-foot, 215-pound sophomore has bulldozed his way into the end zone six times in five games. With 29 carries, he's scoring about once every five times he's given the ball. The distances of those touchdowns have been 2 yards, 20 yards, 3 yards, 3 yards, 2 yards and 1 yard.
Defining stat: 20: Of Malepeai's six rushing touchdowns this season, one – a 20-yarder against UNLV – has gone for more than 3 yards.
What they're saying: "I definitely want to move out of just being classified as a goal-line back or a red-zone back. And that's on my part. I have to work harder and hone my technique so I'm not just a goal-line back. I don't like to be boxed." – USC running back Vavae Malepeai, to uscfootball.com.
Salvon Ahmed, So., Washington
Summary: The lightning-quick sophomore should be UW's go-to tailback when the Huskies start the 2019 season, but he's already shown flashes of his capabilities in limited opportunities and is averaging just less than 7 yards per carry through his first two years. Saturday against BYU, he took 10 carries for 86 yards and scored multiple touchdowns for the first time in his career. Once UW's all-time rushing leader, Myles Gaskin, graduates, expect that Ahmed will explode onto the scene.
Defining stat: 7.1: Ahmed's only rushed 34 times this year, so his numbers aren't figured into the league totals, but his per-carry would rank second among Pac-12 players.
What they're saying: "He'll break some of those arm tackles that are getting him a little bit and we'll keep having he and Myles as that one-two punch now and keep going until he gets something big." – UW coach Chris Petersen.
Local journalism is essential.
Give directly to The Spokesman-Review's Northwest Passages community forums series -- which helps to offset the costs of several reporter and editor positions at the newspaper -- by using the easy options below. Gifts processed in this system are not tax deductible, but are predominately used to help meet the local financial requirements needed to receive national matching-grant funds.
Subscribe to the Cougs newsletter
Get the latest Cougs headlines delivered to your inbox as they happen.
---