A&E
Keeping Halloween fun for those with special needs
UPDATED: Fri., Oct. 5, 2018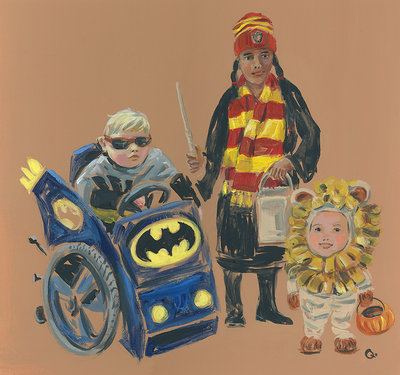 Halloween can be scary beyond ghosts and monsters.
Some families experiencing childhood diabetes, food allergies, autism or mobility issues don't always enjoy the Oct. 31 holiday.
"There are a lot of children diagnosed with autism and with sensory integration disorder," said Spokane parent Jess Silvernail, whose 13-year-old daughter was diagnosed with autism.
"It's really difficult during these types of holidays that incorporate bright lights, scary loud sounds and flashing lights. My daughter will get overwhelmed in large crowds, even today."
It can affect kids who have anxiety, autism or are prone to seizures, she said, along with youth who have developmental disabilities or other conditions. Silvernail is noticing more community Halloween activities that factor in groups of children who might otherwise miss out.
On Halloween this year, the WSU College of Nursing has set up Trick or Treat So All Can Eat near the Bookie in Spokane. It offers games, prizes, snacks and some candy, but carbohydrate information is attached to each food item for counting carb intake, and the event is peanut-free.
That's because the evening is geared to children with Type 1 diabetes and other special needs, such as peanut allergies or conditions requiring use of a wheelchair, that might shut them out of Halloween activities.
"This meant having a gluten-free event and putting all of the carb counts on the snacks and food, so it would be easier for the parents to add up all the carbs for insulin administration," student organizer Emily Fejeran said.
"It kind of blew up from there to do peanut-free, wheelchair access and wheelchair-friendly games. We also had kids who attended last year who had autism, and we were able to have some activities that were a little bit lower stimulation."
Many toy prizes and nutritional snacks will be given out. Carb counting allows for some sweets because knowing the amount of carbohydrates determines how much insulin to administer, said senior instructor Laura Wintersteen-Arleth, who teaches the nursing students a unit on diabetes.
"It's really about carbohydrates and managing it with the insulin," Wintersteen-Arleth said. "I'm not advocating going out and eating candy, but you can manage it. It's all about the overall control."
Wintersteen-Arleth has interacted with kids at Camp Stix, a regional summer program for nearly 200 children who have Type 1 diabetes, and a related day camp for younger kids, Camp Twigs, held at Dart-Lo. Both are run by the nonprofit Camp Stix Diabetes Programs.
"I hear from kids with diabetes how difficult it is for them to be able to go out trick-or-treating because they don't know (about the carbs)," she said. But at the 2017 event, "we had everything in a controlled environment, it truly made an impact on our diabetic community."
Around 40 nursing students helped out last year, and health sciences instructors donated treats and prizes. A large event space next door to the Bookie has a back entrance that's wheelchair accessible. The enclosed environment lets children wander safely.
WSU nursing student Shelby Garman said all the booths are built at kids' level and easy to access for children in wheelchairs. Most kids attending are in kindergarten through sixth grade.
"Our goal was to create something that would be geared to these kiddos who maybe can't walk around in the neighborhoods because they are in wheelchairs, and for the kids with diabetes," Garman said.
"It's scary for the parents not knowing all the carb counts on the candy and what they're eating. We wanted to create something where everyone could feel safe and comfortable, where the parents didn't have to stress, and where kids felt like they can have a fun Halloween."
Nursing student Morgan Carpenter thought up the idea last year for an alternative Halloween event after taking Wintersteen-Arleth's diabetes education unit. Junior-year leaders collaborated, and it quickly snowballed to add other special needs. The first event drew about 30 kids.
Nursing students in costumes operate the games. A photo booth also is offered to guests.
"We had sensory games with boxes we called Spooky Touch and Feel, and they could put hands inside and guess what they were feeling," Garman said.
"We had noodles that were supposed to be like witches' hair, and grapes that were supposed to be icky little eyeballs. We also had a fishing game and fishing pole that's magnetic. We put a little prize and they could reel the prize back, and they could do that right from their wheelchair."
Each year, students in their senior year will mentor incoming juniors so that the event continues.
Garman said it's worthwhile.
"Seeing the kids come in kind of nervous and shy and being able to make them smile, laugh and play the games with us, and to see the parents be able to relax, it just felt special," Garman said.
As a parent, Silvernail said she often would read books to her daughter who has autism about three to four weeks ahead of a holiday or event, to prepare her child more on what to expect. She'd talk to her about upcoming activities and have her do "baby steps" to make sure festivities stayed fun.
Local journalism is essential.
Give directly to The Spokesman-Review's Northwest Passages community forums series -- which helps to offset the costs of several reporter and editor positions at the newspaper -- by using the easy options below. Gifts processed in this system are not tax deductible, but are predominately used to help meet the local financial requirements needed to receive national matching-grant funds.
Subscribe to the Spokane7 email newsletter
Get the day's top entertainment headlines delivered to your inbox every morning.
---