Sports > WSU football
John Blanchette: Oregon State's hijinks-heavy attempt at upset of Washington State falls flat late
Oct. 6, 2018 Updated Sat., Oct. 6, 2018 at 11:51 p.m.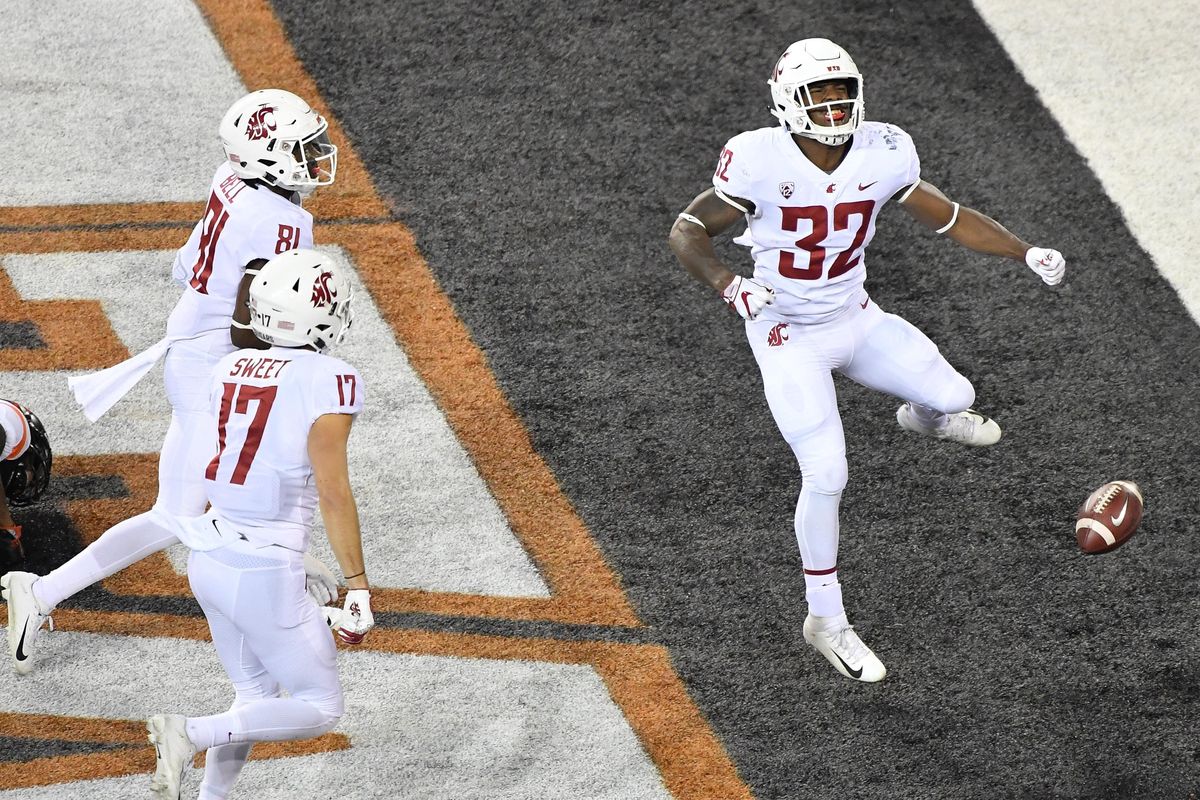 Washington State Cougars running back James Williams (32) celebrates after scoring a touchdown to close out the first half of a college football game against Oregon State on Saturday, October 6, 2018, Reser Stadium in Corvallis, Ore. (Tyler Tjomsland / The Spokesman-Review)
CORVALLIS – Any number of things are contrary to official Pac-12 policy, including football games that get you back home before midnight.
Another one: Washington State and Oregon State being good in the same season.
Apparently, only so much room is allotted for plucky ags-to-riches stories each year, lest the monoliths at Stanford, USC and Washington are deprived their full allotment of media lumens.
This makes 2018 a typical year – and yet Saturday at Reser Stadium was hardly the typical night.
A brief first-half accounting alone will tell you as much. The notable points: an opening play that went for 42 yards; a blocked punt for a touchdown; two fourth-down conversions in one drive; an onside kick; a 75-yard TD run called back for a hold; a double-reverse-tossback pass that barely got in the same area code as the intended receiver; a muffed punt that led to a touchdown; a lateral pass kickoff return and yet another reverse that covered 56 yards. And to start the third quarter, the Cougs lost three straight reviews on potential fumbles.
Also, the Beavers actually led. Twice.
The hijinks-a-minute pace could not hold, of course, and in the end the Cougars took a flamethrower to the fun, escaping with a 56-37 victory – and no doubt the Beavs will be kicking themselves for not dialing up the oopdie-oop play for Billy Bob before it all got away from them.
Not that the silliness stopped completely. The Beavers, who had gone for it on fourth down with impunity all night, actually decided to punt down 19 points with less than 4 minutes left in the game.
Of course, it was fourth-and-54 at that point.
Given that OSU's only victory this fall was notched against Southern Utah, Saturday's struggle will not be a highlighted item in the Cougs' resume. Yes, the road, the wackiness, the duress – Wazzu overcame it all. But Mike Leach always wants his team to get a week better and, really, this one qualified only in the win column.
Which is the best way to tread water.
The #Pac-12AfterDark meme has convinced us that any kickoff after sundown will produce its share of nonsense, but surely we expected no drama – other than wondering whether Leach, who went on a screed against the very idea of "balance" in his remarks last week, would cave to common wisdom and deign to hand off the ball against the second worst rush defense in the country.
We got our answer. Not in the first quarter. Even Cougar legend Ryan Leaf was on the TV at halftime wondering why his old school had only run the ball four times.
Glad you could join us in the 50 percent stupid club, Ryan. You're in charge of snacks for the next meeting.
And yet by game's end, the Cougs hit a milestone. An even 100 net yards rushing.
"In this offense," quarterback Gardner Minshew said, "if you can get that going, it opens everything up."
Watch out, Gardner, unless you're bucking for club membership, too.
If not for some of the Beavs' trickeration and the fact that the Cougars kept coming up a split-second late on turnovers (three near-misses stood on replay) this might have been more lopsided, in keeping with this series – 18 of the previous 36 meetings were decided by three touchdowns or more. But maybe the Beavers aren't quite as dismal as advertised.
In the ramp-up to kickoff, the week's compelling topic was whether the Beavers, under first-year head coach Jonathan Smith, could follow the trail of crumbs through the forest that Leach left in resurrecting the Cougars in mid-decade. The question moved Leach to the brink of self-pity.
"Oh shoot, he thinks it's tough there," Leach said. "He ought to try it at Washington State the first year."
This is the original trick play on the coaching call sheet – how bad the guy before you left things. Leach's predecessor trotted it out, too.
And, sure, there were many things to fix at Wazzu. But it's just as true that 16 Paul Wulff recruits started on Leach's first bowl team, and Wulff gifted him not one but two actual Division I quarterbacks – or two more than he was left. Never mind, too, that the school went into obscene debt to build Leach a football palace.
But it's also clear that Leach was up to the heavy lifting required not to just make the Cougars competitive, but contenders.
The program Smith inherited lost 11 games a year ago by an average of 25 points. Saturday's burlesque served to show only that while the Beavers are capable of baby steps, they also have to be perfect to stay upright.
In the post-Pac-8 era that dates from 1978, only twice have the Cougs and Beavs finished with winning records in the same season.
Apparently, that's the real trick.
Local journalism is essential.
Give directly to The Spokesman-Review's Northwest Passages community forums series -- which helps to offset the costs of several reporter and editor positions at the newspaper -- by using the easy options below. Gifts processed in this system are not tax deductible, but are predominately used to help meet the local financial requirements needed to receive national matching-grant funds.
Subscribe to the Cougs newsletter
Get the latest Cougs headlines delivered to your inbox as they happen.
---