Sports > Outdoors
S-R Hunting Outlook 2018: More opportunities for deer, but elk prospects appear middling in Eastern Washington
Sun., Oct. 7, 2018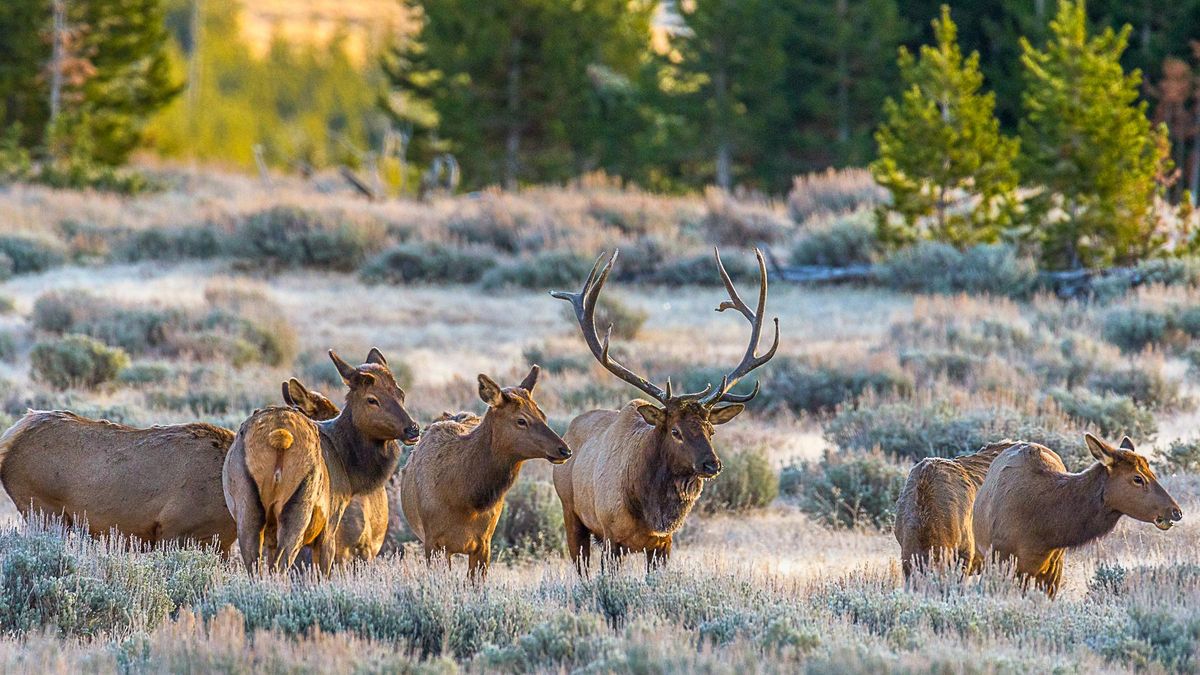 Spokane photographer John Latta nails the light and the moment as this bull elk moves with its harem of cows during the tail end of the rut at Yellowstone National Park. The Idaho Department of Fish and Game is asking for hunter feedback on the 2019-20 big game season rules and regulations. Throughout March IDFG will hold open houses. Proposed changes are available at idfg.idaho.gov/rules/big-game/19-20-proposals. (JOHN LATTA / JOHN LATTA)
With Washington's modern deer season opening Saturday, hunters have something to look forward to, with increased opportunities and a slowly rebounding population. Elk prospects throughout Eastern Washington, however, remain middling.
The Washington Department of Fish and Wildlife's 2018-19 Hunting Prospects has the dirt, and regional biologists have helped fill out that information in interviews.
Let's start with deer.
Statewide deer populations have increased, according to Jerry Nelson, Washington Department of Fish and Wildlife deer and elk section manager. In Eastern Washington the population is still recovering from a 2015 drought, followed by an outbreak of bluetongue in whitetail deer and a tough winter in 2016-17.
Annemarie Prince, the wildlife biologist for District 1, said she expects harvest numbers to go up, mainly because of new hunting opportunities after several years of restrictions.
"We have antlerless this year," she said.
For the first time in a long time, modern rifle hunters were able to apply for an antlerless deer tag.
As for the overall deer population (both whitetail and mule deer), Prince said, "It seems average out there. I wouldn't say that we're seeing a lot more deer than in years past. But it also doesn't seem like there are a lot less deer."
If the weather stays cool, Prince anticipates a good opening weekend.
WDDW staff will be running nonmandatory check stations in Chewelah on opening day and on Oct. 20 and in Deer Park on Oct. 14 and 21.
"They're a good place for hunters to stop and tell us what they're seeing in the woods," Prince said. "For the antlerless deer, we're requesting the permit holders bring us the head or the whole deer, and we'll cut the head off."
With most of District 2 being private land, finding good deer hunting opportunities often comes down to access, district biologist Michael Atamian said.
In 2017, hunter success in District 2 declined to an average of 26 percent. That's an 8 percent decline from the previous 10-year average, according to WDFW's hunting prospect report.
Atamian said mule deer in his district are doing well, although WDFW hasn't done an aerial survey recently. Instead, ground surveys are "showing pretty good sex-to-age ratios."
The decreased success ratio could be from a number of things, including changing access to private lands in addition to the overall mule deer population, he said.
As for whitetails, Atamian said WDFW doesn't have a good methodology for determining the population size. But ground surveys are showing better buck-to-doe ratios.
"The short story there is the population seems to be getting better, but it's not back to its pre-outbreak (bluetongue) level," he said. "So hunters should be able to have decent odds of getting a buck, but it's going to be more work than it was four years ago."
As elsewhere the 2016-17 winter, the outbreak of bluetongue disease and epizootic hemorrhagic disease are reverberating through District 3.
WDFW officials "don't expect harvest metrics to rebound toward long-term averages until the 2019 season."
Now, let's talk elk.
Southeast Washington is generally the best place to hunt elk in Eastern Washington. In particular, the Blue Mountains are a popular area.
But a tough 2016-17 winter, combined with relatively dry summers and increased predation, are leading to lower than normal elk numbers, district biologist Paul Wik said.
"We're going to be down on the number of spikes on the landscape," he said.
The tough winter and dry summer are the primary causes, Wik said, but predation – from cougars and wolves – has also played a part.
Wik said a 2009-12 study found that "our cougar density is substantially higher than any of the other study areas in Washington."
The reduced numbers have led to some reduction of hunting opportunity. For instance, WDFW removed antlerless archery opportunities in GMU 175 this year, he said.
"We are reducing opportunity in other places as well, trying to allow the population to grow back," he said.
Hunters may see further reductions in 2018-19, Wik said.
Additionally, Elk Area 1040 (4-0 Ranch Wildlife Area) is closed to general season deer and elk hunting this year, and hunting will only be allowed through a permit system.
Hunters looking to get elk in District 3 will have to choose between popular and easier-to-access GMUs, or more difficult-to-access but less-crowded units. Either way, if last year's harvest data is any indication, the chance of success is small.
Elk prospects in District 2 aren't much better.
"(The general overview) in my district, it is pretty straightforward: If you want a good chance of getting an elk, you need to secure private land access," Atamian said. "The elk are pretty scattered in small groups across the landscape."
The majority of District 2 is private land. Hopeful hunters are advised to secure permission well in advance of the season.
The only area where elk can be consistently found is at Turnbull National Wildlife Refuge, which is a special permit hunt area.
"If you can secure access from landowners around Turnbull, you have slightly higher odds (of getting an elk)," Atamian said.
One possible bright spot for elk hunters is the Revere Wildlife Area in Whitman County.
"Elk are pretty regularly found around Rock Lake and Bonnie Lake," he said.
This summer, Pheasants Forever donated 94 acres of land to the WDFW. That land will connect WDFW's 2,291 Revere Wildlife Area in Whitman County with the 14,000-acre Bureau of Land Management Escure Ranch.
As for District 1, which covers Ferry, Stevens and Pend Oreille counties, Prince said it's hit-and-miss.
"I kind of tell the hunters that call asking about elk, 'We've got elk, but we're not the hot spot to harvest them,' " she said. "They're definitely out there, and we harvest pretty consistently the same number every year."
Local journalism is essential.
Give directly to The Spokesman-Review's Northwest Passages community forums series -- which helps to offset the costs of several reporter and editor positions at the newspaper -- by using the easy options below. Gifts processed in this system are not tax deductible, but are predominately used to help meet the local financial requirements needed to receive national matching-grant funds.
Subscribe to the sports newsletter
Get the day's top sports headlines and breaking news delivered to your inbox by subscribing here.
---