Lisa Brown speaks at forum hosted by Coalition of Color; judicial candidates make their pitch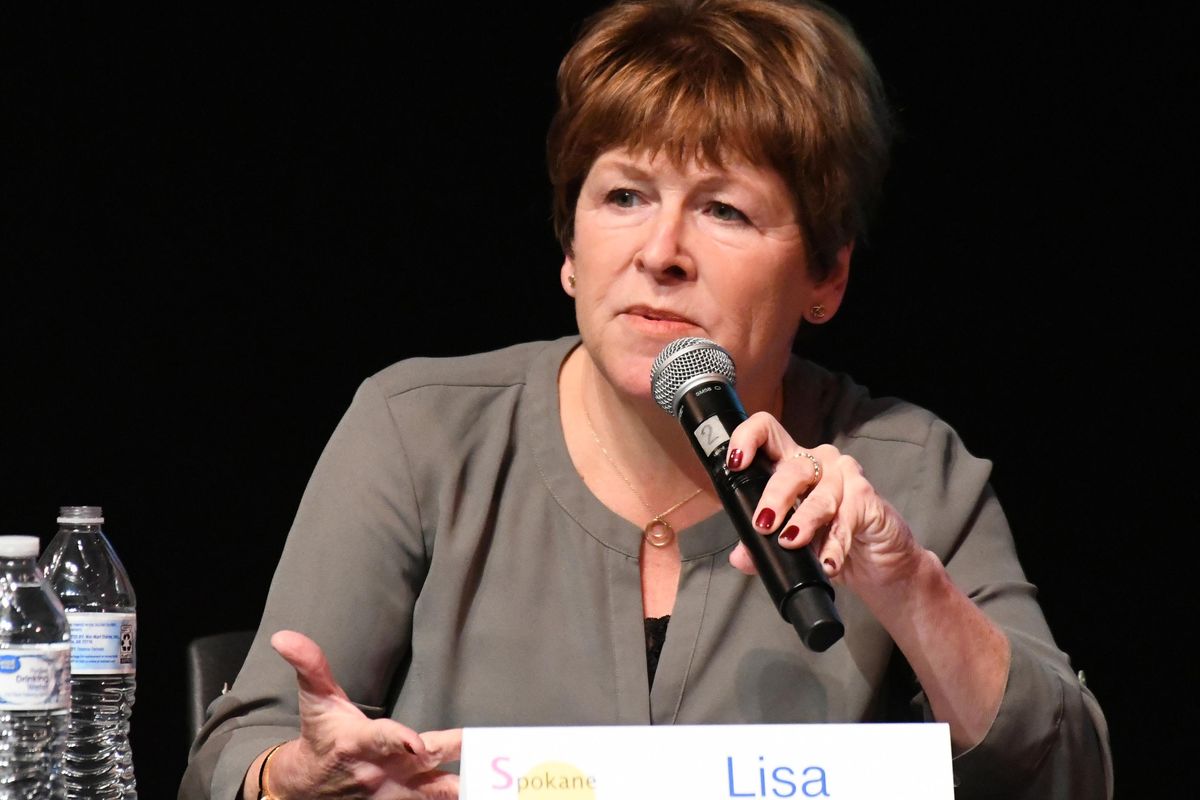 Lisa Brown spent part of her birthday Tuesday speaking at the Coalition of Color Candidate Forum and answering questions and concerns of people of color.
At the same time, an hour and a half north in Colville, Brown's opponent for the 5th District Congressional seat, Rep. Cathy McMorris Rodgers, attended a forum hosted by the North East Washington Association of Realtors.
Although both candidates were invited to both forums, they did not meet to debate in what would have been their fifth planned meeting.
People at the Coalition of Color forum, mostly supporters of Brown, a Democrat, expressed their discontent over the absence of Republican McMorris Rodgers.
Gifti Abbo, a University of Washington Spokane student, was pleased Brown came. "I think her presence versus the absence of McMorris Rodgers spoke a lot of volumes to the community," she said.
Abbo said she aligns with Brown's policies, but would have liked to see McMorris Rodgers support the groups representing people of color in Spokane.
An aide representing McMorris Rodgers read a letter from the stage during the Coalition of Color forum at Spokane Community College to a crowd of about 75. She affirmed the incumbent representative's commitment to people of color. The letter mentioned that on Saturday, McMorris Rodgers met with the Spokane Ministers Fellowship, a group of African American ministers in Spokane.
"I definitely wanted to be here tonight, both because it was at SCC and because of the three organizations that came together to sponsor it," Brown said. The forum was also sponsored by the Spokane NAACP and the Asian Pacific Islander Coalition.
"(Brown) would always prefer a debate," said Tanya Riordan, Brown's campaign manager.
Brown's hope if elected to Congress is to serve on the Education and Workforce Committee and focus on two issues: The DREAM Act and federal guest worker programs.
"Border security is legitimate, but I don't see how a wall is the answer to the problem," especially when the root issue for people fleeing their country is to seek asylum, she said. "They deserve respect and due process."
Local judge candidates
All four candidates for the two local judgeships spoke at the forum, although they did not debate or answer questions.
Spokane County Superior Court Incumbent Judge Michelle Szambelan, who was chosen by Gov. Jay Inslee to fill the court's Position 10 in February, said her selection was due to her experience and community service.
"I'm very proud of having been a judge for a long time and yet still have people feel like they get a fair shake in front of me," she said.
Her opponent, Dennis Cronin, touted his 33 years of legal experience.
In the race for a Spokane County District Court judge seat, Randy Brandt talked about his lifelong residency in Spokane. "I'm a local boy," he said.
Brandt spoke of his willingness to give bus passes to people who can't deal with transportation to and from the courthouse, and other ways he helps, such as finding housing.
Patrick Johnson touted his 25 years of experience in the military and said as a veteran, he'd be a good fit for the Veterans Court.
He said he puts paperclips over the pieces of paper that indicate a defendant's race, so he can't see it to "make sure I'm fair."
This story has been updated since its orginal publication.
---