News > Spokane
Old automotive garage turned thrift store on East Sprague placed on historic register after renovation
Wed., Oct. 10, 2018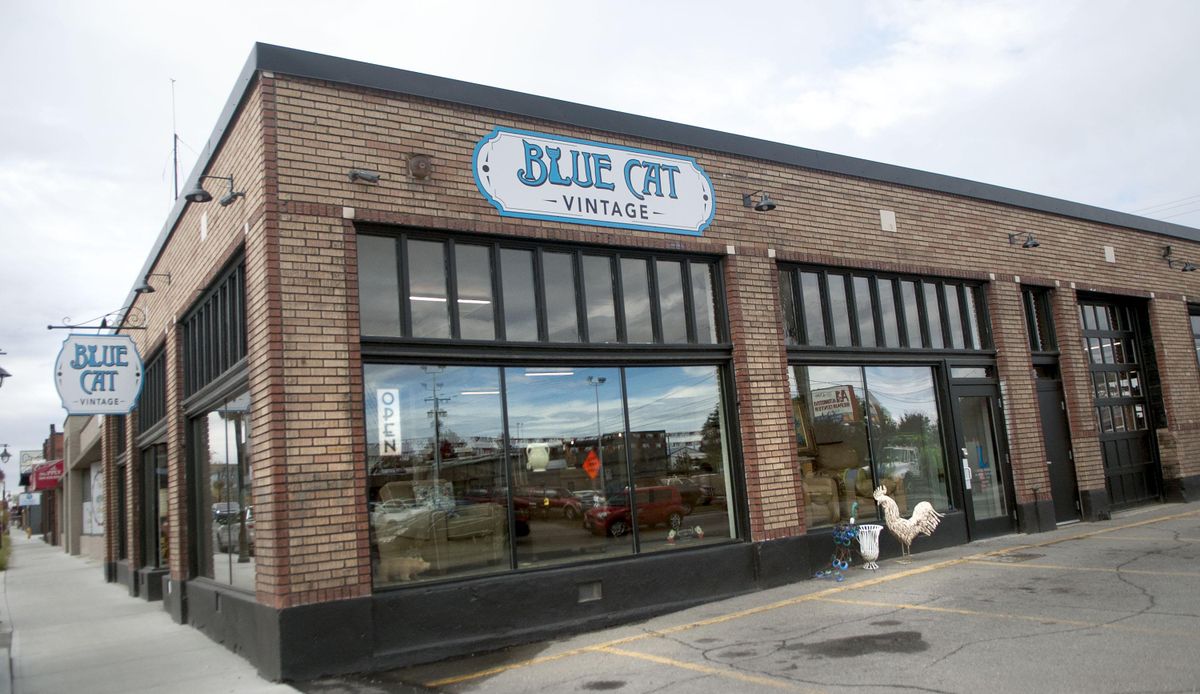 Blue Cat Vintage which at one time was a service garage and gas station at 1919 E. Sprague was placed on the Spokane Register of Historic Places this week. (Kathy Plonka / The Spokesman-Review)
A garage that served the motorists of Spokane for 70 years on East Sprague Avenue has been placed on the Spokane Register of Historic Places.
The Quality Garage building, 1919 E. Sprague Ave., was constructed in 1930 as East Sprague was transformed from a common neighborhood thoroughfare to part of the busy Sunset Highway, the main route through town at the time.
Seventy years passed – with the building being devoted to car sales, work or parts – before it became a thrift store for more than a decade. But in the past year, the garage underwent significant renovation, mimicking the transformative improvements done to the major road it faces. Its listing on the registry by the Spokane City Council on Monday recognizes its historic and architectural significance to Spokane.
The listing is another sign of the changing fortunes of the East Central Neighborhood. Though it was a thriving commercial district for the bulk of the 20th century, East Sprague's reputation deteriorated in recent decades and its name became a byword for petty crime, prostitution and drug use.
Following a $4.3 million rehabilitation of the street last year, buildings are being fixed up and businesses are moving in.
Blue Cat Vintage occupies the Quality Garage building. Across the street, Christopher Morlan Architects moved into 1912 E. Sprague Ave. just this week. Next door, in the space occupied by a palmistry business for years, the Union Tavern is three weeks from opening its doors.
A block east, Two Women Vintage began selling its wares three weeks ago. Darrell Smith, the owner of Boyd-Walker Sewing Machine Co. on the corner of Sprague and Napa Street, said he's rehabbing part of his space for a new retail tenant, though he declined to share the tenant's name.
"To see some of these buildings being brought back is just really exciting," said Megan Duvall, the city's historic preservation officer. "It's supercool."
The owner of the Quality Garage building, local developer Steve Schmautz, also purchased the Pilastro Building next to the Bay Market, which houses Two Women. Both buildings have been substantially renovated.
Dianna Chelf, who owns Two Women with her daughter Fielding, said Sprague is much different from what it's been for most of her 20 years in Spokane.
"A lot of people are saying it's made such a turnaround. I think a lot of it has to do with the street work they did. This is definitely an upswing," she said. "It's just wonderful what they can do with these old buildings."
Chelf said she moved her business from its previous Cedar Street location on advice of the owners of Blue Cat, quickly making the street something of an antique and vintage row.
With the addition of the upcoming tavern, there will be reasons other than vintage shopping to go to the close-in east Spokane district.
Sean Smith, the contractor building the tavern, described the dining and bar area as "exposed brick," and said one of the walls is dominated by a stylish wooden back bar salvaged from the defunct Club 93 Casino and Lounge in Hamilton, Montana.
"It's just a cool back bar," Smith said.
The club, which began as a country-western nightclub called The Brass Rail, was a landmark log structure made of wood harvested from the Bitterroot Mountains.
Morlan, who owns his namesake architectural company, said he moved his firm to East Sprague because of the historic, still-standing built environment.
"I'm intrigued with the development of the street and the keeping of urban facades," Morlan said. "We made the whole front a glass facade so we can see the street, and the street can see us."
As Schmautz did with the Quality Garage, Morlan said he plans to put his building on the local historic register.
Before the Quality Garage was built in 1930, a house and three small "saloons" sat on the property. But as cars became more common and Sunset Highway became more of a commercial district serving motorists, the buildings were demolished.
"Single-family homes and saloons had been replaced by automobile shops, service garages, dealerships, showrooms, and gas stations with gasoline pumps used to refuel autos and trucks," according to the nomination paperwork submitted to the city.
The brick and concrete garage was built by David L. Hawkins, his son George Hawkins and his son-in-law George Carr.
In his book, Washington's Sunset Highway, Chuck Flood wrote, "An elegant brick-built structure, the AAA-approved Quality Garage was a full-service garage and automobile electrical shop at East 1919 Sprague Avenue. Five pumps of various grades of Texaco gas sit diagonally on the service apron, along with signs for Quaker State and Pennzoil motor oils. In 1939, a gallon of Texaco Fire Chief gas cost 22.5 cents a gallon here" in Spokane.
In 1962, the garage changed hands and its name, from "Quality" to "Skaggs Automotive Auto Parts," after its new owners, Charles and Maxine Skaggs. In 2000, the garage changed hands again, and from 2003-16 it housed the Teen Challenge thrift store.
In November 2016, Schmautz bought the building for $400,000 and "repaired, rebuilt, cleaned, and rehabilitated the garage and parking lot" following federal guidelines for historic preservation. It now houses Blue Cat Vintage, an antique and collectibles shop.
The Spokane-based architects of the garage were Archibald Rigg and Roland VanTyne, who worked together from 1910 to 1938, when VanTyne died. Together, they designed numerous structures in the Pacific Northwest and in Spokane, including Hutton Elementary School, the Masonic Temple, Edgecliff Tuberculosis Sanitarium, Riverside Mausoleum, Harriet Cheney Cowles Library at Whitworth University, Science Hall at Washington State University and the old Shriner's Hospital for Crippled Children on Summit Boulevard.
Local journalism is essential.
Give directly to The Spokesman-Review's Northwest Passages community forums series -- which helps to offset the costs of several reporter and editor positions at the newspaper -- by using the easy options below. Gifts processed in this system are not tax deductible, but are predominately used to help meet the local financial requirements needed to receive national matching-grant funds.
Subscribe now to get breaking news alerts in your email inbox
Get breaking news delivered to your inbox as it happens.
---