Strong Sedro-Woolley contingent plays big part in Whitworth's perfect start in football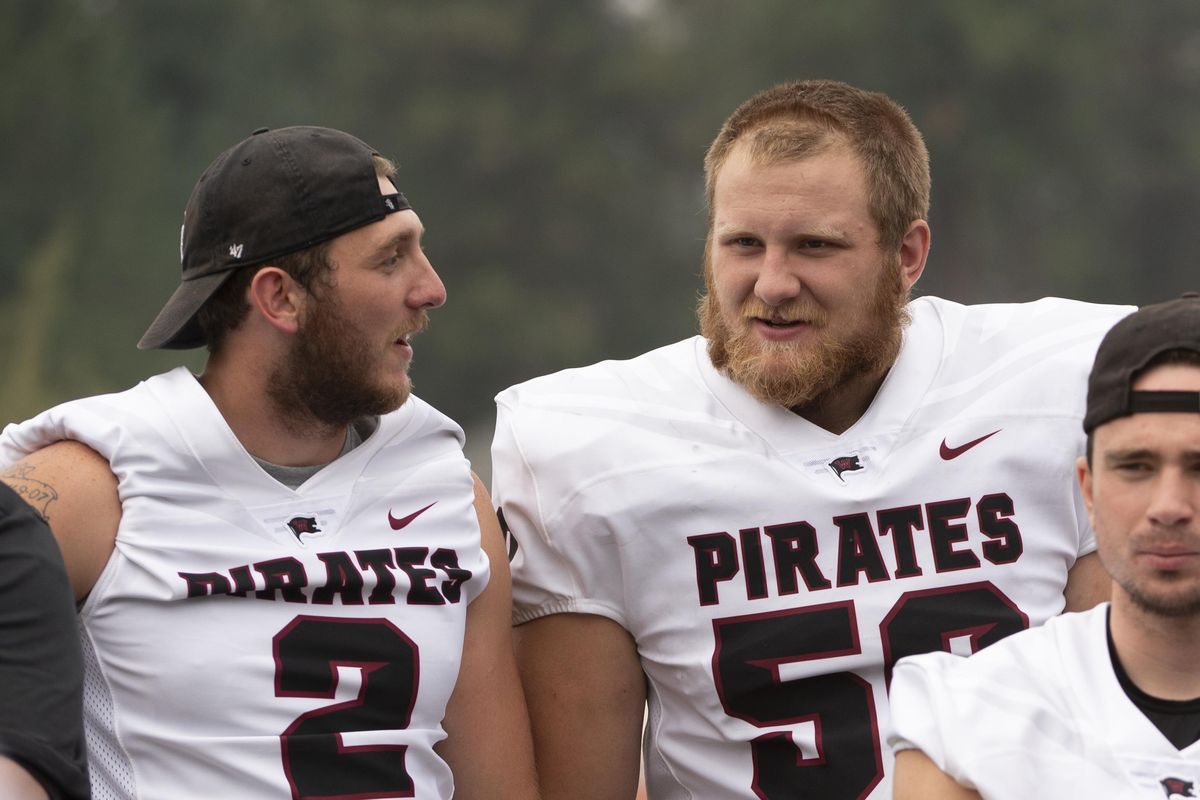 Scan the crowd at a Whitworth football game and there's a good chance you'll find a section from Sedro-Woolley, Washington. Last week, a road game, was no different.
It was understandable for a few families to make the five-hour drive from the small town in the Skagit Valley to Newberg, Oregon. They have sons who play for Whitworth. But the others?
"We have parents that drove down to George Fox who didn't have any kids on the team," Sedro-Woolley High School head coach Dave Ward said of Whitworth's 38-14 victory that left the Pirates 4-0 overall. "They're just Sedro-Woolley fans, and they wanted to see how the Sedro-Woolley kids are doing."
It is easy to see why. There are five Sedro-Woolley graduates on the Whitworth roster, more than any other high school including the ones in town, which might seem a bit strange, seeing as it's a 2A school about a six-hour drive from Spokane.
But it illustrates that recruiting is more about relationships than geography.
Considering that Ward is a Whitworth alum and one of his Sedro-Woolley assistant coaches – Mundo Corrales – is a former Ward player and Whitworth alum, the line between the two places gets a little straighter.
So immediate is the connection that head coach Rod Sandberg joked he hardly has to recruit from Sedro-Woolley, because Ward does it for him.
"Coach Sandberg is being humble," Ward said. "He needs to take credit for instilling some of the same feeling about what it means to be a Pirate, and to care about each other and play for a team. He's done a good job creating that unselfish attitude, and knowing he was there made it easy to me to say to kids, 'You'll have a great experience there.' "
Ward, a Shadle Park graduate who still has family in Spokane, played linebacker at Whitworth from 1972-75 and stayed on as a grad assistant in 1976. His coaching career included a stint at Cheney before he and his family moved to Whidbey Island. There he coached at Oak Harbor for 17 years, then four more at Archbishop Murphy before landing at Sedro-Woolley in 2012.
Four years ago, Ward coached the Cubs to their first state football championship. Mason Elms and Chad Wilburg were seniors on that team, and both were dominant. Wilburg played middle linebacker and recorded 171 tackles in 14 games. Elms, a running back, amassed 1,947 all-purpose yards and 24 touchdowns during the championship season.
"That group of guys had been playing football almost 12 years together," Elms said at practice Monday. "Our whole community was behind us, our crowd was always there, making noise. Almost the whole town went to every game."
Elms and Wilburg visited Whitworth that year. For them, the university felt like a parallel place.
"Mason and I came here and the atmosphere was great, football-wise and outside of football, and we liked the smaller school since we came from one," Wilburg said. "The people here are family-driven, and we like that."
In addition to two players who have since left the program, three other current Whitworth players – sophomore defensive back Bryce Hornbeck, sophomore offensive lineman Drew Aungst and freshman defensive lineman Dylan Peterson – were part of that Sedro-Woolley championship team. When Elms and Wilburg paved the way to Whitworth, it made the Pirates an obvious consideration in their own recruiting.
"I thought, well, I gotta go give these guys a look," Aungst said. "The family feel of this team had me right away."
The success of the Pirates' program has played a part. Since the start of the 2014 season, the Pirates are 35-10. This year, Elms and Wilburg have played major roles. Elms is tied for the Northwest Conference lead with six rushing touchdowns. Wilburg's five sacks are third most in the conference.
Ward said he has a couple of current players who would be a nice fit at Whitworth. They haven't visited campus, he said, but when players come back and work with the Sedro-Woolley team during the summer, as Elms has the past two, the pipeline is reinforced.
"They're the best recruiters of all, and the word trickles back pretty fast," Ward said. "They're gonna listen and consider Whitworth."
---