Johnathan Williams brings strong work ethic from Gonzaga to the Los Angeles Lakers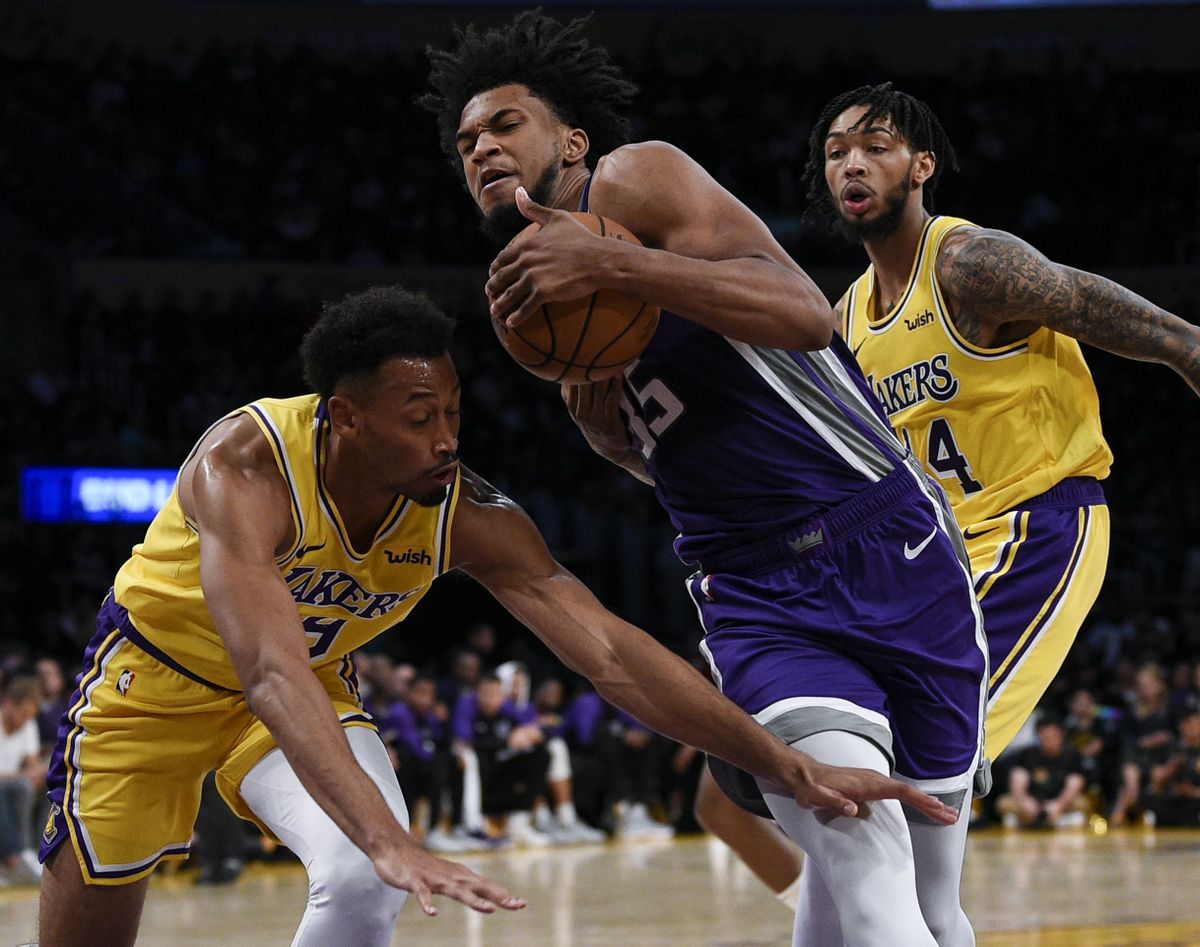 LAS VEGAS – Johnathan Williams has never been short on work ethic.
It helped him win a high school state championship his senior year at Southwind, in Memphis, Tennessee. It got him a scholarship at the University of Missouri, where he led the Tigers to an appearance in the NIT and a 23-13 record his freshman season. And it brought him to Gonzaga for the final two seasons of his collegiate career, which included the Zags' run to the 2017 NCAA Tournament championship game.
Now the former Bulldog who went undrafted in June and signed with the Los Angeles Lakers in July is hoping it's been enough to land him a roster spot when the regular season opens for the Lakers next Thursday in Portland.
"He will be in the NBA, I definitely believe that," Los Angeles point guard Rajon Rondo said after the Lakers' 123-113 preseason victory over defending champion Golden State. "His work ethic is going to continue to keep him there, regardless what happens throughout. If he makes the last roster spot or not, I told him it's bigger than making the 15th spot here. You're playing for your family, you're playing for everything you represent. Regardless of what happens now, you're making a name for yourself and everyone sees what you're doing."
That includes Los Angeles coach Luke Walton, who has kept an eye on Williams since the NBA's Summer League, where the Lakers made it to the championship game. In July, Walton said he hadn't had a chance to watch Williams play prior to joining the Lakers. But Walton trusts what he sees, and how the veterans have gravitated toward the 23-year-old forward who finished with three points and six rebounds in 11 minutes against the Warriors.
"He is the perfect example of what hard work can get you," Walton said. "He's not out there scoring a lot, but he talks on defense, he makes the right rotations, he's in the gym working every day, and he's earned the trust of not just his coaches, but of his teammates. His teammates love playing with him and they root for him when he gets his chances."
Though rebounding has always been his strength, Williams' goal heading into training camp was learning how to switch roles in the midst of play, and defending effectively at every position.
Center Javale McGee, who joined the Lakers after serving as a high-energy big man on Golden State's last two championship teams, has seen the progression and is another veteran who said he believes Williams belongs in the NBA.
"He's extremely aggressive, extremely hungry and you can see it when he's out there, especially (Wednesday night)," McGee said. "He was guarding Steph and denying Steph Curry at the 3-point line. So somebody who can defend 1 to 5 is definitely an asset. He boxes out on every play, he goes and gets the rebound, defensively he's solid, and he has a nice little left-handed hook shot also. He's a hard worker, and I'm sure he's gonna get his opportunity."
No matter what happens after Friday's final preseason game against the Warriors, this time in San Jose, California, Williams said he refuses to think about the what-ifs and remains confident he'll be on the opening-night roster along with LeBron James, Rondo and McGee.
"It's been a great journey so far, and I'm blessed to be able to still be here with the guys, learning from all the veterans and also the younger guys, picking up the things they do well and just learning and taking everything in day by day," said Williams, who became the second Zag in program history to reach 1,000 points and 1,000 rebounds. "My parents have always told me never get too high, never get too low, just take it day by day. It's a blessing to be a part of this organization."
W.G. Ramirez is a freelance reporter in Las Vegas and the Southern Nevada correspondent for The Associated Press. Follow him on Twitter at @WillieGRamirez
---