News > Spokane
Westboro Baptist Church members outnumbered by protesters at every stop during Spokane visit
Oct. 11, 2018 Updated Thu., Oct. 11, 2018 at 10:37 p.m.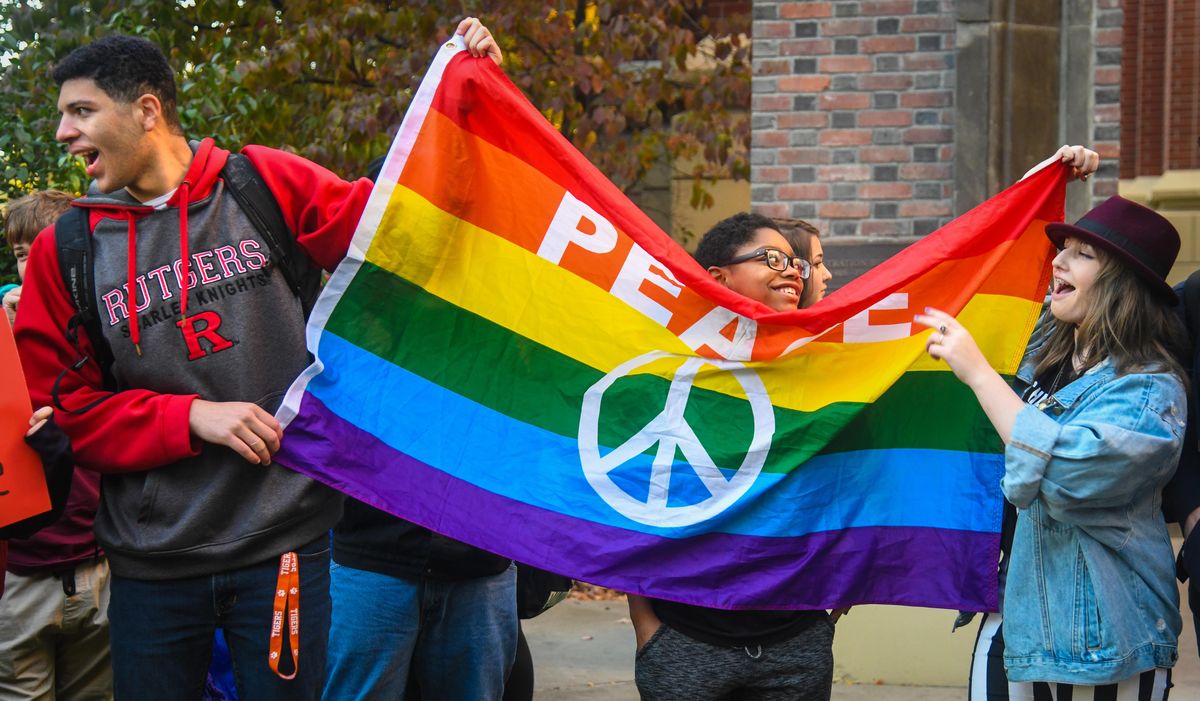 Lewis and Clark High School students Lewis and Clark High School freshman Donta Campbell, left, sophomore T'yanna Williams and Olivia Daniels, welcome fellow students to school as a counter-protest to a group from the Westboro Baptist Church. The Westboro people did not show up. (Dan Pelle / The Spokesman-Review)
Five women from the Westboro Baptist Church met a wave of unified opposition in Spokane as counterprotesters turned out in droves Thursday to support soldiers, environmentalists, members of the LGBT community and others who have been targeted by the fundamentalist hate group.
The Westboro members were outnumbered by chanting community members at every turn, just as they were during a previous visit in 2010. Thursday's spectacle began around 7 a.m. with a heavy police presence at Lewis and Clark High School. Mixed messages from the church had left officials unsure whether church members would show up there on Thursday or Friday.
As a precaution, school staff and police officers kept watch as students streamed into the high school. The principal's assistant handed out rainbow candies. Dozens of students, along with some other adults who brought posters promoting love and acceptance, staged a small demonstration at the corner of Stevens Street and Fourth Avenue.
Students had also scrawled chalk messages on the sidewalks around the school, including this one: "Don't let the haters win."
The Westboro five never arrived, and classes went on as planned Thursday. If they do show up at Lewis and Clark on Friday, the church members – who came all the way from Topeka, Kansas, to preach to the youth – might be disappointed: Classes were canceled long ago for a day of teacher training.
At 11 a.m. Thursday, the Westboro members did make it to the next stop on their itinerary – the Spokane Convention Center, where they protested an environmental science conference underway this week.
Holding their signature multicolored signs, including one that read, "Mother Nature is a false god," they shouted Bible-themed messages that were mostly incomprehensible to the crowd of several dozen counterprotesters on the other side of Spokane Falls Boulevard. With a portable speaker, they played bizarre, sometimes off-key versions of popular songs with the words changed to convey fundamentalist, apocalyptic messages.
"It's just hatred, and we're all about love. Spokane is the worst place to come for stuff like this," said Mikayla Bunting, a Spokane Community College student who took part in the opposing demonstration.
One of the Westboro members identified herself as Rebekah Jaques, 21. She said she joined the church, which has only 70 or so members, after watching "street preaching" videos on YouTube.
"We are here to warn everyone in this nation to repent and to submit themselves unto the Lord," Jaques said.
Of the crowd across the street, she said: "They have every right to say what they want to say, but they live a life of pleasing themselves and not submitting to the Lord. You know, they can be out here, it's a free country. As long as they don't put their hands on us, it's whatever they want to do."
The identities of the other Westboro members weren't immediately clear. Last time the group made an appearance in Spokane, the visiting members were all relatives of the church's founder, Fred Phelps, who died in 2014.
More than a dozen Spokane police officers stood around the Westboro women and prevented counterprotesters from entering their portion of the public sidewalk. Officers also asked a reporter and a photographer to leave the area until the demonstration was over.
Officer John O'Brien, a spokesman for the police department, said officers separated the opposing camps and delayed media interviews in an effort to prevent physical confrontations.
That stands in contrast to the police strategy during protests outside the convention center on Oct. 2, when Vice President Mike Pence visited to speak at a fundraiser for Rep. Cathy McMorris Rodgers. At that time, there appeared to be little effort to separate opposing demonstrators, who intermingled in crowds and had heated face-to-face arguments. One man shouted in the ears of his opponents using a megaphone.
O'Brien said an estimate of police overtime costs related to the Westboro demonstrations was not immediately available Thursday.
Shortly after their convention center appearance, the Westboro members arrived in a blue minivan at Cincinnati Street and Spokane Falls Boulevard – a main entrance to the Gonzaga University campus – where police had cordoned off a corner of the sidewalk for them to occupy. Again, they were shouted down by protesters across the street, including many students of the Jesuit school who took issue with Westboro's wildly unorthodox reading of the Bible.
"I don't understand how you could be so hateful. I personally think that Christianity is an inclusive thing," said Anthony Scholes, a Gonzaga freshman from southern Idaho. "Especially with their attitude towards gay people, I definitely don't agree with that."
As a constructive alternative to the street-corner shouting match, Gonzaga leaders held an interfaith prayer event on campus, which also drew many students. Earlier this week, President Thayne McCulloh had said in an email to students and staff: "The WBC is not welcome on the Gonzaga University campus, and we will not permit them to picket or demonstrate on the private property which the university owns."
One community member who showed up to the Gonzaga demonstrations, Abbie Blumberg, said she was heartened to see so many allies of the LGBT community. Thursday, she noted, was National Coming Out Day.
"I'm out here because I feel like, even though we shouldn't pay them any mind, I still think it's really important for anybody who's paying attention to see what our community actually is now," Blumberg said. "And it's just nice to come out here to see all the students that are pushing back on this."
Local journalism is essential.
Give directly to The Spokesman-Review's Northwest Passages community forums series -- which helps to offset the costs of several reporter and editor positions at the newspaper -- by using the easy options below. Gifts processed in this system are not tax deductible, but are predominately used to help meet the local financial requirements needed to receive national matching-grant funds.
Subscribe now to get breaking news alerts in your email inbox
Get breaking news delivered to your inbox as it happens.
---