News > Spokane
100 years ago in Spokane: Spanish flu spikes at Gonzaga, Hillyard neighborhood
Sat., Oct. 13, 2018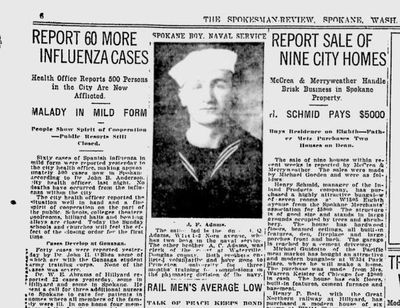 The Spanish flu was now afflicting 500 people in Spokane, up at least 60 from the day before.
About 40 of those new cases were from one place: Gonzaga University, where the flu had struck with a vengeance amongst the Gonzaga student army training corps.
Another hotbed of the flu was in Hillyard, with 23 cases. Authorities continued to insist that the "malady was in mild form," here despite at least two deaths.
Normal life was disrupted throughout the city, with schools, churches and theaters and other gathering places closed.
The Spokesman-Review reported that dozens of transient laborers were walking the downtown streets and gathering in knots on the curb.
Why? Because all of the poolrooms were closed.
Until the ban, these were men who "spent much of their time playing pool."
From the war beat: Happier news arrived from Europe: "German Ready to Accept Peace Terms Laid Down By President Wilson."
Nothing was confirmed, but hope continued to rise that the European war might soon be at an end.
Local journalism is essential.
Give directly to The Spokesman-Review's Northwest Passages community forums series -- which helps to offset the costs of several reporter and editor positions at the newspaper -- by using the easy options below. Gifts processed in this system are not tax deductible, but are predominately used to help meet the local financial requirements needed to receive national matching-grant funds.
Subscribe to the Coronavirus newsletter
Get the day's latest Coronavirus news delivered to your inbox by subscribing to our newsletter.
---