News > Idaho
Fish and Game commissioner hunts 'family of baboons' in Africa, faces calls to resign
Sat., Oct. 13, 2018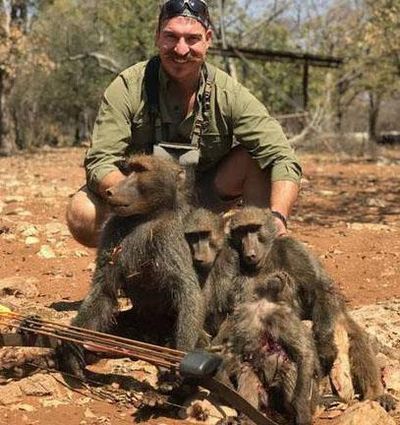 Idaho Fish and Game Commissioner Blake Fischer shared photos of his guided hunting trip in Africa with friends and colleagues when he returned last month, expecting they'd appreciate his success.
Instead, several former Fish and Game commissioners are pushing for his resignation — with a photo of a "family of baboons" that Fischer shot with a recurve bow prompting most of the outrage.
Fred Trevey, who was a Fish and Game commissioner from 2007 to 2015, wrote Fischer an email asking him to resign "to shield the commission as an institution and hunting as a legitimate tool of wildlife management from the harm that is sure to come."
"I'm sure what you did was legal, however, legal does not make it right," Trevey wrote in the email obtained by the Idaho Statesman through a public records request filed with the governor's office. "… Sportsmanlike behavior is the center pin to maintaining hunting as a socially acceptable activity."
Former commissioner Tony McDermott (2005-13) emailed a member of Gov. Butch Otter's staff to say he and six other named former commissioners "agree with Fred Trevey's approach to this potentially explosive issue." Three of the eight former commissioners, including Trevey, were on Fischer's email distribution list.
Of the six people named by McDermott, one told the Statesman he emailed Fischer to suggest he resign, one said a public apology would suffice, two said they hadn't consented to having their names attached to McDermott's email and two couldn't be reached. McDermott didn't respond to an interview request; he's out hunting, Trevey said.
Keith Stonebraker of Lewiston, who was a commissioner from 1976 to 1987, said a public apology would satisfy him.
"They killed a whole family, including small baboons, and I think that's revolting," Stonebraker said. "… It just puts a bad light on us."
Former commissioner Will Naillon said his name shouldn't have been attached to McDermott's email. Naillon served on the commission with Fischer, who lives in Meridian and represents Southwest Idaho.
"Blake is an ethical hunter," Naillon said.
The seven active, unpaid Fish and Game commissioners are appointed by the governor to represent various regions of the state. Fischer was re-appointed this year for a term ending in 2022, but still must be confirmed by the Senate in the 2019 legislative session.
Fischer, who has been on the commission for four years, has been surprised by the reaction to his trip. He said he received a phone call from an unnamed fellow commissioner who was upset with the photos. He apologized to the commissioner for sending the photos unsolicited, but not for his hunt, he said.
"I didn't do anything illegal. I didn't do anything unethical. I didn't do anything immoral," Fischer said. "… I look at the way Idaho's Fish and Game statute says we're supposed to manage all animals for Idaho, and any surplus of animals we have we manage through hunting, fishing and trapping. Africa does the same thing."
Otter has been notified about Fischer's email, which also has drawn at least one complaint from a constituent, spokesman Jon Hanian said.
"It's fair to say the governor is concerned about it," Hanian said. "He is aware of it and did look at the pictures and we're looking into it."
Idaho Fish and Game declined to comment.
"Fish and Game commissioners are appointed by the governor and are not employees of the department," spokesman Roger Phillips said.
Fischer and his wife shot at least 14 animals in Namibia, according to the photos and descriptions included in the email he sent to more than 100 recipients. The species included giraffe, leopard, impala, sable antelope, waterbuck, kudu, warthog, gemsbok (oryx) and eland.
The first animals were four baboons shot by Fischer, which put that photo right at the top of his email. He wrote that his wife wanted to watch him hunt at first because it was her first trip to Africa. Fischer was making his third trip.
"So I shot a whole family of baboons," Fischer wrote below a photo of him smiling while posing with the four baboons. "I think she got the idea quick."
That portion of the email "dismays and disappoints me," Trevey wrote. "… I have a difficult time understanding how a person privileged to be an Idaho Fish and Game commissioner can view such an action as sportsmanlike and an example to others."
In Namibia, Fischer received a list of species he could hunt, he said. He was required to pay a trophy fee for certain animals.
"Baboons are free," he told the Statesman. " … I get it – they're a weird animal. It's a primate, not a deer."
Fischer's email was forwarded to the governor's office without comment by Idaho Fish and Game Commission Chairman Derick Attebury of Idaho Falls.
Attebury and three other members of the commission didn't respond to requests for comment from the Idaho Statesman. Commissioner Brad Corkill declined an interview request and wrote in an email that he was "following the lead of the governor's office." Commissioner Dan Blanco, who was on Fischer's original distribution list, said he spoke to Fischer within a day or two of receiving the email. The two had a "personal conversation," Blanco said, that included his expectation that the email could become controversial and "reach a wider public than (Fischer) may have intended."
Steve Alder of Idaho for Wildlife, a pro-hunting group based in Lewiston, said Fischer's photos were his primary concern with the email. Idaho's hunter-education manual includes a section on respecting non-hunters. The manual includes this recommendation: "Refrain from taking graphic photographs of the kill and from vividly describing the kill while within earshot of non-hunters."
"It's everything we preach against in hunters education," Alder said. "… It just sends the wrong signal.
"The biggest thing is the baboon thing. I was really troubled. That's my biggest issue. He killed the whole baboon family and you've got little junior laying there in mom's lap. You just don't do that. I hate wolves as much as anyone, but I'm not going to take a wolf family and put it on display and show the baby wolf."
Trevey, who lives in Lewiston, said Fischer's hunt was a conversation topic at a recent coffee gathering of fly anglers. The hunt was compared to the controversial killing of Cecil the lion by an American hunter – an incident that received global attention.
"The issue that resonates with me and with folks I've talked with is the judgment issue," Trevey said. "… It was the text that went with it that probably was as impactive as the picture was. The guy shouldn't have done it. The rest of the pictures were great. But that one really triggered a lot of people."
Keith E. Carlson, the second former commissioner who wrote Fischer an email suggesting he resign, said he has tried to stay out of commission business since his 12-year run ended in 1999. This is the second exception – and both times, he said, he was motivated to protect the reputation of the commission itself.
Carlson has researched the hunting of baboons in Namibia since Fischer's email – it's acceptable there – but he's still bothered by the photo.
"I don't know how you can say anything good about a photo of a guy smiling with a stack of dead baboons with a baby in front," Carlson said. "If you're an anti-hunter, that's raw meat. And I'm a hunter – I've been a hunter forever."
Fischer says he hunts "all the time" and enjoys pursuing "new and interesting species." Some of the animals he and his wife shot in Africa were used for food, he said. Some will be trophies.
"I was raised in a very ethical hunting family," he said. "In every picture, we try to pose the animals in a natural position, wipe the blood off the mouth, place the rifle or bow over the bullet hole. … These are normal hunting photos. You shoot an animal, you take a picture of it."
Local journalism is essential.
Give directly to The Spokesman-Review's Northwest Passages community forums series -- which helps to offset the costs of several reporter and editor positions at the newspaper -- by using the easy options below. Gifts processed in this system are not tax deductible, but are predominately used to help meet the local financial requirements needed to receive national matching-grant funds.
Subscribe to the Coronavirus newsletter
Get the day's latest Coronavirus news delivered to your inbox by subscribing to our newsletter.
---