Sports > Area sports
Locally: Father, son duo to referee volleyball match between North Idaho, Wenatchee Valley
UPDATED: Sat., Oct. 13, 2018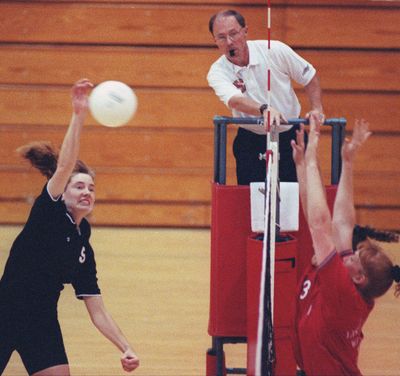 They have 51 years of volleyball officiating experience between them and have been on the court together multiple times through the years. But Wednesday night will produce a first for Dale and Ben Goodwin.
When they step on the court at North Idaho College for the Cardinals' Northwest Athletic Conference match against Wenatchee Valley College, it'll be the first time the father and son will be the two referees – R1 and R2 as they're designated – for a college match in the Spokane area.
"It's the first one locally," acknowledged Dale, a 38-year official, who will be R1 that night.
They've worked college matches outside the area in those roles eight to 10 times the past couple of years, and high school matches through the years, but never on a college court assigned by the Spokane Area Volleyball Referees Association.
"It's awesome. It's just the greatest joy," Ben said of working with his father. "I grew up learning the game from him and we're just always on the same page. It's seamless. It gives me great comfort when we work together."
Dale, 62, who has been an NCAA Division I-accredited official for 34 years and worked 10 NCAA Tournaments, said, "those days are gone." He's going to scale back.
"I love working the high schools and small colleges the best," he said. "Working with younger officials, seeing them improve. That gives me the most pleasure – except when I work with Ben. That's a blessing in my life."
"He's so giving of his knowledge and time," Ben said. "There's no ego. He just loves serving the sport."
The 24-year-old, a two-sport star at Ferris who led the Saxons to the 2010 State 4A football championship as the quarterback, started officiating when he was 10. He worked his first college match as a line judge at 12 and has worked the NCAA Division I tournament as a line judge six of the past seven years, doing the semifinals in 2014. With a year off to coach football, he has been at it 13 years.
Wednesday, the father and son will shake hands as partners.
Baseball
Spokane American Legion Baseball is looking for a coach for its Spokane Bandits AAA team.
The 19-and-under team in the city's top league draws players from North Central, Ferris, Lewis and Clark and West Valley high schools.
A news release from Legion baseball's board of directors said interested individuals should have at least two years of coaching experience and strong organizational skills.
Candidates should email a letter of interest and their resume to banditscoach@siyb.org.
College scene
Breanna King, the Frontier Conference Women's Basketball Player of the Year last season, has been selected by league coaches to do it all over again.
The Montana Western senior guard, a former North Central High School and Community Colleges of Spokane standout, was named the women's preseason player of the year. Last season she averaged just less than 20 points a game, 2.9 assists and 2.3 steals and was a first-team NAIA All-American along with her Frontier honors that included Newcomer of the Year.
The Frontier men's preseason all-conference basketball team includes Carroll College senior forward Match Burnham from Liberty and Lewis-Clark State senior guard Race Martin from Pullman and Spokane Falls Community College.
Burnham shot 45-plus percent from the field and 3-point range last season, averaged 12.9 points and 3.6 rebounds and was second-team all-conference and NAIA All-America honorable mention. Martin led L-C with a 13.1 scoring average, was No. 2 in rebounding (5.1) and was high in assists, steals, blocks and 3-pointers on the Warriors' stat sheet.
• Whitworth, which returns six regulars from the team that won the Northwest Conference men's basketball tournament last winter, has been selected sixth in the 2018-19 D3hoops.com national preseason poll.
Northwest Conference Player of the Year Kyle Roach leads the cast of returnees that includes all five starters and Jordan Lester, who started the first nine games at point guard before being sidelined by an injury.
Defending national champion Nebraska Wesleyan received 24 of a possible 25 first-place votes to lead the preseason poll with national runner-up Wisconsin-Oshkosh second. Whitworth's neighboring Northwest Conference rival Whitman is third, where it finished in the final 2017-18 poll. Whitworth was ranked 19th at the end.
• Kasey Ames, a Concordia senior midfielder from Central Valley, was the Great Northwest Athletic Conference Defensive Player of the Week in women's soccer for her performance as the Cavaliers extended their unbeaten streak to 10 matches with a win and a 1-1 tie.
Ames anchored a defense that allowed just four shots on goal and she also contributed the winning goal in the 31st minute of a 3-0 shutout of Western Oregon in which the Cavaliers allowed five total shots.
• Diego Esquivel, a freshman forward from Post Falls, was named the Northwest Athletic Conference Men's Soccer Player of the Week on Sept. 27 after scoring winning goals in two Community Colleges of Spokane victories.
• Ali Williams, a redshirt freshman at Carroll College from Coeur d'Alene High School, was named the Frontier Conference Setter of the Week in volleyball after she helped lead a Saints rally in a 3-2 win over Montana Western.
Recently taking on a larger role, Williams responded by averaging 6.6 assists, 3.6 digs and 2.2 kills per set.
• Lauren Budde, a senior right-side hitter at Whitworth, was named the Northwest Conference Offensive Student-Athlete of the Week in volleyball after she hit .512 for the week with kills on more than half her total attacks in leading the Pirates to a pair of victories.
She averaged 4.0 kills and 4.3 points per set and added .67 blocks per set.
• Community Colleges of Spokane and North Idaho College cleaned up on Northwest Athletic Conference volleyball awards the past two weeks.
Last week, CCS freshman setter/middle blocker Lindsey Russell (Mead) was the NWAC Volleyball Athlete of the Week and the East Region Setter of the Week after she averaged 12.7 assists in seven sets and added six kills, six aces, three blocks and 30 digs.
Sasquatch teammates Joelle Mahowald, a sophomore, and freshman Alleana Gallagher, both Lakeside (Nine Mile Falls), were the East offensive and defensive players of the week, respectively.
The previous week, NIC sophomore outside hitter Kayla Neumann (Sandpoint) was the NWAC Volleyball Athlete of the Week and the East Region Offensive Player of the Week and sophomore teammate Haylee Templeton was the East Setter of the Week. Neumann had 50 kills in 10 sets over three matches, a 46-percent kill efficiency, and 33 digs.
Hall of fame
Kyle Baker, considered one of the best football offensive linemen to play for Carroll College, was inducted into the school's athletic hall of fame with the 2018 class Sept. 22 in Helena.
The Lake City High School graduate was a four-year starter for the Fighting Saints, starting 56 of 57 games at center. In 2005, he earned the Rimington Award, given to the player considered the best center in the country. He was also a first-team NAIA All-American that year.
Baker was a two-year captain and a four-time national champion. In his senior season, he anchored an offensive line that allowed the Saints to average 39 points per game, the second-highest mark in the NAIA that year, and gain 232 yards per game on the ground, which ranked seventh.
High school scene
Sue Doering, who retired in 2017 after 30 years coaching volleyball at Colfax High School to highlight a 39-year coaching career, received a special honor from the Lewis-Clark State College Warrior Athletic Association during its 12th annual high school athletic awards banquet Oct. 4.
Doering, who guided the Bulldogs to 14 State 2B championships and 11 other top-six placings, was given the WAA's Excellence Award. Her 14th title came in her last game in November.
Other awards went to Tona Anderson, Deary, track and volleyball, female athlete of the year; Layton Paul, Potlatch, wrestling, male athlete of the year; Ryan Hasselstrom, Prairie, football and track, coach of the year; Colton girls basketball, team of the year; and Bill Jensen, who has devoted more than 30 years maintaining athletic venues for Lewiston district schools, received the Rick Hill Meritorious Award.
Hockey
Ten Spokane Chiefs games will be televised live on SWX during the 2018-19 Western Hockey League season, the Chiefs and broadcast partners KHQ and SWX announced.
There will be seven home games, starting Dec. 8 against the Kootenay Ice on Teddy Bear Toss night, and three road games against the Tri-City Americans.
The schedule: Dec. 8, Kootenay; Jan. 12, Tri-City; Jan. 19, Tri-City; Jan. 26, at Tri-City; Feb. 9, Kootenay; Feb. 16, at Tri-City; Feb. 23, Tri-City; March 9, Victoria Royals; March 15, at Tri-City; March 16, Tri-City.
• Chiefs Insider, an in-depth look at the hockey team from players and coaches, will return for the 2018-19 WHL season and be carried once a month on SWX at 10 p.m.
Remaining scheduled dates are Nov. 13, Dec. 11, Jan. 8, Feb. 12, and March 12. The first broadcast was last week.
Tennis
Daniel Hangstefer, who was highly successful in head coaching stops at two Division II universities the past five years, has been hired as the fifth men's tennis head coach at the University of Idaho, interim athletic director Pete Isakson announced.
Hangstefer, who replaces Abid Akbar, who coached the Vandals the past three years, spent last year as the men's and women's coach at Ferris State in Big Rapids, Michigan, following four years coaching both teams at Metropolitan State in Denver.
At Ferris State, the nationally ranked men's team went 21-3, going unbeaten in league play and winning the Great Lakes Intercollegiate Athletic Conference regular-season and tournament titles. At Metropolitan State, two of his men's teams were nationally ranked and he was the 2017 ITA South Central Region Coach of the Year and Rocky Mountain Athletic Conference women's co-coach of the year twice.
The graduate of Lipscomb University was formerly ranked No. 1 in the world in mixed doubles deaf tennis and competed in both the World Deaf Championships and the Deaflympics, winning gold and silver medals.
Miscellany
Krista Gray, hired last month as director of student-athlete support services at the University of Idaho, has been appointed the school's senior woman administrator, interim athletics director Pete Isakson announced.
Gray, who had been assistant director for academic services at the University of Illinois before joining the Idaho staff, fills the position that has been held on an interim basis for much of 2018 by volleyball coach Debbie Buchanan. Buchanan stepped in following the departure of compliance director Jessica Atkins.
Gray, who spent nearly five years at Missouri before she left for Illinois, will be a member of the Idaho athletic department senior staff. Her responsibilities will include providing resources and programming to support student-athletes. She will oversee a staff that includes two full-time academic coordinators and two graduate assistants.
Local journalism is essential.
Give directly to The Spokesman-Review's Northwest Passages community forums series -- which helps to offset the costs of several reporter and editor positions at the newspaper -- by using the easy options below. Gifts processed in this system are not tax deductible, but are predominately used to help meet the local financial requirements needed to receive national matching-grant funds.
Subscribe to the sports newsletter
Get the day's top sports headlines and breaking news delivered to your inbox by subscribing here.
---