News > Washington
Suspect in slaying of Coeur d'Alene man claims insanity
Sat., Oct. 13, 2018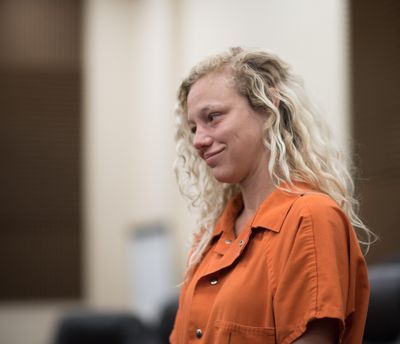 Ashley D. Myers, who is accused of shooting to death a Coeur d'Alene man in Colfax, pleaded innocent by reason of insanity to a murder charge Friday.
Myers, 30, appeared in Whitman County Superior Court and entered the plea to her second-degree murder charge, which stems from a Sept. 28 incident on Colfax Airport Road near Washington State Route 26. Insanity pleas allow for a defendant's attorneys to argue for a potential commitment to a psychiatric facility instead of a prison term.
Court records indicate Whitman County sheriff's deputies responded to the scene and found Myers wielding a baseball bat and saying she had shot a man. Officers later found 55-year-old Kenneth Allen in a nearby vehicle, dead and with bullet wounds to his head.
Myers later told officers she and Allen were traveling together and that she allegedly shot him because he "murdered her daughter yesterday," according to court records. Officials have said Myers' daughter is safe and living with a relative.
Myers also claimed she was Satan and had smoked methamphetamine earlier that day. A small amount of meth was found in the vehicle.
Myers remains incarcerated on a $1 million bond.
Local journalism is essential.
Give directly to The Spokesman-Review's Northwest Passages community forums series -- which helps to offset the costs of several reporter and editor positions at the newspaper -- by using the easy options below. Gifts processed in this system are not tax deductible, but are predominately used to help meet the local financial requirements needed to receive national matching-grant funds.
Subscribe to the Coronavirus newsletter
Get the day's latest Coronavirus news delivered to your inbox by subscribing to our newsletter.
---