Sports > WSU football
"Hilinski's Hope" reaches all the way to fans in England
Sun., Oct. 14, 2018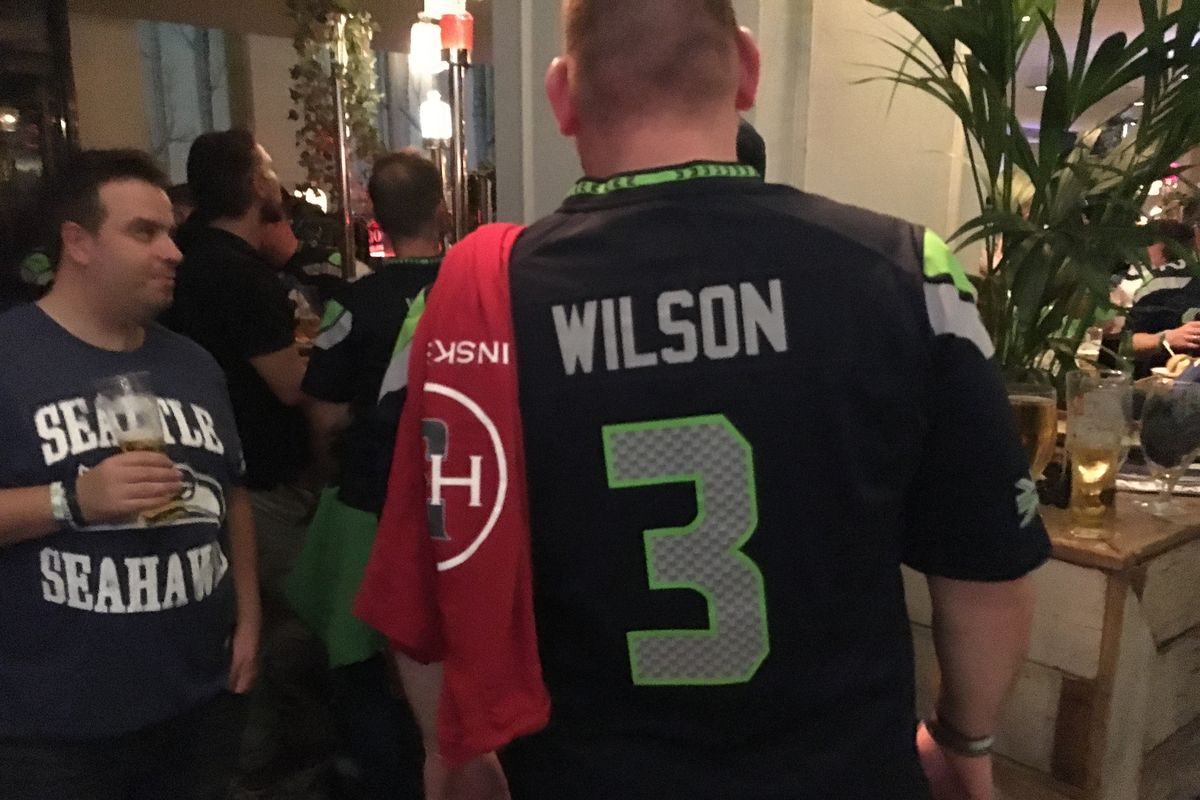 Seattle Seahawk fans gathered at the Revolution Bar in London Saturday evening, ahead of Sunday's game between the Seahawks and Oakland Raiders at Wembley Stadium. Stuart Court, a Seahawks fan who lives in England, coordinated with the family of former WSU quarterback Tyler Hilinski to sell "Hilinski's Hope" apparel items at the event in London. (Theo Lawson/The Spokesman-Review)
LONDON – While most college football fans were ignoring their curfews last year to catch the final plays of an exhilarating early-season game between Washington State and Boise State, Stuart Court was rising out of bed in Coventry, England, when he flipped on his television set and stumbled upon an ESPN2 broadcast of the Cougars vs. the Broncos.
Like everyone else watching, he was hooked – to the game and maybe more than that, to the game's star. And, far removed as he may have been from Pullman, WSU and Tyler Hilinski, Court was equally moved when he learned the Cougars' sophomore quarterback had taken his own life four months later.
Halfway across the globe, Court, a devout follower of the Seattle Seahawks who identifies as a Washington Huskies fan, decided it was his duty to help, to do his part, whatever way he could.
"It's one of those things that no matter where in the world you hear it, it's tragic," Court said.
A Sports Illustrated article from Greg Bishop on Hilinski's death provided a link to the website for Hilinski's Hope – the nonprofit foundation launched by the QB's family in an effort to destigmatize mental illness.
Court filled out a contact form. He didn't expect a response.
But sure enough, two weeks later, there was an email from Hilinski's mother, Kym, waiting in his inbox. The co-producer of a UK-based Seahawks podcast, "The Pedestrian Podcast," Court offered to sell Hilinski's Hope merchandise and spread the foundation's message at a private event the UK Seahawkers fan group would be hosting in London on the eve of Seattle's game against Oakland at Wembley Stadium.
Court asked for a small shipment of Hilinski's Hope sweatshirts and T-shirts – "40 or 50" – and rubber wristbands that he could sell at the Seahawks' gala in London. Boxes stuffed with nearly 500 items arrived at his home in England just weeks later.
"I asked if she wanted money for it, she said 'No, free of charge,'" Court said. "With what they were clearly going through, they we unbelievable."
A few-hundred Seahawk fans showed up to the private event in the center of London Saturday evening. At the entrance of Revolution Bar, three Seahawk flags hung across a clothesline from the ceiling. Sandwiched between them was a crimson flag bearing Hilinski's No. 3 and the "HH" initials.
Once you squeezed your way through a pub area congested with Russell Wilson jerseys and Seahawks garb, you could find Court manning a table in the back right corner, buried underneath a pile of red, white and navy Hilinski's Hope sweatshirts and T-shirts.
In addition to four styles of shirts, Court sold the traditional navy and white scripted wristbands that can be purchased just about anywhere in Pullman. Kym Hilinski also sent over exclusive Seahawks-themed bands with the Hilinski's Hope script in bright green.
The next day, Court estimated sales from the fundraiser generated around £800, or $1,500. Court and his colleagues also auctioned off Seahawks prints and other memorabilia items that would send proceeds directly to Hilinski's Hope.
He's spent weeks selling apparel items to friends and family members in Coventry as well.
"I watched the (College) GameDay thing they did with them (and Ivan Maisel)," he said. "I sat down, put on Chromecast and showed my mom. She was getting teary."
Attendees of Saturday's private party also signed their names and wrote messages on a WSU flag that Court plans to ship back to the Hilinski family in Southern California.
Adam Nathan, the other half of "The Pedestrian Podcast" and a committee member of the UK Seahawkers chapter, has been busy this week accommodating fans and media members who've traveled to England for the first of three NFL games to be played in London this season.
Nathan, like Court, may have a flaw according to Cougar fans – he roots for the Huskies – but he was also touched by Hilinski's story when he heard about the QB's death via social media and has been devoted to pushing the family's mission forward.
"It's completely transcended Washington State lines," Nathan said Saturday from the bottom level of Revolution Bar. "For me, there's been people in Husky shirts upstairs buying wristbands and red shirts, which you'd never otherwise see. And I think it's amazing. As much as sports is incredibly tribal, I think it shows a lot about how there's a human side to it as well and when things need to be done properly, it says a lot of being able to come together and doing it the right way."
Nathan helped to promote Saturday's fundraiser, but he wants it known Court spearheaded the effort and says his companion deserves major credit.
"He sees something, he reaches out, he does it and he goes from the start of it all the way to the finish," said Nathan, a full-time chef and caterer. "And hopefully what we can raise tonight is a testament to what the charity means but also to his hard work."
Even on the other side of the pond, almost 5,000 miles away, Hilinski's story resonates.
Local journalism is essential.
Give directly to The Spokesman-Review's Northwest Passages community forums series -- which helps to offset the costs of several reporter and editor positions at the newspaper -- by using the easy options below. Gifts processed in this system are not tax deductible, but are predominately used to help meet the local financial requirements needed to receive national matching-grant funds.
Subscribe to the Cougs newsletter
Get the latest Cougs headlines delivered to your inbox as they happen.
---