Lathered in profits: See how this 31-year-old makes millions selling soap online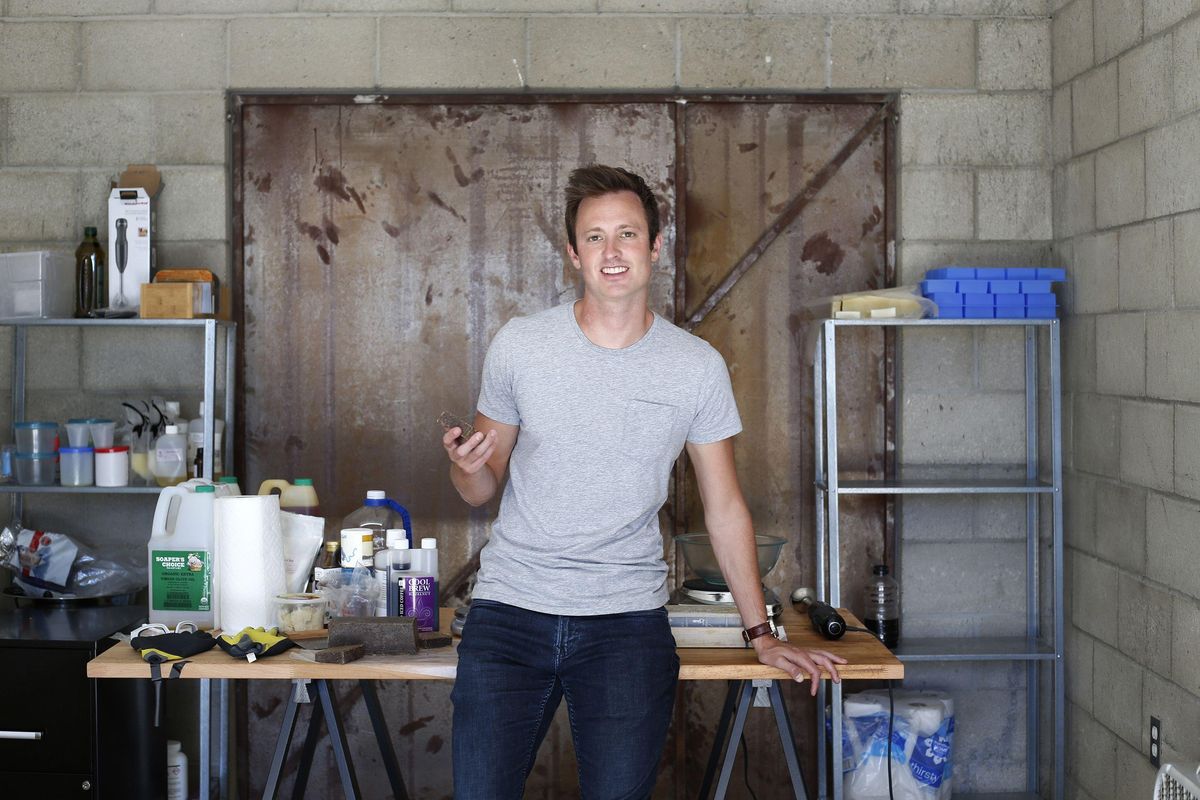 SAN DIEGO – When Amazon arrived like Godzilla to the retail world, stomping out brick-and-mortar shops with speedy e-commerce delivery, small businesses suffered the brunt of the damage. But there's a new wave of savvy entrepreneurs who still compete with the giants of retail – even in saturated markets.
Jack Haldrup, a 31-year-old San Diegan, epitomizes this shift to small business 2.0. He makes $6 million a year selling a product that's been around since ancient times: plain and simple bar soap. In a retail world dominated by massive players like Procter & Gamble and Unilever, how is there room for yet another soapmaker?
There's nothing particularly mind boggling about Haldrup's soap, mind you. It's natural, made from lye, vegetable oil and a variety of scented essential oils. It comes as a bar wrapped in brown packaging, smelling very woodsy and wild in flavors like "Pine Tar," "Bay Rum" and "Spearmint Basil." The soap's schtick is that it's made for men. More specifically, it's for the manly chops-his-own-firewood male, who wants natural soaps but doesn't want to smell like lavender and patchouli.
Fittingly, the company's name is Dr. Squatch. As in Sasquatch – the hairy, ape-like figure from North American folklore who stomps around woods and lakes.
In a few short years, Haldrup has gone from selling a few bars of soap per week out of his Midwest apartment, to shipping out 1,500 to 2,000 soaps a day. Today, the company's products are manufactured in Indiana and North Carolina, with distribution in Ohio. Craving the West Coast life, Haldrup moved to San Diego a couple of years ago and established his headquarters in Little Italy.
The small business has kept overhead low, Haldrup said, achieving profitability right off the bat. The vast majority of the company's sales are made online, with customers signing up for a monthly or quarterly subscription to receive Haldrup's soap on a regular schedule to their doorstep. Dr. Squatch now has 17,000 active subscribers, with customers paying between $6 to $18 per shipment depending on how many bars they want.
Sasquatch magic
The soap may be average, but targeting this particular demographic is new. Marketers have long targeted females for these products, as women handle the bulk of purchasing decisions for everyday items like soap. But times are changing. Thanks to the internet, everyone is online making purchases and Haldrup saw a gap in the market for guys like him.
Haldrup has a common autoimmune skin condition called psoriasis, which makes him a poor match for regular supermarket soaps. They burn his skin, leaving him feeling dry and irritated. He was forced into seeking out natural products that would be less harsh on his skin.
"I ended up buying handmade soaps from farmer's markets, and they made my skin feel great," Haldrup said.
But the average guy, he thought, isn't going to hunt down these products and buy them from a farmer's market. And they're also not shopping at health food stores, where these bars are widely sold.
"Our customer is not the guy who already shops at Whole Foods and uses Dr. Bronner's soap," Haldrup said. "Our biggest audience turns out to be middle America. This is for the guy who would never normally consider buying natural products because he thinks they're for hippies."
The company expected the product to take off in big coastal cities like San Francisco and New York.
"But when we looked at the sales data, our biggest customers were coming out of places like Kentucky, Idaho and South Dakota," Haldrup said.
The new age of small business
Matthew Parvis, another San Diegan in his 30s, has a few things in common with Haldrup. He also launched a subscription company that ships out products targeted to men. His company, co-founded with his wife Melissa Parvis, is called Fresh Clean Tees, and they sell plain T-shirts to guys who want a regular in-flow of crisp undershirts in their wardrobe.
Parvis said men are waking up to the fact that there are more products available today tailored to their preferences. But more than that, he said, customers – women included – flock to brands like Fresh Clean Tees and Dr. Squatch because buyers have grown tired of interacting with faceless, giant corporations.
"People want a more personal experience these days," Parvis said. "If you're buying a Hanes T-shirt, you don't feel like you're a part of anything. You're also not a part of anything when you're buying soap from Walmart or Target."
When you buy from boutique brands, however, customers join a little community, Parvis said.
"Even though the small-business experience has gone away in a traditional sense, it's rebounding in a different way," Parvis said. "I love that entrepreneurs who are great at marketing are breaking through in spaces that are rather saturated, like soaps and T-shirts."
The marketing is the money
Haldrup, a former IT security consultant, isn't your typical marketing guru, however. He has no higher education in the field. His undergraduate degree is in finance and he has a master's in information systems. But he was savvy enough to see potential early on in Facebook Ads, committing most of his ad spend for social media.
"My product is a terrible fit for advertising on Google, because no one is searching for 'men's natural soap,'" Haldrup said. "But it's perfect for Facebook Ads. Within a month of learning that, we tripled our sales."
Parvis said Facebook Ads is also critical for his company's success. About 90 percent of customer acquisition at Fresh Clean Tees comes from Facebook Ads.
"It's been a huge platform of growth for us," Parvis said.
Dr. Squatch also invested big bucks in creating ads worth watching. Haldrup went out on a limb and paid $20,000 to a professional marketing agency to film a humorous video about their soap. And it paid off fast. The video spread around online, racking up 12 million views so far. The video alone grew Dr. Squatch's subscription base from 11,000 subscribers to 17,000 in only three months.
With social media marketing and their own online stores, Haldrup and Parvis have virtually no need for retail partners. Haldrup said getting his soap into retail stores is hardly worth his time.
"Unless they're a big box store, the volume they do is just so small," Haldrup said. "It won't move the needle for us."
Expansion
Dr. Squatch has expanded into selling other hygiene products for men, like shampoo and conditioner, beard oil and shaving cream. The company employs just three people in San Diego, with some customer support people overseas.
"Ten or 15 years ago, the only way to sell this product would have been to break into stores like Target or Walmart," Haldrup said. "It would have been hard for a guy like me. It's amazing to live in a time when this is possible."
---