News > Spokane
Spokane City Council votes to allow city to give property for affordable housing projects
UPDATED: Tue., Oct. 16, 2018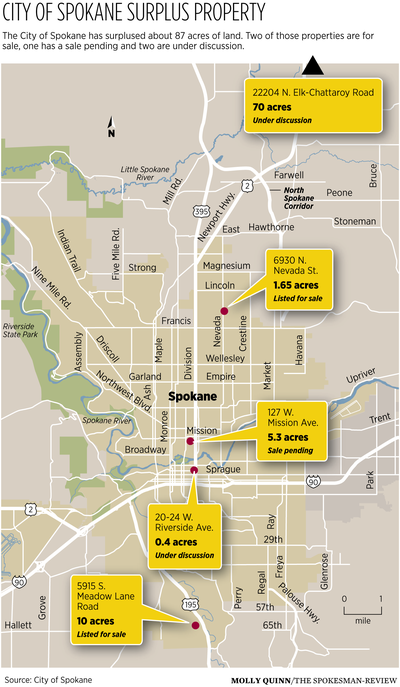 The Spokane City Council voted to allow unused city properties to be transferred to developers and nonprofits who agree to build affordable housing on the sites.
Local governments were authorized by the Legislature this year to give surplus properties away for public benefit.
The local ordinance approved Monday would require such potential properties to be analyzed by a real estate review committee, which includes council members.
The city's Community, Housing and Human Services also would make a recommendation on the practicality of the property for affordable housing based on factors such as how close the parcel is to public transportation and proximity to medical care.
Councilwoman Kate Burke was the only member to vote against the ordinance after an amendment she proposed, requiring all properties transferred through this process to stay affordable housing for 50 years, failed to win her colleagues' support.
City Council President Ben Stuckart said the ordinance was kept vague on the recommendation of staff to ensure two outcomes: that the process is flexible enough to accommodate individual properties and affordable housing providers, and that projects actually get started.
Burke said she was concerned that individual agreements among the city, developers and nonprofits might lead to a lack of accountability and unfair practices.
The city owns five properties spread over 87 acres that are categorized as surplus. Stuckart said he does not have any specific surplus properties in mind for affordable housing yet, but the new policy will potentially bring affordable housing into council housing discussions in the future.
Local journalism is essential.
Give directly to The Spokesman-Review's Northwest Passages community forums series -- which helps to offset the costs of several reporter and editor positions at the newspaper -- by using the easy options below. Gifts processed in this system are not tax deductible, but are predominately used to help meet the local financial requirements needed to receive national matching-grant funds.
Subscribe to the Coronavirus newsletter
Get the day's latest Coronavirus news delivered to your inbox by subscribing to our newsletter.
---