Sports > WSU football
For this Washington State alum, it's a long road to GameDay
Oct. 17, 2018 Updated Thu., Oct. 18, 2018 at 7:33 a.m.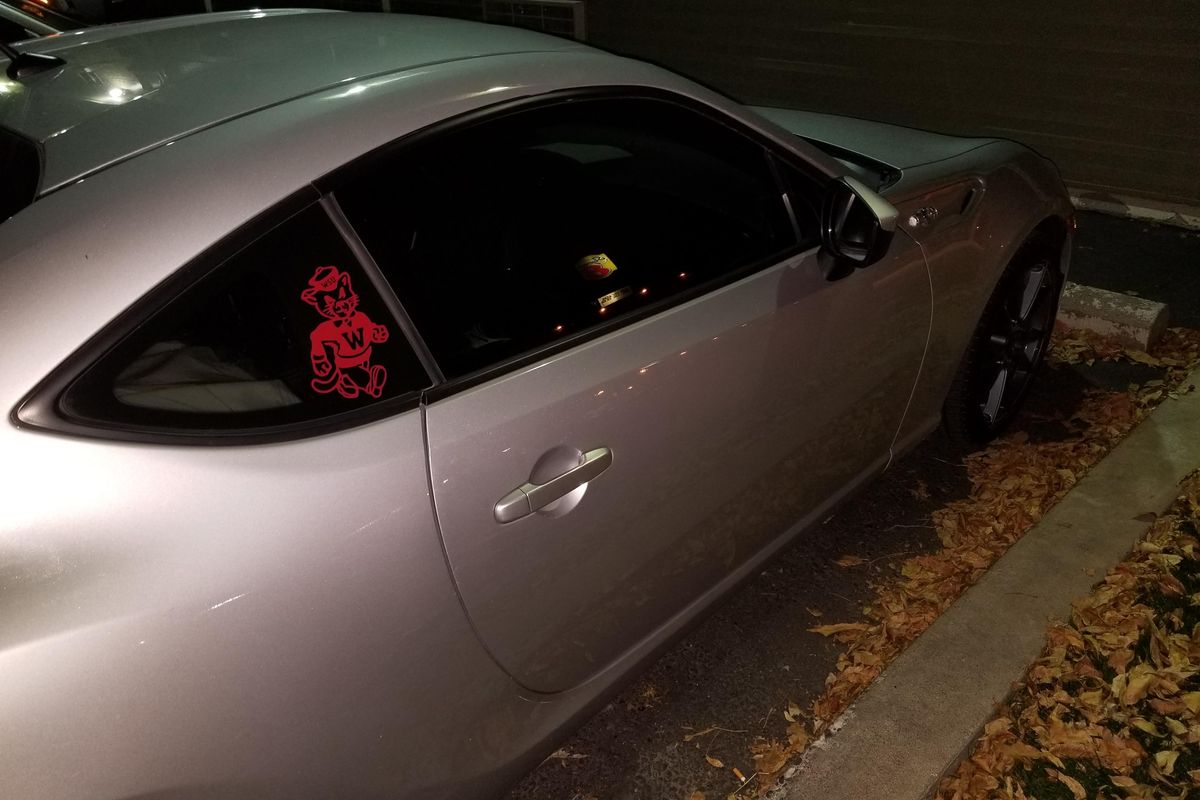 Travis Crawford is driving his Scion cross-country, from Virginia to Pullman, for Saturday's ESPN College GameDay show on the WSU campus. (Courtesy/Travis Crawford)
It was almost midnight on Saturday in Virginia when the text message flashed across Travis Crawford's screen. It was concise – just seven words – and an order from longtime friend Jeffrey Mohn:
"Get your stuff and get to Pullman."
Somewhere down the road, Crawford will share the full story of his 2,721-mile pilgrimage from Virginia Beach to Pullman. Perhaps to his children, then his grandchildren. How, on a whim, he stuffed his belongings into a Scion FR-S and drove four days, stopping in Pennsylvania, Minnesota and Montana, until finally reaching the Palouse.
ESPN College GameDay or bust.
Thousands of Cougar fans and alums are journeying to Pullman this Saturday for the road show's first-ever pit stop in Pullman, and a much-anticipated Pac-12 North clash between No. 25 WSU and no. 12 Oregon. Few will come out of the weekend with a story as riveting as Crawford's.
"It's kind of nuts," he said. "I don't think I've ever had something on this scale come together the way it has."
The 2009 WSU graduate recently finished up 5½ years of service with the United States Navy as an electronics technician. Part of that time was spent in Bahrain, where Crawford, a fourth-generation Navy sailor, performed satellite communications for the Middle Eastern area of U.S. naval operations, and the final two years were spent in Virginia Beach.
Officially, Crawford's final day with the Navy is Oct. 29, though he's currently on terminal leave, which afforded him the opportunity to travel cross-country for Saturday's festivities in Pullman. Swinging the trip financially, however, was more of an obstacle.
Because he'd be relocating in Seattle, where Crawford will start work for Radio Holland in two weeks as an electronic technician, he was expecting a travel advance from the Navy to cover mileage expenses. The four-figure check that Crawford was in line for never came.
Eager to get his buddy to the Pacific Northwest, Mohn chipped in the necessary cash, telling Crawford, "Pay me back, don't worry about it, just make sure you're here for this thing, because the first time only happens once."
Mohn was formerly in the Marine Corps and now lives in Seattle. Both graduated from WSU in 2009 and have spent countless Saturdays together watching Cougar football in adjacent seats at Martin Stadium.
"This is another Coug who himself has done time in the military … and he knows what this means to me," Crawford said. "He was right there alongside me most of those years when he wasn't deployed himself over in Iraq and Afghanistan."
"That was absolutely huge. I have no idea how I'm supposed to thank him for that, but I'm going to have to figure it out."
Crawford finished some Navy paperwork on Monday, hopped into his car around 1 p.m. Eastern time and started his voyage. Monday night's stop was Donegal, Pennsylvania. Tuesday's was Avon, Minnesota.
"I think I can throw a rock from one end of town to the other," Crawford said via phone Tuesday night from a motel in Avon.
On Wednesday, Crawford planned to reach his mother's home in Billings, Montana, and Thursday he'd make the final leg to Pullman.
The lack of a co-pilot can make such an expedition tiresome, but Crawford said his Navy training has helped him concentrate on monotonous tasks for long periods of time. That and a variety of metal jams.
"Mostly just my Alice in Chains keeping me company, but some other stuff in there, too," Crawford said. "You can't scream your guts out the whole way. I've got to save something for Saturday."
Crawford was fortunate to score a ticket to Saturday's game. Mohn is a WSU season ticket-holder, but he'd already promised a second ticket to his mother. So Crawford went crowdsourcing and stumbled upon a family of Cougar fans on Twitter who had a spare. They're not charging him for the ticket.
"I said 'What do I owe you, how do you want to do this?' " Crawford said. "He said, 'Meet me between the (GameDay) show and the start of the game, ticket's yours, no questions asked.'"
"It's just kind of piece after piece falling in line."
Crawford describes his time in Pullman "an unholy struggle" but assures that Cougar football Saturdays – even amid some dark years for the program – provided an escape from whatever he may have been going through.
There were some rocky moments in the classroom and Crawford, who changed his academic direction multiple times, says he had seven different advisors in the first year. Crawford had to apply for readmission because he wasn't making academic progress – mostly due to the constantly-changing plans – and eventually had to swap his engineering major for one in history.
"Even when classes weren't going right or some family stuff that was also going on – there was a lot going sideways that entire time I was at Wazzu, just super tumultuous – Martin Stadium was my refuge," he said. "So for that 5-5½ years I was there, I didn't miss a home game between 2004 and 2009. Then even the next year I made every home game in 2010 and I don't think I have to tell you that is a hell of a lot of bad, awful football."
He says the bond WSU grads have with their alma mater is anything but superficial.
"The place gets in your blood," he said. "Jim Walden absolutely got that right."
A friend and WSU faculty member has opened up his Moscow home to Crawford for the weekend. He plans to hit the sheets early Friday night and get to the campus in Pullman for the beginning of Saturday's show, which takes place from 6-9 a.m.
A number of Crawford's Navy friends around the world are counting on their comrade to make a cameo on the live broadcast – and he doesn't want to disappoint.
"Actually a buddy of mine texted me from Japan and said, 'Hey I better see you on GameDay.'" Crawford said. "We're going to try to make sure we're there and hopefully a few sailors around the world are able to see their boy waving the flag."
Local journalism is essential.
Give directly to The Spokesman-Review's Northwest Passages community forums series -- which helps to offset the costs of several reporter and editor positions at the newspaper -- by using the easy options below. Gifts processed in this system are not tax deductible, but are predominately used to help meet the local financial requirements needed to receive national matching-grant funds.
Subscribe to the Cougs newsletter
Get the latest Cougs headlines delivered to your inbox as they happen.
---