Sports > Area sports
Gonzaga's Sophie Whittle takes point-by-point approach to becoming Bulldogs' first ITA national champion
Wed., Oct. 17, 2018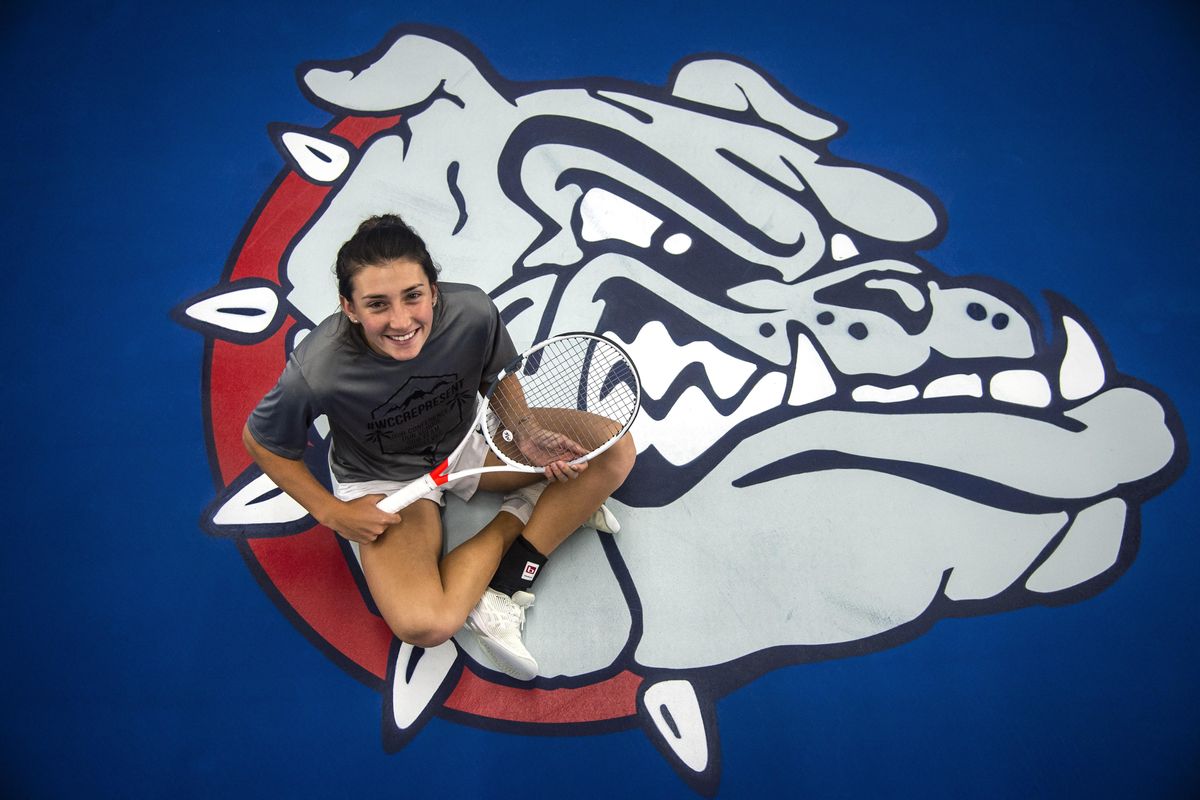 Gonzaga tennis player Sophie Whittle, who is the first Zag in history to be crowned an ITA National Champion. The victory qualified her for the Oracle ITA Fall National Championships in early November. (Dan Pelle / The Spokesman-Review)
Heading into the ITA/Riviera All-American Championships last week, Sophie Whittle had three possible game plans.
Plan A: Play to her strengths and force her game on her opponents.
Plan B: Figure out her competitors' weaknesses and use them to her advantage.
Plan C: Just put the ball back in play and ride it out.
While the game plan was decided on a point-by-point basis, one plan had to come to fruition: Whittle, a self-declared bad loser, had to win.
She did. On Oct. 7, she defeated Duke's Marie Mateas 6-4, 5-7, 6-3 to win the main women's singles draw in Pacific Palisades, California, and become Gonzaga's first ITA national champion.
Now, when some might focus on individual accomplishments, Whittle is placing attention on the group she said got her to where she is.
"I was really happy," Whittle said. "It was nice being able to look at everyone that was supporting me the whole time. I could look at (head coach) D.J. (Gurule) and (teammate Graciela Rosas) and I could look at my family and my friends that came and I'm lucky that I had that many people there supporting me who were actually there … I'm mostly just happy for the program, because I want it to keep getting better and I hope it will help and I am happy for the girls because I couldn't have done it without them."
One teammate Whittle points to is doubles partner Rosas, who competed in the tournament alongside her. In addition to providing live updates through the team's official Twitter account, Rosas took part in several group chats, some including more than 25 people, letting people know how her teammate was performing.
In Gurule's eyes, this is direct correlation to one of the team's biggest mantras: It's not about the individual.
"They understand how special they are, but they also understand how special it is to be here and they also understand how hard it is to be here and how hard it is to be a part of the team," Gurule said. "These are kids that want it. Want it for each other. Want it for their school, for the athletic department. The last thing they want it for is themselves."
During the ITA tournament, Gurule's nerves might have been just as high as Whittles'.
Whittle said she felt most nervous en route to her final two points, when Rosas was filming her.
"Well, I can't mess up now," she said of her thoughts. "That would be embarrassing."
With a tendency to get distracted by her surroundings, Whittle stayed focused on the game in front of her, the task at hand. To keep her in the moment and not get too ahead of herself, Whittle didn't look at the draw the entire tournament, which she said helped her performance.
Instead, it was Gurule's job to scout her opponents. His other job: Keep her calm. But for that to happen, that also required Gurule to be calm.
"Any coach that says they're not nervous or stressed doesn't really care," Gurule said. "I probably took off 10 years of my life. Well, maybe 20 years total. For me, it's about understanding that she needs to calm down to get the next point, no matter what. I've done it where I've been too emotional – too excited, too nervous, too whatever it is. Sometimes I try to be as cold or calm as possible. Sometimes I do a good job, sometimes I don't. But I mean, there are some times, too, where she needs a little emotion. It's an emotional game, athletics in general, which is why we do it. It's fun. It's not quite as fun when it comes out the wrong way, but it's still what we do."
Whittle, who hates to lose, prides herself on her work ethic.
Whittle's training schedule includes conditioning on Mondays, Wednesday and Fridays; a pool workout on Wednesdays; weight lifting on Tuesday and Thursdays; track workouts on Saturdays; individual workouts twice a week and daily team practice. Sunday is her only off day, which she fills with other activities.
But with hard work come loftier expectations and greater letdowns.
"Sophie works harder than anybody, but that work doesn't guarantee success. It doesn't guarantee that you win," Gurule said. "You can work as hard as you can and do everything exactly perfect, but there may be just somebody who is more talented, has a better day, is on that day, you're off the day, whatever it is. But for me, I was just really happy to see her hard work pay off. I'm a little greedy in that I think it will now make her work harder. If you have that hard work and it pays off, you're like, 'Ah, this works. If I do the work, then I get results.' "
Since the tournament, Whittle has been somewhat forced to sit out after spraining her left ankle while changing directions in the championship match – a moment that brought her to tears. On Monday, Whittle and Gurule seemed optimistic about a quick return to court.
Once she returns, Whittle plans on picking up where she left off and work toward fulfilling her and the team's goals: defeat Pepperdine, win the West Coast Conference championship and go to the NCAA Tournament, something she got a taste of last year when she and Rosas were named as tournament alternatives.
Before that, Whittle just wants back on the court.
"I just want to have a fun senior year and enjoy my time playing, because I can't believe it's already senior year," Whittle said. "It's gone by so fast. I just want to enjoy the moment and not look too far ahead."
Local journalism is essential.
Give directly to The Spokesman-Review's Northwest Passages community forums series -- which helps to offset the costs of several reporter and editor positions at the newspaper -- by using the easy options below. Gifts processed in this system are not tax deductible, but are predominately used to help meet the local financial requirements needed to receive national matching-grant funds.
Subscribe to the sports newsletter
Get the day's top sports headlines and breaking news delivered to your inbox by subscribing here.
---