Secretary Wilkie announces Spokane to lead VA records changes during visit to Fairchild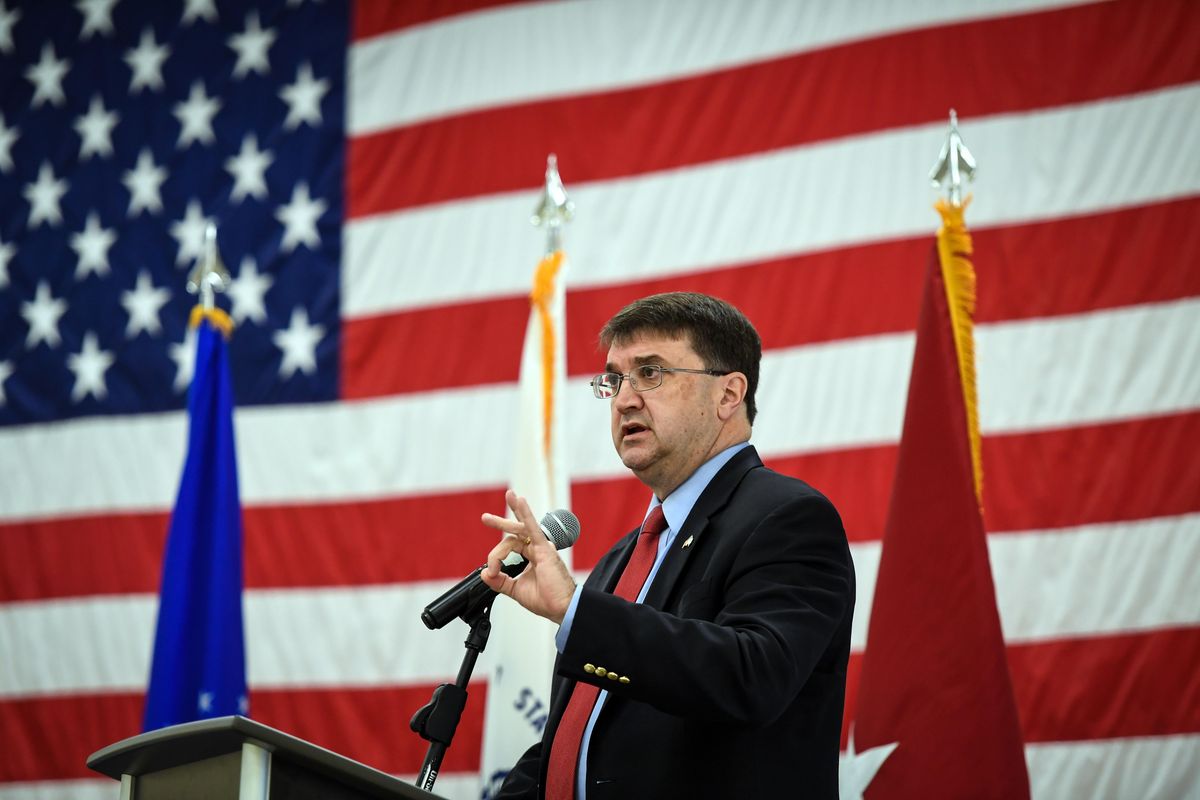 Washington will be a test location for a $10 billion project to convert all Veterans Affairs medical records into electronic form, Department of Veterans Affairs Secretary Robert Wilkie said Wednesday in Spokane.
"Washington state has the perfect mix of active duty, technical infrastructure, rural components, and a large number of veterans," Wilkie said. "So what we are doing here in Washington, we are testing out the medical health records, which is the largest program the VA has ever undertaken. We are going to test it here in Spokane. That will be the template for the entire country."
Wilkie, who was confirmed as VA secretary in July, arrived at Fairchild Air Force Base for the Military Family Summit. During his speech, he highlighted how President Dwight Eisenhower addressed a group of 40 Korean War veterans just after his inauguration in 1953. Some of the veterans were missing limbs or were "horribly disfigured."
"He looked at them as only a man of Eisenhower's stature could and he said, 'Gentlemen. You can never be repaid for what you have given your country. But, you have a charge from me. You never put your uniforms away. You live to remind your fellow Americans that they sleep soundly at night because of your sacrifices.' "
"That is the message that I try to convey as the leader, the temporary custodian of the flame of America's veterans," Wilkie said.
With more than 100 years of family members serving in the military, Wilkie appeared at Fairchild at the invitation of U.S Rep. Cathy McMorris Rodgers, who has been organizing the Family Military Summits since 2009.
"I've said before, in order for America to be a diplomatic power, it needs to be a military power," McMorris Rodgers said. "In order to be a military power, it needs to be an economic power. It's all connected. And the military families are the basis behind every part."
Wilkie's late father, Robert L. Wilkie Sr., retired from the Army as a lieutenant colonel and was wounded fighting in the Vietnam War.
"When my father was commissioned two months before President (John F.) Kennedy was inaugurated, less than 9 percent of the force had families," Wilkie said. "Today, it's 75 percent. The bottom line is the men and women who support our warriors are the foundation of everything that we do."
Wilkie also said he supports efforts to begin a long-promised 24-hour urgent care at Mann-Grandstaff VA Medical Center. It currently operates from 7 a.m. to 7 p.m.
"I'm gong to do my best," Wilkie said of supporting the upgrade.
"I've also advocated for a 24-hour urgent care at the Spokane VA," McMorris Rodgers said. "I'm pleased that we are on track to get that open next year, early next year."
When pressed for a date, McMorris Rodgers acknowledged that the opening remains a "goal."
"It's not an issue of funding. It's more an issue of recruiting the doctors enough to staff it," she said. "They are having a challenge recruiting the doctors. So getting the doctors in place is going to be the key to being able to open the 24-hour urgent care."
Promises of updated care at Mann-Grandstaff with very little to show for it has been a campaign issue for her Democratic challenger, Lisa Brown. In an interview earlier this week, Brown criticized McMorris Rodgers for promises of around-the-clock emergency care that haven't produced.
"It's not about what you say. It's about how you accomplish it," Brown said.
As for Wilkie, he also visited the VA facility in Walla Walla, which he also said figures into the national plan to update services for veterans.
"The other part is taking a facility like Walla Walla and making that facility stronger so it can be a template for how we deliver health care to veterans in rural areas, veterans who drive hundreds of miles," he said. "Washington has all those components that come together to make this the testing ground for the 21st-century VA. That's why I wanted to come."
He said even in 2018, many officials from the South or East do not understand the scale of the American West.
"You can see it here in Washington state. Some places out west, veterans and their families have to travel 700 or 800 miles round trip just to get to a VA center," he said. "With our transformation, we will give you the opportunity to choose the care that is close to your home, the care that makes you and your family most comfortable."
Wilkie ended his speech by repeating former President Dwight Eisenhower's promise to those veterans some 65 years ago.
"We will do our best to make sure that the government of the United States never lets you down because you have never let us down," he said.
Reporter Kip Hill contributed to this report.
---