News > Spokane
Cougs fans get ready for Gameday in Pullman
Oct. 18, 2018 Updated Thu., Oct. 18, 2018 at 9:15 p.m.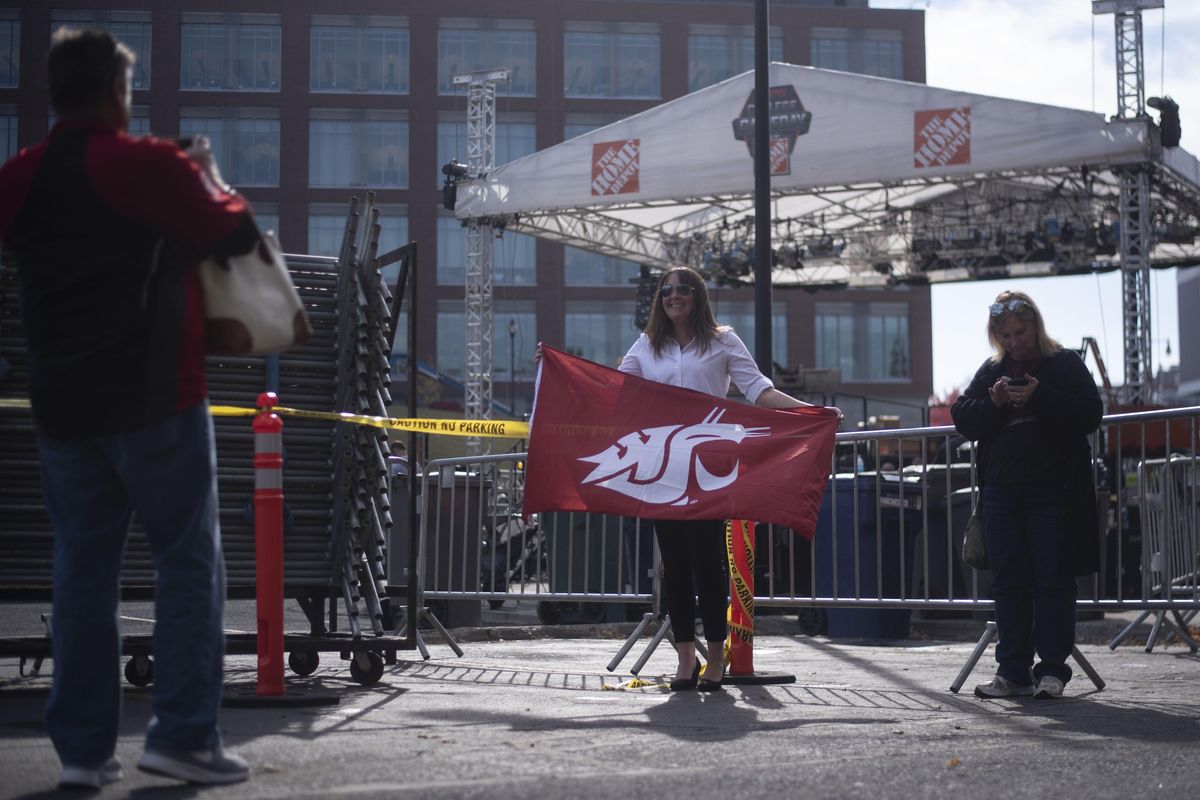 Jessica Riehle poses for a photo in front of the ESPN College GameDay set while it is being constructed, Thursday, Oct. 18, 2018, in Pullman. (Luke Hollister / For The Spokesman-Review)
PULLMAN – For many Cougar fans, it's all about the journey.
This one was special.
Del Winterfeld's massive trailer – towed by a crimson-and-gray truck all the way from Enumclaw, Washington – was first in line across from the parking lot on Stadium Way.
Five others were lined up behind him on a sunny Thursday afternoon, about 100 yards from Martin Stadium, their owners standing in the RV lot and waiting for their spots to open.
That would take longer than usual, due to the workers tending to the gargantuan ESPN GameDay production set not 40 yards away.
It should have been 50 yards, but Winterfeld and his friends sidestepped the yellow caution tape and marveled at the spectacle.
Not at the massive stage, but at the journey – for the WSU football program and all who follow it.
The previous 216 GameDays were marked only by a Cougar flag waving in the background while Lee Corso donned the head of someone else's mascot.
Not anymore.
Well, Corso could pull out a duck's head early Saturday morning, but would he dare? By then, the tiny lot promises to overflow with thousands of Cougars from all compass points.
Physically and emotionally, few have come farther than Ken Benveniste of Sammamish.
"We came close a couple of times, but didn't win the game we needed to," said Benveniste, class of '87 and a season ticket holder for more than 20 years.
Then came one of the best bye weeks in WSU history, as Washington lost in overtime at Oregon "and it all fell together," Benveniste said.
The first ESPN trucks arrived the day before, making Thursday the calm between storms.
Fittingly, it was a picture-perfect fall afternoon, and plenty were snapped in front of the GameDay set. Tim and Barbara Olson of Pullman were clicking away from a respectful distance.
"It's crazy and incredible," Olson said. "This small town has waited a long time for this … everyone I talk to, they're not talking about anything else."
Even the youngest fans appreciated the moment and the history.
Nate Savolainen and Shane Grimm, both WSU freshmen from Clarkston, finished the school day with a stroll past the GameDay set.
Ahead lies the promise of a Saturday like no other.
"We're pretty jacked," Savolainen said. "It's the first game day and my first year, so we're just living it all out."
If that means waking up at 5 a.m. to join the Saturday morning mosh pit, Savolainen wasn't saying. They are 18 years old, after all.
Others won't have a choice. The RV lot will be rocking by 5 a.m. well before sunrise, though one ESPN worker promised to "light up the sky" for the event.
Meanwhile, the line of RVs stretched longer than usual on Thursday. At the back were old friends Keith Grossman of Ellensburg and Dane Williams of Gig Harbor.
Like those at the front, they were enjoying the journey.
"We've definitely gone through the lulls to appreciate the highs," Williams said. "This is the pinnacle, if you ask me."
For Carmen Green of Spokane and her husband, Kevin, it was even more.
"When we found out about GameDay, I got kind of teary," Green said. "We have such a beautiful campus and a great school."
Local journalism is essential.
Give directly to The Spokesman-Review's Northwest Passages community forums series -- which helps to offset the costs of several reporter and editor positions at the newspaper -- by using the easy options below. Gifts processed in this system are not tax deductible, but are predominately used to help meet the local financial requirements needed to receive national matching-grant funds.
Subscribe now to get breaking news alerts in your email inbox
Get breaking news delivered to your inbox as it happens.
---