Trump reminds Missoula crowd of his 2016 win, lauds GOP Senate candidate, praises assault of journalist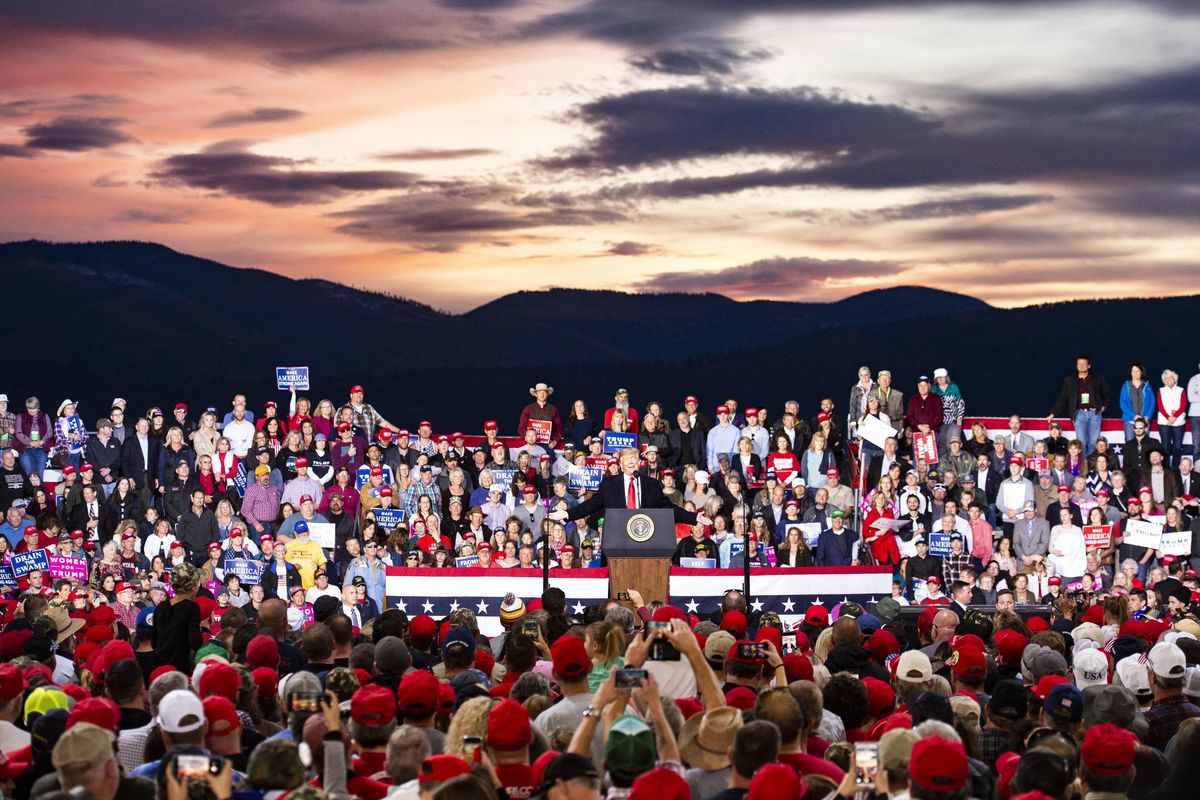 MISSOULA – With a backdrop of the Bitterroot Mountains and a setting sun, President Donald Trump stoked his supporters in Montana with warnings of the "radical, far-left Democrats" who have "truly turned into an angry mob bent on destroying anything and anyone in their path."
Though his warnings were dire, the joyful crowd received them with adoration, ready to respond with chants, cheers and expressions of disbelief and disgust.
After Air Force One touched down on the quiet tarmac, and before 8,000 supporters in the Minuteman Aviation hangar at the Missoula International Airport, Trump walked to the lectern as "God Bless the U.S.A." played over the loudspeakers, people singing its familiar refrain of "I'm proud to be an American."
Basking in the applause for just a few minutes, Trump returned the warm reception and praised the people and the state.
"Montana to me is a great, big, powerful state," he said, and harkened back to his 2016 election, when he handily took the state's popular vote and its three Electoral College votes. . "That was some day. That was some night."
It's the third time Trump has come to Montana this year to support Republican Senate candidate Matt Rosendale, the state auditor. In July, Trump visited Great Falls. Last month, he held a rally in Billings.
Rosendale faces U.S. Sen. Jon Tester, a Democrat who has represented Montana since 2006 and who is one of the most vulnerable Senate Democrats in the November election. With the GOP holding the Senate by a 51-49 margin, every race counts, but especially this one in Big Sky Country.
As Trump told the crowd more than once, he won Montana in 2016 by more than 20 percentage points. To remind them of their common cause, Trump asserted his belief in the Second Amendment – before reminiscing again about 2016.
"This is a very big Second Amendment place. I wouldn't want to be the one to walk into your home and say, 'Give me your gun,' " he said, again noting that he won the state "by a lot."
During the course of his speech, he reiterated what he described as his many accomplishments as president.
"America is winning. We're putting America first again," he said.
As an example, he pointed to the recent confirmation of Justice Brett Kavanaugh to the U.S. Supreme Court, winning his loudest cheers just minutes into his his 70-minute speech.
Those cheers turned to boos when Trump described what he called Democrats' "heartless campaign of political and personal destruction" against Kavanaugh.
"It was disgusting," he said.
He shifted to another applause line, designed to get the crowd chanting.
The Democrats, he asserted, were willing to let "hardened criminals" into the country, while he was "willing to send the military to the southern border if necessary."
"Build the wall! Build the wall!" the crowd chanted.
"You think those people are perfect?" he asked, referring to immigrants from Central America. "They're not perfect," he answered.
Switching gears, as he would numerous times throughout the rally, the president changed topics quickly and with little connective tissue.
"I will say, I caused the problem. It's my fault," he said. "I've created an incredible economy. I've created so many jobs."
The crowd roared.
"We made our country strong. We made our country respected again," he said.
Throughout the speech, Trump was occasionally distracted by a tangential thought or shout from the audience, but he always found his way back to his original point.
Someone yelled about his hair, long the subject of suspicion and derision.
"You love my hair?" he said. "Thank you."
At another point, a woman said she loved him.
"I love you, too," he said. "Who said that?"
Later, in the middle of a story recalling a time when he was considering running for president, he asked, "How about our first lady?"
Yes, the audience approved of Melania Trump, and agreed with Trump that her recent trip to Africa was a success despite the "fake news" trying to say otherwise.
As the yellow and gray clouds turned to peach and rose, Trump looked at his Western backdrop.
"By the way, this is the most beautiful state," he said, quickly noting he'd been in the state before.
But at the heart of the speech, Trump won his own highest praise, and the Democrats were the targets for his deepest scorn as he launched a fusillade of criticisms against members of the opposition party.
"Democrats produce mobs. Republicans produce jobs," he said. "The Democrats have become the party of crime. It's true."
He repeated the refrain that's been taken up by Republicans all over the country this midterm election.
"The Democrats have truly turned into an angry mob bent on destroying anything and anyone in their path," he said. "If you want to drain the swamp, you have to defeat the Democrats. If you want to defeat the Democrats, you have to defeat Sen. Jon Tester."
Early line
The line for Trump's rally began forming at 3:30 a.m – probably around the same time protesters hiked up Mount Jumbo to add an "-IAR" to the existing "L" on the foothill overlooking town.
In the field where Trump's supporters waited, hours before Trump's 6:30 p.m. start time, the 60-foot tall "LIAR" wasn't quite visible. Even if it were, the festive-like air among the waiting, queued-up rallygoers wouldn't have been tainted.
Sam Larsen, 21, was the first person in line, along with her husband Jordan Larsen, 28, and Derek Schwartz, 28, all from Missoula.
"I want to see Trump," she said. "We missed out in Great Falls. We didn't want to miss him here."
Following Trump's Great Falls and Billings rallies this year, Jordan Larsen said luck would be with them in Missoula.
"Third time's a charm," said Jordan Larsen.
Seven hours after the Larsens got in line, hundreds more red-hatted Trump supporters spooled out behind them, adding to the celebratory mood.
Sany Dash, 47, stood before a table of merchandise praising Trump. She follows Trump to all his campaign stops.
"This is my 15th rally," she said, adding that she donates 70 percent of all her profits to whatever candidate Trump is campaigning for, which amounts to at least $10,000 each stop. "I really like Trump."
Next, she's headed to Arizona, then Nevada, then Houston. Not all stops go well. In Mississippi, she was mistaken for a Democrat and felt her compatriots' ire, an attitude she hasn't faced in her liberal hometown of New York City.
"I'm not white," she said. "If I was white, they'd have a problem with me."
About 100 people deep, the Blazen Divaz from Coeur d'Alene were decked out in red boas and feathered headwear. The women are part of a precision dance team who are angling to perform in 2020 at Trump's second inauguration, if things go as they hope.
"We're all big fans of President Trump. We think he's doing a great job," said Rosemary Schadel. "I'm very fond of him and his policies. I really think he'll make America great again."
The scene on Mount Jumbo was surely different, but according to a statement given to the local Missoulian newspaper, the group that placed the giant letters in the early morning hours was also enjoying the near-perfect fall day.
"It seems right to sit on a sunlit mountain in our beautiful community on a gorgeous fall day to express our disgust with and rejection of Trump silently and bask in the company of others who share our voice and concerns and who need to be heard," said the group, which included Roseanne Davis, Maggie Williams and Betty Tschudi.
Up to 100 people had volunteered to take shifts by the letters, far from the raucous scene that began well before Trump touched down in Air Force One to rally his base.
Lock her up
An hour before Trump arrived, various speakers delivered lines that have become commonplace at Trump's rallies, lines Trump would echo again later in the evening.
U.S. Sen. Steve Daines, a Republican Montanans elected in 2014, began by thanking God for various grants, pushing the crowd to bellow support or derision, to chant familiar slogans and jeer familiar bogeymen.
"Thank God Hillary Clinton is not president of the United States," he said.
"Lock her up! Lock her up!" the crowd responded in unison.
"Thank God Justice Kavanaugh is on the United States Supreme Court," he said.
Wild cheering came back to him.
"I'm so thankful President Trump is president of the United States," he said. There was no doubt the audience agreed.
He pointed to the jagged line of mountains behind him, and criticized the "radical environmentalists who will lock us out of our forests while we watch them burn."
The hangar rumbled with deep-throated boos.
Daines introduced U.S. Rep. Greg Gianforte, Montana's sole member in the House of Representatives. Trump later warned the crowd to "never wrestle" Gianforte, reminding the audience that Gianforte assaulted a reporter from The Guardian newspaper in June 2017. He said "any guy who can do a body slam … he's my guy," and again instigated the crowd to loudly deride the "fake news."
"Can you imagine if Hillary Clinton was president," Gianforte asked before Trump's arrival.
They couldn't.
"We've got leftist mobs in the street. You've seen them," Gianforte said. "I stand with President Trump. Not Hillary Clinton, Nancy Pelosi or these leftist mobs."
Again, little doubt was left about how the audience felt.
"God bless America," he said, and rallygoers' bodies reverberated to the dancing bass line of The Rolling Stones' "Sympathy for the Devil."
Judging by the rally's playlist, the president likes The Rolling Stones and Guns N' Roses. Still, there was more.
People swayed to, but largely ignored, the thumping speakers as they played "Don't Stop Believin'" by Journey, "The Best," by Tina Turner, "Beat it," by Michael Jackson, and "My Way," by Frank Sinatra. The songs were heard more than once.
In the hours before Trump's touchdown, the music was simply a distraction as people wandered the cavernous hangar.
Signs were held aloft with the garden-variety slogans used liberally by Trump and his allies in the last few years, "Build the Wall" and "Make America Great Again" among them. Then there were the twists on the commonplace, like "Keep America Great," and "Make America Proud Again."
Like countless others before him, a man wandered toward the 29 portable toilets lining the back wall. He wore a wide-brimmed, red bucket hat that read the same thing most other hats here did, the MAGA hats that define this political moment. His shirt was a collage of various images of Trump's face, smiling, looking glum or thoughtful.
On his way back from the back wall, Mark Payton, 69, said he saw Trump in Great Falls for the same reason he came to Missoula from his home in Corvallis, Montana.
"I'll tell you why" Trump has his support, Payton said, listing the reasons while he counted them on his fingers. "Drain the swamp. Get rid of the stupid FBI. Better jobs. Good person."
Payton, a slight man with a wide, white cowboy hat, wore a brightly-colored neckerchief that dangled to his belt.
"He's a good person," he said. "He may not be a perfect man, but he's the perfect man for the job."
After Trump's speech, and after the hangar was largely cleared out, 50 or so people watched the dark runway as Air Force One idled on the tarmac.
Either to scare out the remaining stragglers, or bid farewell to Trump, the music was cranked up to a nearly unbearable level. As Trump sat in the plane, Axl Rose howled into the Montana night.
---