Sports > WSU football
Years of planning, near-misses have gone into ESPN College GameDay's visit to Washington State
Fri., Oct. 19, 2018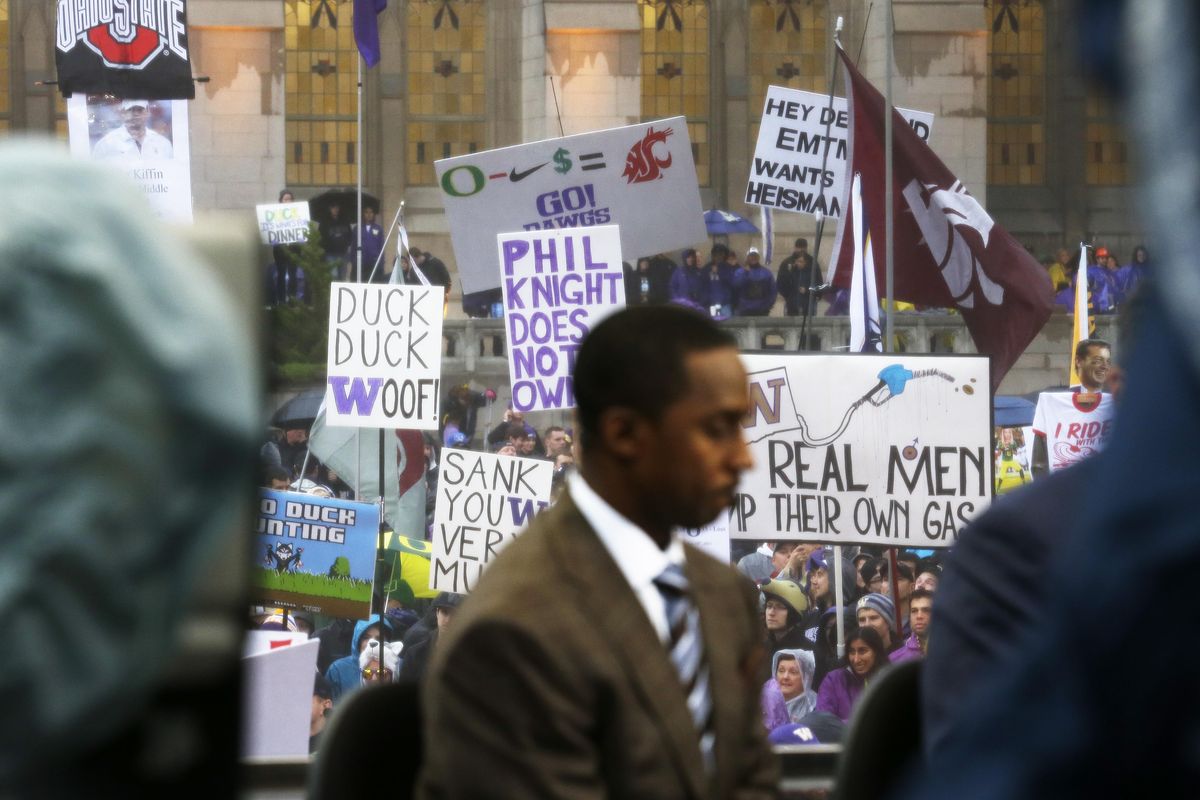 The Washington State Cougars flag is waved at upper right above ESPN College GameDay co-host Desmond Howard, Saturday, Oct. 12, 2013, during College GameDay's broadcast from Red Square on the University of Washington campus in Seattle before an NCAA college football game between Washington and Oregon. (Ted S. Warren / AP)
PULLMAN – At the end of each season, Chris Fallica – if you know college football, you know him as "The Bear" – takes a few weeks to unwind. Since 1996, he's been on the road with ESPN's award-winning College GameDay show, which means Fallica has spent 15 to 18 weeks each of the last 22 seasons hopping from site to site as GameDay seeks out the country's most intriguing storylines and juiciest matchups.
Fallica says he's been fortunate to spend more than two decades as the show's research producer and official historian – he spends some time on-air these days, too. But it's an exhausting gig, and by the end of the five-month slog every year, "The Bear" needs time to hibernate.
Then he returns to the grid.
"The grid" is a running list of college football games compiled by Fallica, who begins scoping out potential GameDay destinations for the next football season not long after the previous season has culminated.
It's a rough draft – things shift throughout the college season and edits are made to the document on a weekly basis. This year, for example, Fallica found a potentially tantalizing matchup on Nov. 10 between Florida State and Notre Dame when he took his early glimpse. It would've coincided with the 25th anniversary of the TV program's first-ever road show, too.
"Would be shocked if we didn't wind up here," Fallica said. "Well, we're not going to wind up there, because Florida State is terrible."
And there's another step that's long been a staple of Fallica's process. Every year, he pulls up Washington State's schedule, removes his pen cap and marks any home Cougar games that could be appealing for the traveling road show. No other school gets this treatment.
"We always include on that list, for as long as we can remember, the best opportunities for us to get Washington State," said Drew Gallagher, a coordinating producer for ESPN College GameDay. "What are their big home games? Because it's always on our mind to try to get there."
"(Fallica) has been pushing for taking the show to the flag, as he likes to say, as much as anyone," added Gallagher. "So if there's anyone who's excited to go to Pullman, it's him."
Fallica, Gallagher and an estimated 100 crew members will be on-site this week for GameDay's first-ever show on the WSU campus – a voyage that Cougars coach Mike Leach called "long overdue" and one that ESPN has been eager to make since Tom Pounds flew his Ol' Crimson flag behind the GameDay set in Austin, Texas, exactly 15 years ago.
That piece of fabric has miraculously appeared in the backdrop of every show since 2003 – 216 in a row at this point – and it'll have some company, tons of it actually, this Saturday when the show debuts on the Pullman campus from 6 to 9 a.m.
"Continually, they were there every week supporting and proudly waving that flag," Fallica said." And I think we're all excited to be there, and I think we're more excited because it's not just like a novelty, it's a bad week, let's just go to Washington State, let's give them their due, go to the flag. They earned it. It's legitimately a good game. There were four games with ranked opponents this week, and it's one of them. It's a toss-up-type game."
The show has flirted with a visit to Pullman before. There was a close call in 2015, when GameDay found itself in a pickle, selecting between No. 8 Stanford at WSU and No. 9 Notre Dame at No. 21 Temple. Visits to "Group of Five" schools are few and far between for the show, and it had a rare opportunity to set up in front of Philadelphia's Independence Hall.
GameDay chose Philly. Crew members still consider it one of the more memorable episodes to date.
"I think the game just sort of felt like it had a little bit more," Gallagher said. "Sometimes it's a feel thing, and I can't describe it any other way more than that."
The process of choosing a site isn't quite as scientific and detail-oriented as the average fan might imagine. Typically on Saturday, there's a group text between ESPN brass, producers and members of the on-air talent team – they all weigh in on the conversation – as they're traveling from different parts of the country.
"Watching the games play out, seeing what feels right at the end of Saturday night, and then you just sort of make a decision based on what's the best story, what's the best scene going to be on Saturday morning," Gallagher said. "Where do we want to be? It's not where do we want to be right now, what's going to feel right next Saturday? And usually the decision kind of is obvious."
WSU has always been on the shortlist. Fallica said he scoped out a potential Pullman trip for the 100th anniversary of the Ol' Crimson flag, and then for the 150th.
"The Stanford game a couple years ago came oh, so close to getting there for that," he said.
College GameDay probably would've made the journey one year earlier had a Pac-12 game between No. 5 USC and No. 16 Washington State fallen on a Saturday. But the scheduling gods didn't work in WSU's favor, and Trojans-Cougars earned a Friday evening ESPN slot.
"Even though Washington State's not a team that's been ranked in the preseason very often, just because of the flag and that story, and the association Wazzu has with our show, I'll go through and say, 'Oh no, we would've been there, but the USC game is on a Friday night. Son of a gun, that's not going to work for us.' " Fallica said. "This year I went, what are their home games, and Oregon looks like they could be pretty good, and I had that game pretty high on that list."
A tweet from Fallica on Saturday night was perhaps the first thing that got WSU fans buzzing about a potential visit from GameDay.
"So it appears the airport code for Spokane is GEG…" he typed.
Five days later, Fallica admits, "I didn't know anything at the time, I was just kind of kicking around, OK, where am I flying to? Am I flying to Spokane? Can I get into Pullman or Moscow, Idaho?"
Videos of the GameDay convoy's arrival began to circulate Wednesday morning as the bright-orange bus made its grand entrance into Pullman. Fallica can't remember a reception of that magnitude in his 22 years with the show, and expects WSU to set attendance records Saturday morning.
The city of Pullman issued an emergency on Tuesday in anticipation of the mass crowds that are expected to show up.
"I would expect this one to be at the top, or if not, right near the top," Fallica said. "The first time we went to Fargo was an absolutely incredible scene, where just the main street we shut down, and our set was in the middle of Main Street. You could see people just as long as you could look. The first time we went to James Madison was great as well in that setting."
But, Fallica adds: "We've never had emergency proclamations to share mass transit."
As much as WSU and Pullman may be anticipating Saturday's show, ESPN producers seem to share an equal amount of enthusiasm.
"I'm leaving the office right now, and it's like Christmas Eve, because tomorrow morning I get to get on a plane and go to Spokane and drive to Pullman, and I cannot wait," Gallagher said Wednesday. "I can't wait to see what's waiting there."
Local journalism is essential.
Give directly to The Spokesman-Review's Northwest Passages community forums series -- which helps to offset the costs of several reporter and editor positions at the newspaper -- by using the easy options below. Gifts processed in this system are not tax deductible, but are predominately used to help meet the local financial requirements needed to receive national matching-grant funds.
Subscribe to the Cougs newsletter
Get the latest Cougs headlines delivered to your inbox as they happen.
---