Sports
Grip on Sports: No matter what sport you are a fan of, it was probably on a channel you could find somewhere last night
Fri., Oct. 19, 2018 A GRIP ON SPORTS • How many televisions do you have in your house? How about computers? I'm not sure if you had every device you own on a professional sporting event last night, you would have covered all the sports being broadcast. Read on.
••••••••••
• In our place the Red Sox's march to another World Series – I have some masochistic tendencies I guess – was on the big screen. Most of the time anyway. We occasionally switched over to the Stanford/Arizona State game, but that had little in the way of action, especially in the first half. And don't get me started about the NFL game. Action, sure, but competition? No.
The Lakers were playing and you would think this old L.A. boy would be eager to see LeBron James in the purple and gold but, no, not really. He may be the greatest player of all time, but he's not the greatest Laker, at least not yet. Besides, the crew around him seems more akin to the 1979 Laker team than the 1972 one. When they get better it will be more fun to watch.
As for hockey, which was also on, I have one question: When do the playoffs start? I'll tune in then.
Last night was only the second time ever there were games in all four major sports as well as college football and the MLS. In other words, sports-sensory overload if you wanted it to be.
I believe that's what happened to Kim. She fell asleep in about the third inning of the baseball game. Which saved me from having to watch the Food Network during commercials.
• It hit me as funny this morning. Just about every story I read concerning Pullman and the Cougars today was about ESPN and its pregame show in town. Every story I read from Portland or Eugene concerned the game itself.
Now that's to be expected. The Ducks are on the road in a crucial Pac-12 North game and their fans want to know what's going to happen.
The Cougars, on the other hand, are at home, hosting not only Oregon but also the television show they've been courting for more years than Bluto Blutarsky was at Faber. So the focus is there.
But there is going to be a game some 7 ½ hours after the pregame show ends. It's also important to Washington State's chances to win the North. Maybe it's time to start thinking a bit about that.
•••
WSU: It isn't easy getting ESPN's College GameDay set up in Pullman. It's taken 15 years in fact. Theo Lawson has more in this story. … One of the stars of GameDay is former coach Lee Corso. Our friend Dave Boling played for Corso at Louisville. They had a reunion not too many years ago. … Oregon quarterback Justin Herbert has played in Martin Stadium before. Theo looks back at the first appearance. … No, Klay Thompson won't be the guest picker. Theo also has that story. … Larry Weir was a 1,000-word underdog to his Press Box pod guest yesterday. That would be Jim Walden. … Bob Robertson is new to this retirement thing. The Times' Larry Stone talked with him about it. … We have some photos from the GameDay construction yesterday. … The soccer team lost again, this time 3-1 to Arizona State. … The Seattle Times has a GameDay story (as does Jon Wilner in the Mercury News), while the Oregonian focuses more on Saturday's main event, the game, with a couple stories about WSU. … Tony Brooks-James may play a larger role in the Duck offense.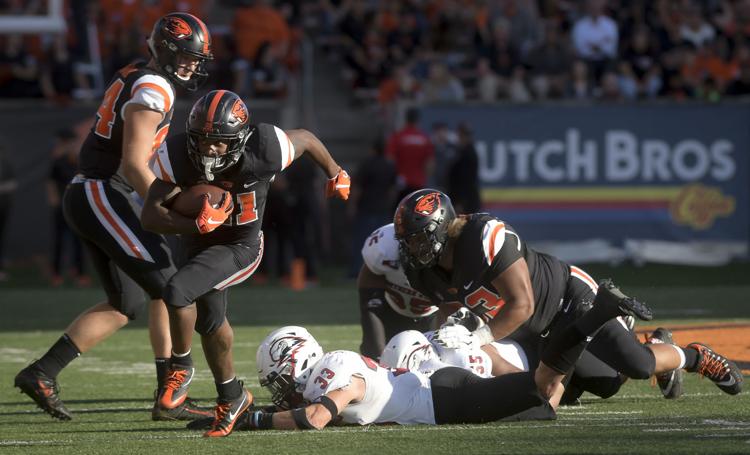 Elsewhere in the Pac-12, though the Oregon visit to Pullman is getting all the attention, there are two other key games this weekend. The first, for us, is in Seattle, where the Huskies host Colorado. The winner will still have a say in their division's race. … The other is in Salt Lake City, with Utah hosting beat-up USC. The conversation around the Utes is more about a loss of a freshman quarterback than anything else. … Stanford held off Arizona State in Tempe last night, winning 20-13. … Oregon State and California face off in Corvallis on Saturday. … UCLA is playing better, especially up front, and Arizona knows it.
Gonzaga: The WCC held its media day yesterday and to the surprise of no one, the Bulldogs were the coaches' choice to win the conference. Again. Jim Meehan has all the particulars in this story. … Saint Mary's was picked second, though I agree on Gaels' coach Randy Bennett on this one. "I was a little surprised," Bennett told the San Francisco Chronicle. "I think it's based on what we've done the past 10 years. Just based on paper, I wouldn't have picked us" second. Saint Mary's lost most everyone off last year's team. Personally, I would have picked BYU second.
EWU: Around the Big Sky, Southern Utah is using trick plays more than ever. … Northern Arizona expects a tough one at Northern Colorado. … Montana State is getting a great pass rush from one senior lineman. … It's a good time for UC Davis athletics. … Idaho State is playing its final nonconference game. … Weber State is still playing well despite an injury to a key player.
Idaho: The Vandal women were picked to win the Big Sky basketball title.
Preps: It was a busy Thursday around the area, with action in soccer, slowpitch and volleyball. And, lest we forget, a GSL football game at Albi Stadium. Dave Nichols was there and has this story as Mead ended Lewis and Clark's undefeated season. Jesse Tinsley was also there and has a photo report.
Seahawks: The Hawks made a surprise roster move in London.
•••       
• Just a thought. Would anyone be upset if Bob Robertson was the guest picker this Saturday? I thought not. But it probably won't happen. The upper-80s demographic isn't one ESPN lusts after. GameDay starts at 6 a.m. tomorrow, our time. I will be watching and writing a TV Take for the S-R. Which means doing this column will be problematic. We'll have to see if I can get it done. Until later …
Local journalism is essential.
Give directly to The Spokesman-Review's Northwest Passages community forums series -- which helps to offset the costs of several reporter and editor positions at the newspaper -- by using the easy options below. Gifts processed in this system are not tax deductible, but are predominately used to help meet the local financial requirements needed to receive national matching-grant funds.
Subscribe to the sports newsletter
Get the day's top sports headlines and breaking news delivered to your inbox by subscribing here.
---