Sports > WSU football
Rece Davis, ESPN College GameDay personalities speak about inaugural visit to Washington State
Oct. 19, 2018 Updated Fri., Oct. 19, 2018 at 10:03 p.m.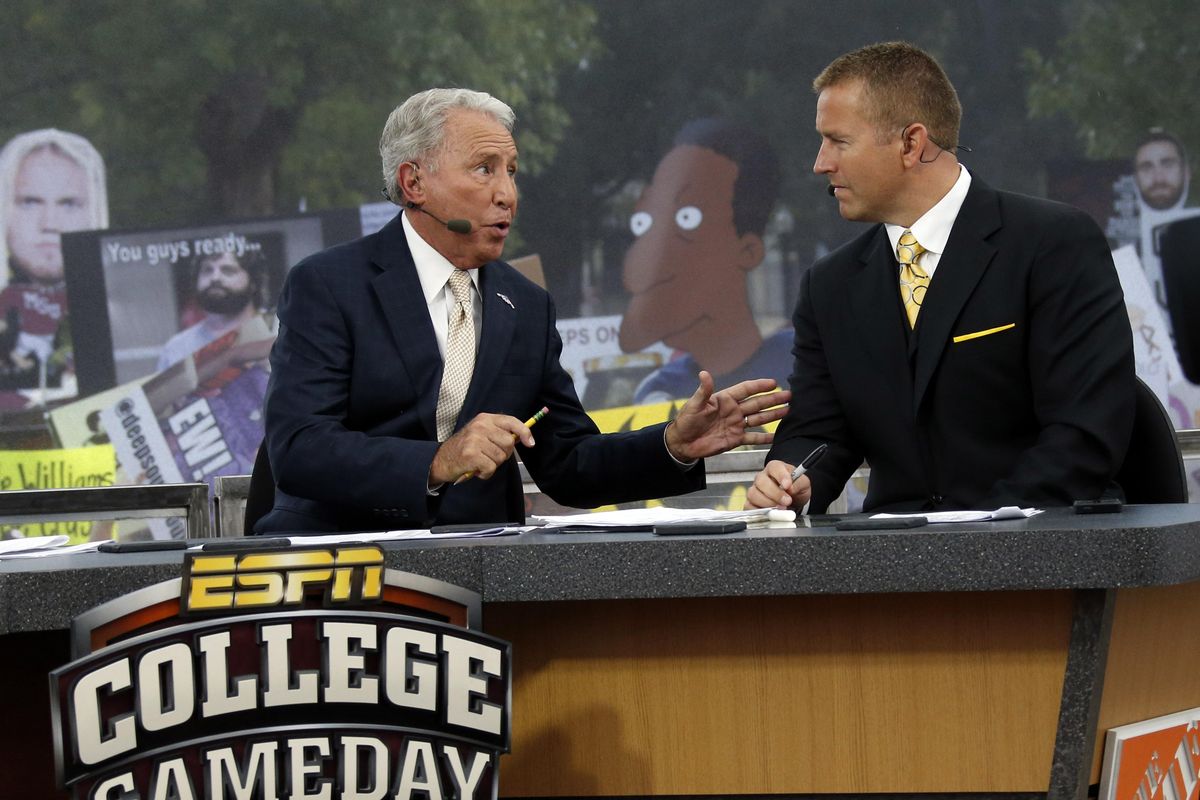 ESPN College GameDay hosts Lee Corso, left, and Kirk Herbstreit confer during the telecast from The Junction prior to Mississippi State playing Auburn in Starkville, Miss., on Oct 11, 2014. (Rogelio V. Solis / AP)
PULLMAN – Rece Davis' first 12 hours in Pullman were, well, quintessentially Pullman.
The longtime ESPN SportsCenter anchor and acclaimed College GameDay show host arrived on the Palouse on Thursday. Other on-air talent members of the Emmy-winning GameDay program, including Heisman Trophy-winning receiver Desmond Howard and former Georgia linebacker David Pollack, trickled into the area with their colleague, anticipating GameDay's first appearance at Washington State on Saturday.
The show itself is set to take place from 6-9 a.m. across the street from Martin Stadium on the intersection of Stadium Way and Ferdinand's Lane. Tens of thousands of fans are expected to be clogging the area. It'll be hard to miss.
In three parts, Davis got his first taste of Pullman on Thursday.
"I went and did something I thought I'd never have an opportunity to do," he told about two-dozen local reporters during a Friday media availability. "I went to a chickpea/garbanzo bean factory and I understand this is one of the world's most fertile areas for producing those.
"The reception has been overwhelming."
Later on, Davis made a guest appearance on the weekly WSU coaches' show at Zeppoz Casino with Mike Leach and play-by-play commentator Matt Chazanow. The Pullman experience amplified for Davis when a Cougar fan purchased a shot of cinnamon whiskey and slid it over to the 52-year-old ESPN anchor.
"I can say this, I got called out on Twitter, I would like the record to reflect I did not imbibe one drop of that Fireball they put in front of me," Davis said. "So I think when they started sliding me Fireballs at the coaches' show, I got a pretty good idea there's going to be some intensity in the wee hours here in Pullman on Saturday morning.
"But that's the way we like it."
It probably wasn't the last boozy treat Davis was offered. He followed his Zeppoz cameo with a stop to an iconic Greek Row landmark, The Coug. Davis autographed one of the bar's signature wall faces and inscribed "GameDay was here" on one of its tables.
Howard and Pollack also spoke to the gathered media in Pullman Friday and Herbstreit FaceTimed in from his hometown of Nashville, Tennessee. Not to worry, the recognizable ESPN and ABC color analyst will be on set for Saturday's show, but before the college football season started he vowed to three of his sons – all varsity football players in Tennessee – he'd attend an important prep football game for their Montgomery Bell Academy squad.
"No matter where GameDay was this week, I just couldn't miss this game," he said via FaceTime. "… Soon as their game's over … I'll fly into Pullman tonight and get in around 1 in the morning and then make sure I'm ready to go be on the show by 5:30 for my first SportsCenter hit and enjoy the atmosphere and the crowd that Pullman has to offer."
Though he'll be on a jet to West Lafayette, Indiana, immediately after Saturday's show for an ABC broadcast of No. 2 Ohio State versus Purdue, Herbstreit dove into the matchup between the Cougars and Ducks.
He thinks WSU, despite a number of personnel losses, "could have kind of a typical Mike Leach team."
Herbstreit's impression of Cougars graduate transfer quarterback Gardner Minshew?
"I think the big thing is he's been pretty efficient for a guy that's come over and running this system," the ex-Ohio State quarterback said. "… Mike (Leach) does such a really good job of teaching quarterbacks. As much as we all have fun – and I'm sure you guys do locally – with some of his quotes and some of the stuff that he does, he really is fantastic with quarterbacks."
College GameDay Coordinating Producer Drew Gallagher fielded questions from reporters for another 10 minutes, unveiling one of the surprises the show has in store for fans. GameDay has set up a "flycam" inside Martin Stadium that will run on a wire from the venue to the other side of the street where the ESPN stage is set up.
"I think that's one of the longest flycam runs I've ever seen," Gallagher said. "And that shot's going to be great in the show tomorrow. Wait till you see it. We're going to come out of the stadium, you're going to be able to see the jumbotron with some stuff playing on the jumbotron, right out to the sea of fans and everything. It's going to look really cool."
Guessing the guest picker
Now that reports about a potential visit from Golden State Warriors start have been quashed, all eyes turn toward the celebrity picker.
As in, who is it?
One Twitter user snapped a photo of a television screen on the GameDay set with a photo of Drew Bledsoe and the subscript: celebrity guest picker. It very well could be the former WSU quarterback and New England Patriots passer on stage, though ESPN wouldn't confirm the Bledsoe report.
"We have seen the reports and speculations … fans will just have to tune into tomorrow to find out," ESPN Manager of Communications Derek Volner told The Spokesman-Review.
Bledsoe, whose son John is a redshirt freshman walk-on QB for the Cougars, attended WSU's last home game against Utah and made an appearance on the Pac-12 Networks' pregame show.
KHQ
Local journalism is essential.
Give directly to The Spokesman-Review's Northwest Passages community forums series -- which helps to offset the costs of several reporter and editor positions at the newspaper -- by using the easy options below. Gifts processed in this system are not tax deductible, but are predominately used to help meet the local financial requirements needed to receive national matching-grant funds.
Subscribe to the Cougs newsletter
Get the latest Cougs headlines delivered to your inbox as they happen.
---