Window washer who fell from downtown library had nearly 50 years experience cleaning Spokane's tallest buildings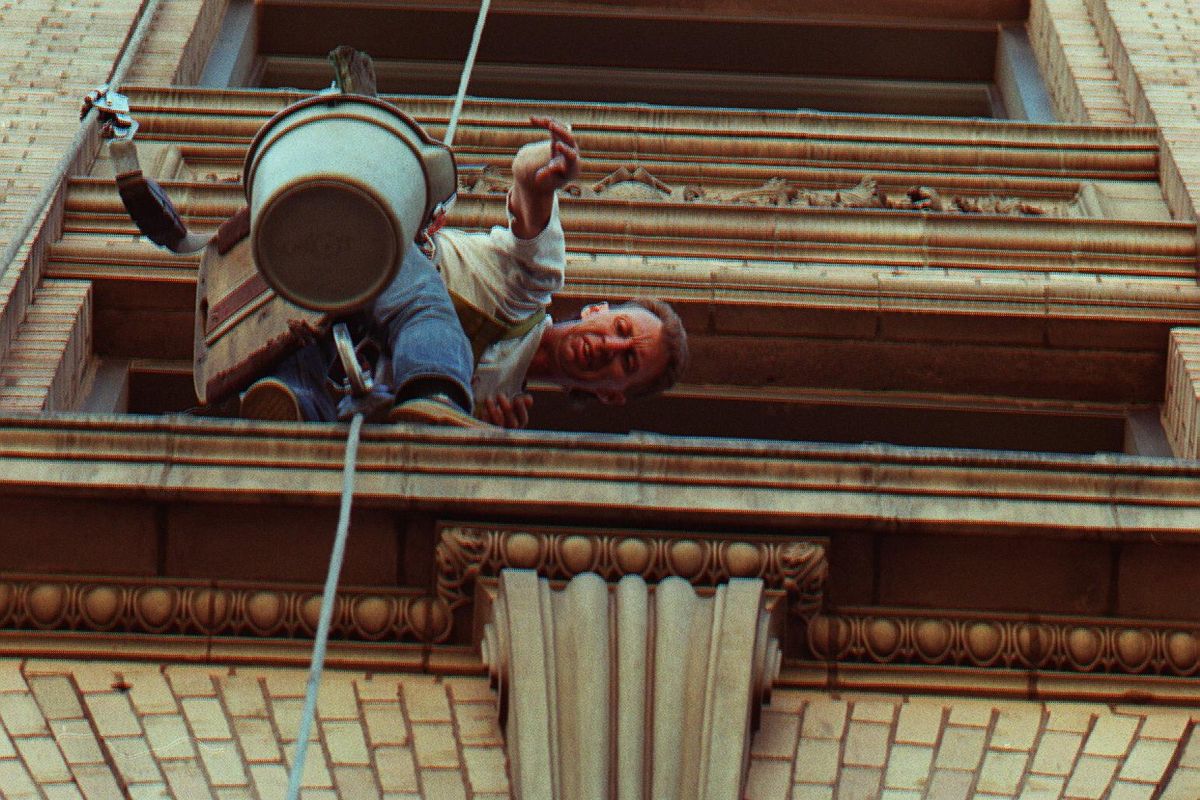 A window washer who died Wednesday after falling roughly 50 feet from the downtown Spokane Public Library was a business owner with decades of cleaning experience.
Paul Eugene Gustafson opened his own north Spokane-based window-washing service in 2012 with his wife Susan Gustafson, called Pro-Window Cleaning Inc., according to business license records. He had nearly 50 years of experience cleaning windows, including as an employee for American Building Maintenance, where he was tasked with cleaning some of Spokane's tallest buildings.
"Paul Gustafson really isn't bailing out of a third-floor window, he's just finished washing it," reads a caption accompanying Gustafson's photo that ran in a July 1994 issue of The Spokesman-Review. He's pictured reaching for a bucket as he stands on a windowsill, strapped in with a pair of ropes, on The Great Western Building at 901 W. Riverside Ave.
Gustafson was also photographed by the newspaper in 1981 as he and a co-worker Greg Heard washed the large black window panes on the north side of the Spokane Opera House (now the First Interstate Center for the Arts). The men are are on opposite sides of the scaffolding, their reflections greeting them as they toil away near a warped mirror image of the Clocktower on Havermale Island.
The 70-year-old died Wednesday at about 2 p.m. after falling on the north side of the library onto hard concrete. Police investigated the scene but quickly determined his death was likely an accident.
The Spokane County Medical Examiner agreed, ruling the death accidental. The cause is listed as "multiple blunt injuries."
City spokeswoman Marlene Feist said Gustafson had been cleaning the windows of the downtown library for about 15 years. When news of the accident spread, it prompted reactions from Mayor David Condon and Spokane Public Library Director Andrew Chanse.
"We send our deepest condolences to the friends and family of the individual who passed away at the Downtown Library today," they wrote in a joint statement. "We are saddened by what appears to be a tragic accident."
Corey Fitch, the library's maintenance and facilities manager, said in a written statement that in the years he got to know him, Gustafson was a "wonderful man and a great person in the community."
"He did a wonderful job for us," he said. "We had great conversations whenever he would come in and would always talk about his wife and family and how his kids were doing."
Tim Church, spokesman for the state Department of Labor and Industries, said investigators were at the scene the night of the incident and have not determined if a formal investigation is necessary.
Since 2015, there have been at least two window-washing deaths statewide, according to statistics provided by labor and industries.
In 2015, a washer died when he fell from a 10-story building in Tacoma. In 2017, a janitorial service worker in Bellevue was cleaning glass awnings when he fell through an opening in the awning, landing 16 feet below on a sidewalk. He died days later from his injuries.
Reporter Rebecca White contributed to this report.
---