Sports > WSU football
Analysis: From crowded streets to crowd surfing, No. 25 Washington State has plenty to smile about in victory over No. 12 Oregon
Oct. 20, 2018 Updated Sat., Oct. 20, 2018 at 11:34 p.m.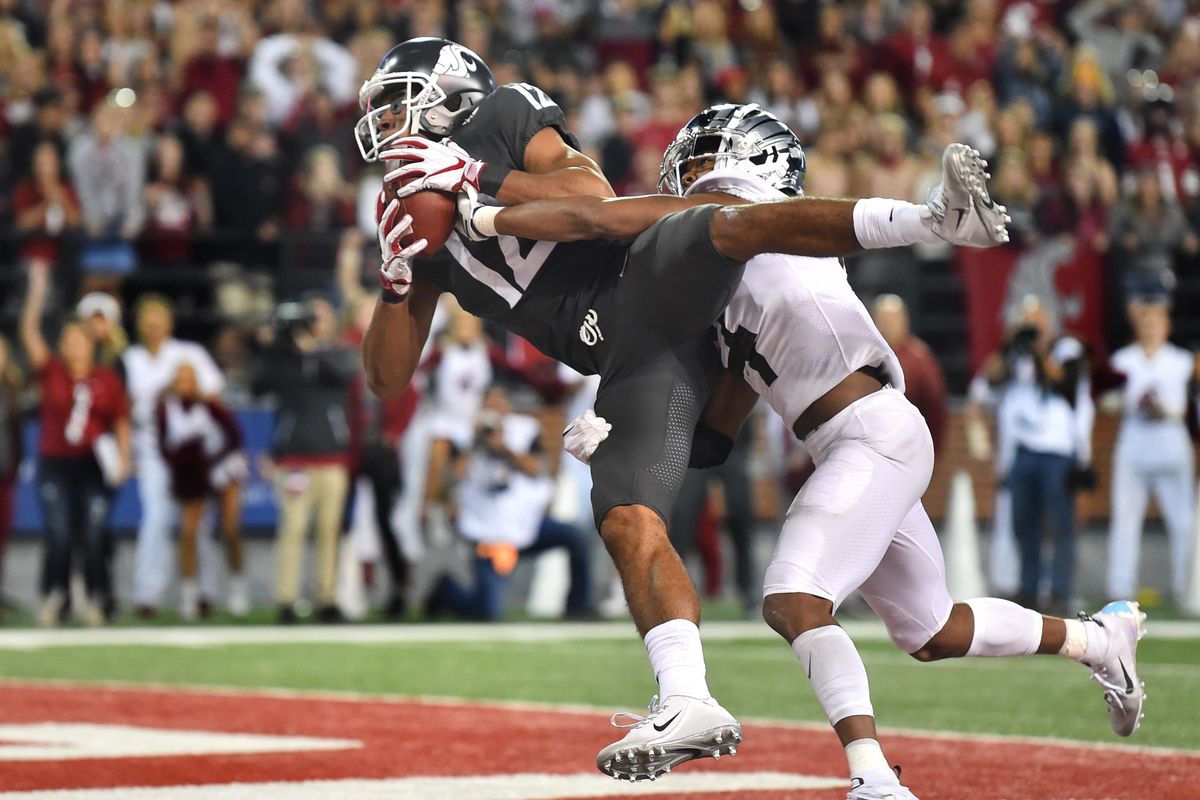 Washington State Cougars wide receiver Dezmon Patmon (12) hauls in a touchdown pass against Oregon Ducks cornerback Thomas Graham Jr. (4) late in the fourth quarter of a college football game on Saturday, October 20, 2018, at Martin Stadium in Pullman, Wash. WSU won the game 34-20. (Tyler Tjomsland / The Spokesman-Review)
PULLMAN – It's an interesting way to play the game – risky for sure – but again, the Washington State Cougars discovered a way to beat a quality Pac-12 opponent in a game in which most will say they were vastly outplayed in the second half.
But they sure do know how to start – and finish – and again the 25th-ranked Cougars went to that formula to secure another win at Martin Stadium, their 11th in a row at home, beating 12th-ranked Oregon 34-20 in front of a sellout crowd that numbered 32,152.
In the vein of starts and finishes, for thousands of WSU fans and students, Saturday both began and ended in a sea of crimson shirts. They woke up before the sun did, anywhere between 4-6 a.m., to experience ESPN College GameDay's first show in Pullman. Some 15 hours later, many of them emptied onto the field at Martin Stadium to celebrate a fourth consecutive win over Oregon and one that places the Cougars squarely in the hunt for a Pac-12 North title.
Gardner Minshew came to Pullman to play quarterback, not surf, but the senior got the crowd-surf of a lifetime after leading the Cougars to a win that makes them bowl eligible for the fourth time in four years, a program first.
"It was incredible, man," Minshew said postgame – the nation's leading passer coming off another superb outing in which he completed 39 of 51 passes for four touchdowns and two interceptions. "There was so much energy in town this week and we knew we just had to bottle that up and use it. And I feel like we did in the first half, really came out strong and played some of our best ball all year. That got me really fired up."
It didn't come without some tense moments, though.
WSU's 27-0 halftime lead began to wilt in the second half, when the Cougars began to get wobbly on offense, started to splinter on defense and were finally introduced to the Justin Herbert they'd heard about and read about.
In the first half, Oregon's junior quarterback completed 4 of 11 passes for 36 yards and looked more like some of the backup signal-callers the Cougars have faced the last three years in this Northwest rivalry.
But Super Herbert came alive in the second half, completing 21 passes for 234 yards and one touchdown. He treated the field like a dartboard, keeping WSU's defensive backs on their heels with throws that were quick and accurate. Behind Herbert's right arm, the Ducks scored 20 unanswered points between the start of the third quarter and through more than nine minutes of the fourth.
"I thought we just came out flat as a team," WSU nickel Hunter Dale said. "And I think we got it back together. As long as you finish, get the win, a win is a win."
Seated next to Dale in the postgame interview room, Minshew, wearing his signature aviator shades and backward cap, muttered under his breath: "That's right."
The East Carolina graduate transfer had to be a late-game hero again, two weeks after he stuck a fork in Utah with an 89-yard touchdown pass to Easop Winston Jr. late with less than 5 minutes left in the fourth quarter.
Similar to that Sept. 29 win over the Utes, the Cougars couldn't manufacture offense in the second half. Not until times got desperate, at least.
With Herbert and the Ducks closing in, the Cougars needed at least a field goal to stay two scores clear of their foe, leading 27-20 with 6:38 to play. On second down, Minshew flung a pass downfield, toward Travell Harris but not necessarily to the WSU receiver with two Ducks in his immediate vicinity. Oregon safety Jevon Holland was the first player to grasp the ball, but Harris – later declaring he "wanted it more" – stripped the ball out of the DB's hands before both fell to the ground, turning a costly interception into a key 37-yard pickup.
"Our receivers, they made some pretty big-boy plays today," running back James Williams said.
A few plays later, the drive continued because Harris shook his defender and reeled in a pass from Minshew on fourth-and-6. Two plays after that, Minshew zeroed in on Dezmon Patmon and spiraled a 22-yard touchdown pass to the big receiver, giving WSU a 34-20 lead and Oregon almost no time to make up the 14-point deficit.
"Our guys really have rallied well the fourth quarter, not just on offense, defense too," WSU head coach Mike Leach said. "Just as a team. We kind of converted them to doing it in the first and second quarter. We've got some nonbelievers in the third quarter. We've got to baptize a few people, I guess."
The Cougars went to their running backs more than usual, on the ground and in the air. Williams scored a touchdown for the sixth time in seven games, eluding about eight Oregon defenders for a 24-yard score on the swinging gates play Leach call "Big Gulp Left" – in which receiver Kyle Sweet snaps the ball to Minshew, who either hands off to a running back or pitches to a wideout.
Freshman running back Max Borghi scored his seventh touchdown of the year, catching a check down from Minshew in the second quarter and side-stepping Oregon linebacker Troy Dye for a 15-yard score.
Williams and Borghi led the Cougars with seven receptions apiece and combined for 186 all-purpose yards. They recorded 24 carries and rushed for 77 yards.
Both admitted they were motivated to play against the assistant coach who recruited them, Jim Mastro, who's in his first season as UO's running backs coach and run game coordinator.
"This was a personal game for me," Williams said, "because I needed to show him who's the better backs. That was my whole thing tonight."
Borghi echoed those sentiments: "Completely," the freshman said. "He recruited me, he was my recruiter and then as soon as I got here he went to Oregon. So it was personal for all of us running backs."
Local journalism is essential.
Give directly to The Spokesman-Review's Northwest Passages community forums series -- which helps to offset the costs of several reporter and editor positions at the newspaper -- by using the easy options below. Gifts processed in this system are not tax deductible, but are predominately used to help meet the local financial requirements needed to receive national matching-grant funds.
Subscribe to the Cougs newsletter
Get the latest Cougs headlines delivered to your inbox as they happen.
---