News > Spokane
Epic College Gameday in Pullman as Cougars rise early to celebrate
Oct. 20, 2018 Updated Sat., Oct. 20, 2018 at 7:49 p.m.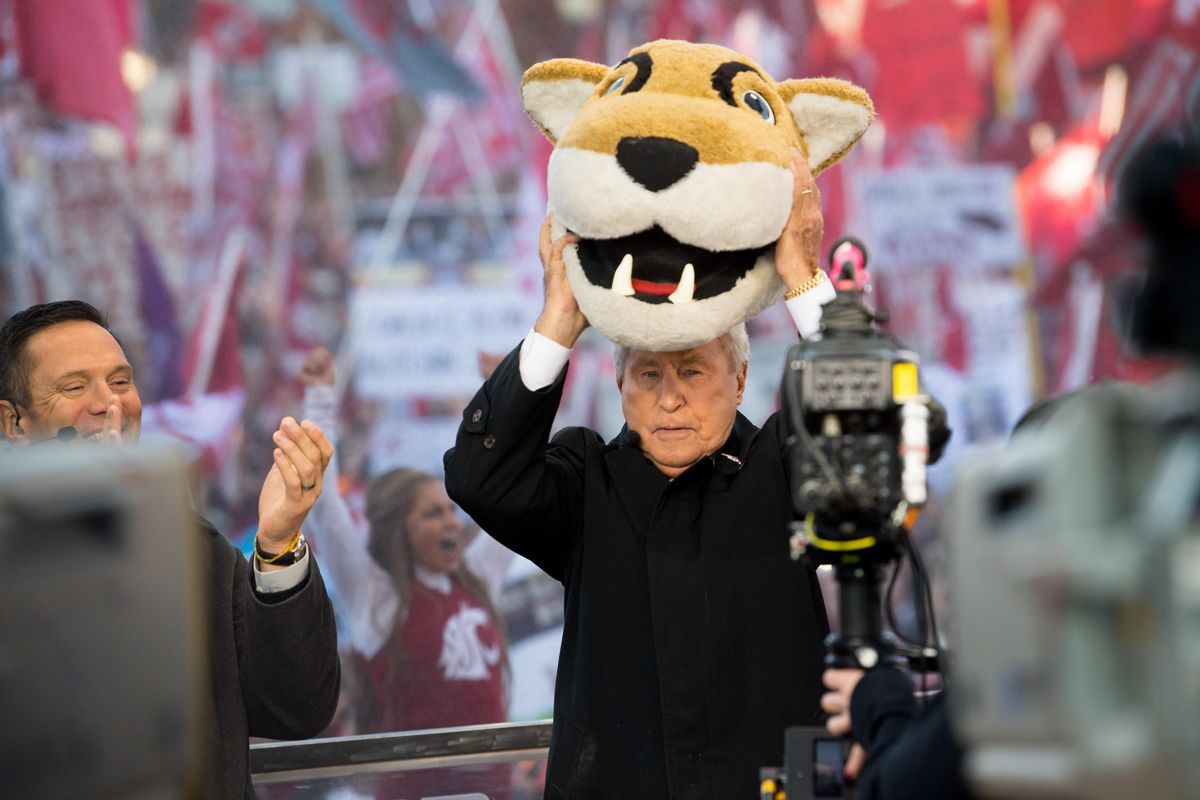 Lee Corso holds the Cougar mascot head high, indicating his prediction of a WSU win in the closing minutes of Saturday's ESPN GameDay show, much to the delight of former WSU quarterback Drew Bledsoe, left, and the raucous WSU crowd. (Tyler Tjomsland / The Spokesman-Review)
PULLMAN – On a surreal football Saturday in the Palouse, halftime came at dawn.
For about half an hour, the flag-waving died down just a bit, because nobody could keep up this pace for what, six hours?
But, oh, did they try.
Officially, ESPN GameDay at Washington State University began at 6 a.m. and ended at 9, when Lee Corso donned a Cougar mascot's head, sealing the deal on one of the biggest parties in school history.
Unofficially, the party began at about 3 a.m., as an estimated 20,000 Cougar faithful arrived at the GameDay set on Stadium Way.
Travel arrangements were made on the fly, and sleep was optional. Some napped in cars on the way from every compass point.
Others would catch up later, perhaps on Sunday, after this don't-you-dare-miss-it spectacle.
For alum Mike Lowery and his wife, the journey began Wednesday in Phoenix.
"The plan was to rent a Westfalia camper in Clarkston and park here at the Walmart," Lowery said. "Then at the last minute we got a room here."
For Lowery, that was only fair.
"After 15 years of getting up every morning and seeing someone else's flag, this is amazing," Lowery said. "But through the good times and the bad times, we're always Cougs."
Whatever it takes.
It was that kind of pent-up energy that brought Cougars here by the thousands, some from across the world.
Two weeks ago in Germany, John Kendall woke up at 1:30 a.m. to catch a livestream of the Cougars playing Utah.
"Then I went to bed at 5," said Kendall, a Gonzaga Prep alum and 1998 WSU grad.
A lieutenant colonel in the Air Force, Kendall just happened to be in Florida when he got the news that GameDay was coming to Pullman.
"I couldn't afford to go to the Rose Bowl," Kendall said. "But I wasn't going to miss this."
By Monday, Kendall was booked on a flight and arrived at 1 a.m. Saturday.
"Nobody is getting much sleep tonight," Kendall said.
Then again, nobody thought GameDay would ever come to Pullman.
"The thing is," Kendall said. "They're not coming here because of the flag tradition, they're here because we're good."
Like many fans who didn't get here early enough, Kendall and his father watched from the background.
However, if you paid attention, the action wasn't confined to the mosh pit in front of the GameDay set.
Behind the set, Mike Mears of Spokane was on the lookout for celebrities – namely GameDay guest picker and former WSU quarterback Drew Bledsoe.
After a few misses, Mears found his man, and had the photo to prove it.
Like many in the crowd, Mears isn't an alum, but his ties to WSU run deep.
In the spring of 2017, Mears was preparing to give a eulogy for a longtime friend and Cougar fan. At the WSU Spring Game in Spokane, he sought out coach Mike Leach and asked if he could spare a WSU jacket that Mears could wear for the eulogy.
"He looked at me, and said 'That's a really nice thing to do,' called his equipment manager and got me a jersey," Mears said.
Leach also signed the jacket, which left Mears wearing his emotions on his sleeve.
"What a gentleman," Mears said.
Far to the back, the emotions came full circle for former WSU football player Grady Emmerson, and they had nothing to do with scoring touchdowns.
Above Emmerson's head flew the "No White Flags" banner of Cougar legend Steve Gleason, who was featured during the GameDay program.
"Steve is all about Pullman and this wonderful place," said Emmerson, who played with Gleason in the 1998 Rose Bowl.
"For all of us, it's mind-blowing to finally have GameDay happen here," Emmerson said.
He and friends also passed out "Team Gleason" signs – a little poignancy amid the pageantry.
Other signs paid tribute to longtime WSU radio broadcaster Bob Robertson, who retired last week, and television sportscaster Keith Jackson, who died earlier this year.
By 8 a.m., the re-energized crowd reacted to every word from the ESPN sports personalities. They booed when USC and Washington were picked to win their respective games, and cheered when Bledsoe made his appearance on the set.
The big moment came just before 9, as the TV stars made their picks: Desmond Howard for WSU, Kirk Herbstreit for Oregon, and finally, Corso donning a giant Cougar mascot head to the delight of a roaring crowd.
And just like that, the party ended. Thousands headed back to their hotel rooms, dorms and cars for a little rest.
After all, the Cougars still had a game to play.
Local journalism is essential.
Give directly to The Spokesman-Review's Northwest Passages community forums series -- which helps to offset the costs of several reporter and editor positions at the newspaper -- by using the easy options below. Gifts processed in this system are not tax deductible, but are predominately used to help meet the local financial requirements needed to receive national matching-grant funds.
Subscribe now to get breaking news alerts in your email inbox
Get breaking news delivered to your inbox as it happens.
---