Sports > WSU football
Cougs it is: ESPN's Lee Corso picks Washington State over Oregon on live College GameDay broadcast
Oct. 20, 2018 Updated Sat., Oct. 20, 2018 at 8:03 p.m.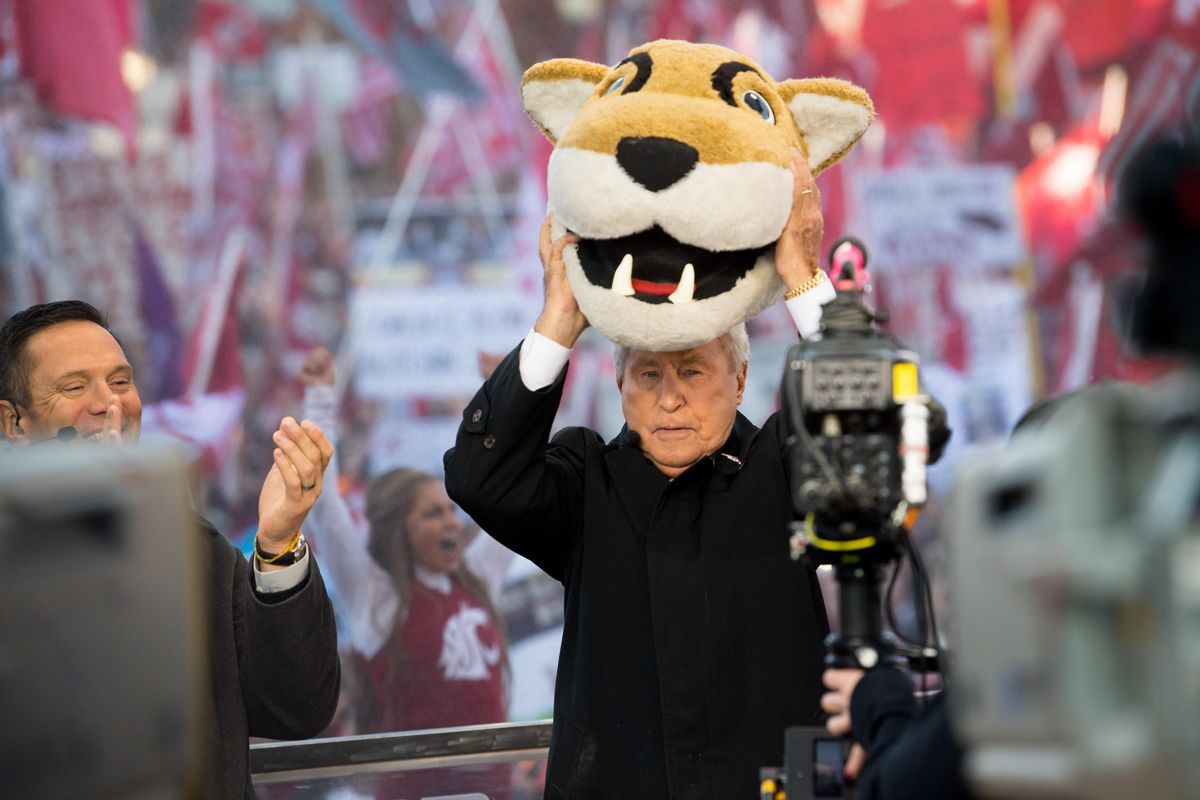 Lee Corso holds the Cougar mascot head high, indicating his prediction of a WSU win in the closing minutes of Saturday's ESPN GameDay show, much to the delight of former WSU quarterback Drew Bledsoe, left, and the raucous WSU crowd. (Tyler Tjomsland / The Spokesman-Review)
PULLMAN – After three hours of crimson mania, Lee Corso found a way to enliven the Washington State crowd one last time near the end of Saturday's ESPN College GameDay debut in Pullman.
The show's signature moment comes at the end of every broadcast: Corso slips on the mascot head of whichever team he's choosing to win GameDay's designated matchup: In this case, No. 12 Oregon at No. 25 Washington State.
Seated next to celebrity guest picker Drew Bledsoe, Corso put one finger up to his lips to hush the buzzing crowd, which had anticipated this moment since the show's 6 a.m. start. Then Corso spoke into the television camera.
"I've been doing GameDay for 32 years, I've put on 56 different mascot heads and I've come from Orlando, Florida – 2,852 miles to get here," Corso said. "And let me tell you something, it would take something special to pick against my beloved Ducks. But ladies and gentlemen, this is a special place and special time."
From underneath the GameDay desk, Corso pulled out a Butch Cougar head, unseated himself and danced around the stage for a few moments while waving the accessory over his head before finally slipping it on. The actual Butch mascot sprinted onto the GameDay stage to greet Corso, then draped an Ol' Crimson flag around the iconic ESPN broadcaster.
It probably wasn't an easy choice for Corso, who has had a well-documented affection for the Ducks on ESPN's road show. Oregon has appeared on GameDay a total of 23 times, not all of them as a guest, and before Saturday Corso had chosen them 19 times – 82 percent of the time. Opponents of the Ducks have won just seven times with Corso on set.
Another potentially ominous statistic for WSU? Corso whiffed on his previous four GameDay headgear picks. Four weeks ago he picked the Ducks in a 38-31 loss to Stanford, then Penn State in a 27-26 loss to Ohio State, Oklahoma in a 48-45 loss to Texas and last week, Wisconsin in a 38-13 loss to Michigan.
The rest of the GameDay panel was split.
Desmond Howard indicated faith in WSU and chose the Cougars.
"Justin Herbert, I think, is the best quarterback west of the Mississippi. I think he's going to be the No. 1 draft pick," he said. "I love Oregon's offense, but Corso showed a tape of Washington State's defense. They're going to make a play late in the game, and I've got the Cougars."
Kirk Herbstreit swung the other way.
"We've waited 15 years to come out here and enjoy this crowd and enjoy this scene and I've been on the show 23 years," he said. "This has been one of the best scenes I've ever seen on the show. With that being said, Oregon."
Bledsoe, the successful WSU and New England Patriots signal-caller whose son John is a redshirt sophomore quarterback for Mike Leach, may not have had a player ticket waiting for him at will call today had he spurned the Cougars for the Ducks.
"First, thank you guys so much for making the trip, I actually brought you guys a little gift … I even brought one for you, Desmond, even though you ruined my Super Bowl," Bledsoe cracked without revealing the gift on the air.
"Hey, I wasn't going to bring that up," Howard responded.
In Super Bowl XXXI in 1997, Howard returned a 99-yard kickoff for a touchdown, giving the Green Bay Packers some breathing room in a 35-21 win over Bledsoe's Patriots.
"This is going to be an exciting game. You've got two great offenses," Bledsoe said. "The big surprise, I think, on both sides is how well both teams are playing on defense. But I think you're going to see a shootout, it's going to be a high-scoring ballgame, and of course the Cougs are going to win at the end."
Local journalism is essential.
Give directly to The Spokesman-Review's Northwest Passages community forums series -- which helps to offset the costs of several reporter and editor positions at the newspaper -- by using the easy options below. Gifts processed in this system are not tax deductible, but are predominately used to help meet the local financial requirements needed to receive national matching-grant funds.
Subscribe to the Cougs newsletter
Get the latest Cougs headlines delivered to your inbox as they happen.
---