News > Spokane
Dogs train to become service animals at Green Bluff's fall festivities
Oct. 20, 2018 Updated Sat., Oct. 20, 2018 at 5:02 p.m.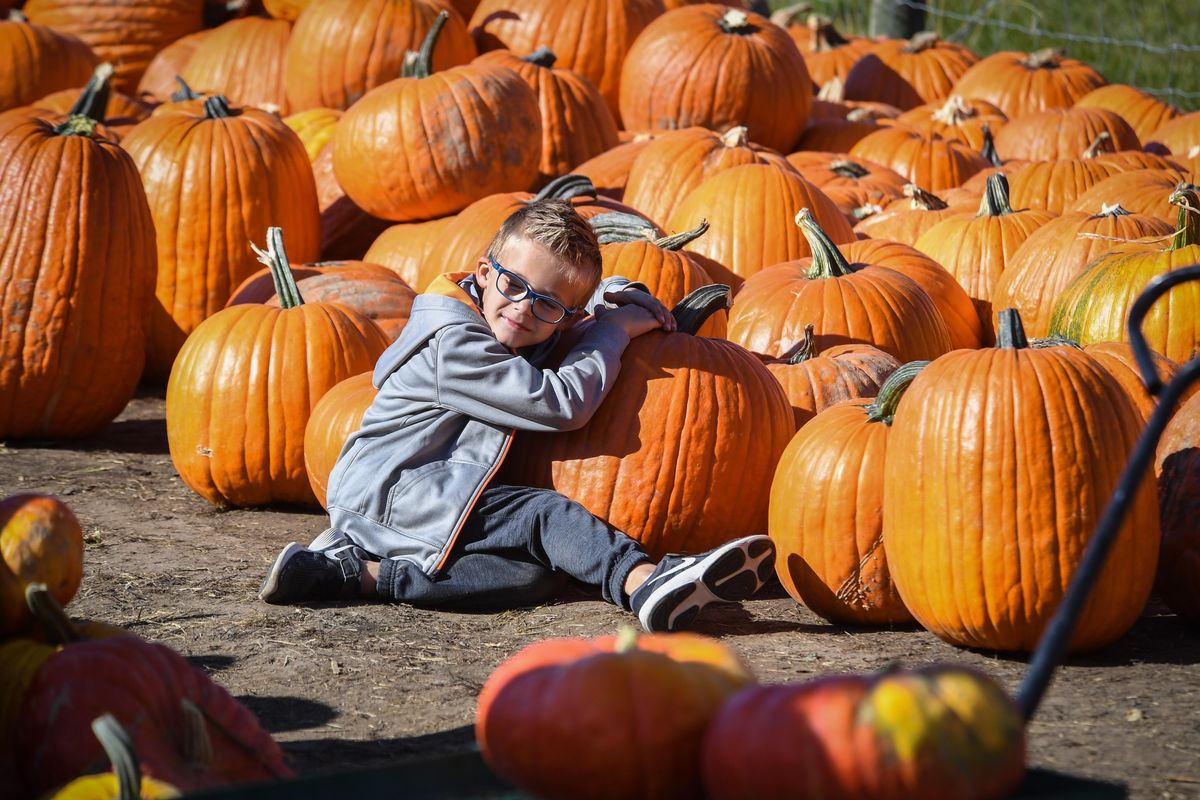 Logan Marquardt, 5, of Spokane, found his special pumpkin and would not let go, Friday, Oct. 19, 2018, at Beck's Harvest House on Green Bluff. (Dan Pelle / The Spokesman-Review)
Junebug, a purebred Labrador retriever, made her way into a patch of pumpkins, passing past a line of people waiting for pumpkin doughnuts and a stand selling tortilla chips and salsa.
There were lots of distractions for Junebug at Beck's Harvest House in Green Bluff, but she was on her best behavior. She's training to be a service dog.
Junebug was one of five in-training service dogs at Beck's, brought there by a local branch of a national nonprofit called Canine Companions for Independence. Volunteer handlers take the dogs for about a year and a half and train them to accompany people dealing with a range of issues like post-traumatic stress disorder, autism and limited mobility.
Junebug's handler, Spokane dentist Brad DeCounter, gets teary-eyed when thinking about having to give her away, but knowing she will change someone's life is worth it, he said.
"You do it for someone else. She's going to be a good dog for someone," he said while Junebug sat at his side. "It's like raising a kid."
Lilly Mitsui started the local branch of the Canine Companions for Independence after moving from Seattle, where she raised a couple dogs.
More than 400 people across the country are on a waiting list to get one of these dogs, but the nonprofit can't keep up. Mitsui said the group is looking for more raisers.
Right now, there are five dogs in the local branch of the program that covers Eastern Washington and parts of the Idaho Panhandle, and about 20 volunteers, she said.
"We hope to grow this," she said. "These dogs change the lives of people who normally wouldn't have the confidence to go out in public."
Last summer, she raised $20,000 in a fundraiser in Sandpoint called DogFest North Idaho to promote the group, and Mitsui said she's planning on having another next summer but she doesn't have a date set yet.
They nonprofit is based in Santa Rosa, California, where all the dogs are born. The group only uses Labrador retrievers, golden retrievers or a mix of the two.
Trainers teach the dogs about 30 commands, and Mitsui's group is helped by a professional trainer, Lindsay Feist, who volunteers her time and also runs Feisty Pet Training in Sagle, Idaho.
"They turn light switches on and off, they open and close doors," Mitsui said. "They go in the refrigerator and take out drinks."
The puppy raisers get them at 8 weeks old and keep them until about 20 months old, after which they're tested to become service dogs. Only 60 percent of the dogs make it past the test, but if they don't, they'll either stay with the raiser or end up with another handler. The dogs that do graduate participate in a ceremony where the raiser hands over the leash to the new handler, someone with a physical or mental disability.
Junebug and DeCounter strolled up to the tortilla chips and salsa stand. Where other dogs would be staring, drooling or jumping up, Junebug sat patiently.
The clerk running the chips and salsa stand told Junebug, "I wish I had a treat for you, bud, because you are so well-behaved."
Local journalism is essential.
Give directly to The Spokesman-Review's Northwest Passages community forums series -- which helps to offset the costs of several reporter and editor positions at the newspaper -- by using the easy options below. Gifts processed in this system are not tax deductible, but are predominately used to help meet the local financial requirements needed to receive national matching-grant funds.
Subscribe now to get breaking news alerts in your email inbox
Get breaking news delivered to your inbox as it happens.
---