Sports > WSU football
Group of Washington State fans across the country show unwavering support in keeping Ol' Crimson flag flying on ESPN College GameDay set
Sat., Oct. 20, 2018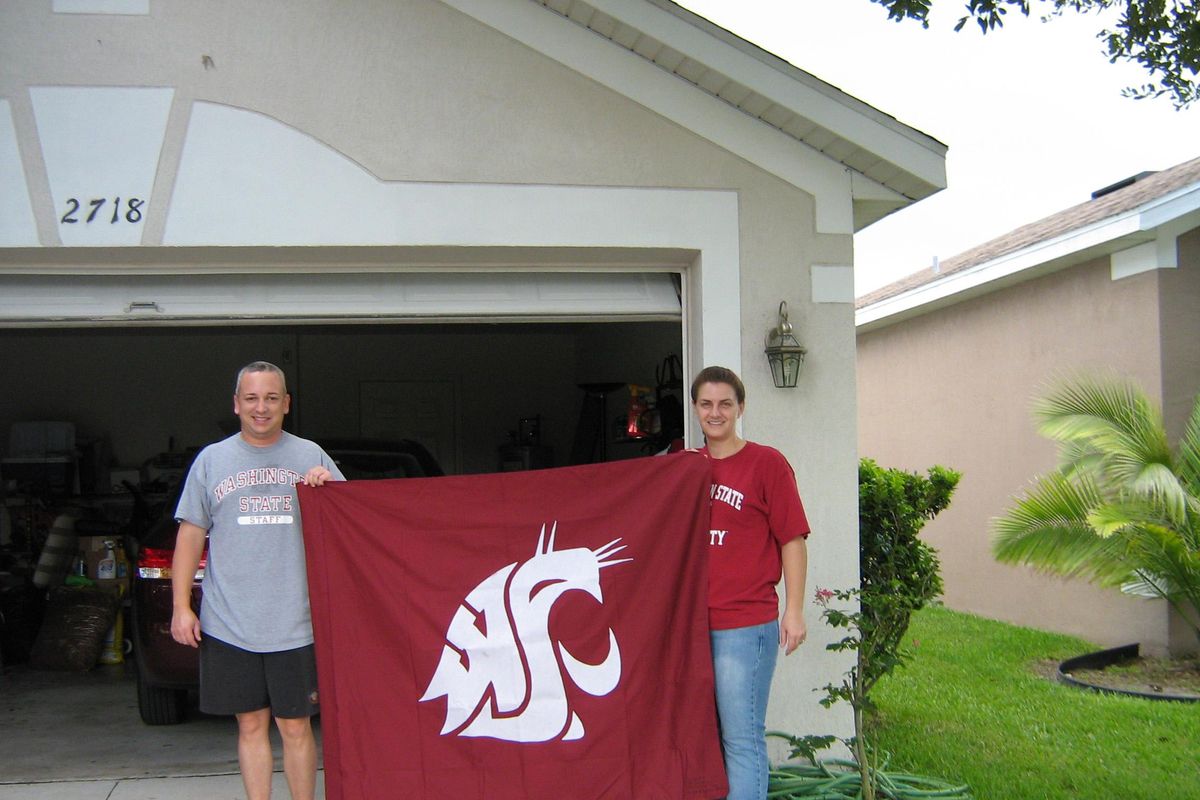 Fans from around the country, including Will and Stefanie Walker, have waved the Washington State flag, Ol' Crimson, at ESPN College GameDay stops for 15 years. (Will Walker / Courtesy)
PULLMAN – They're coming from every corner of the country this weekend to join Tom Pounds, to celebrate the Cougars and to commemorate the movement started by "The Flagfather" 15 years ago, inauspiciously on a random morning in Austin, Texas.
Since Oct. 4, 2003, ESPN's College GameDay show hasn't existed without Ol' Crimson, the beloved Cougar flag that's appeared on 216 consecutive GameDay shows, waving its colors on a Navy ship in San Diego, in the center of New York's Times Square, on the quad at the University of Washington and in front of Doak Campbell Stadium at Florida State.
Hundreds of Pounds' followers – "flag wavers" as they like to be called – have been instrumental in keeping one of college football's most impressive runs alive, transporting the flag from one pocket of the country to the other every week during the season, ensuring that no edition of the popular GameDay show starts without an appearance from Ol' Crimson.
Many of those volunteers will convene in Pullman this weekend as the ESPN progrram makes its long-awaited visit to the WSU campus, and they plan on trading their flag-waving stories over breakfast at Banyans Restaurant on the Palouse Ridge golf course following Saturday's live GameDay broadcast.
A handful of flag-wavers shared their experiences – and their excitement – with The Spokesman-Review on the eve of Saturday's celebration. Here are their stories.
CJ McCoy (Ol' Crimson Booster Club President): "It's incredibly surreal. We were looking at some of the data the other day, just trying to calculate the number of schools that have hosted us and the number of cities we've been to. It's not stuff you normally do, because you just keep going and keep shipping the flag and recruiting people. And now we look back and we've been at 61 unique host campuses."
Myk Crawford (Ol' Crimson Booster Club Technical Advisor/Social Media): "I've actually never been to a GameDay set before. I've always been behind the scenes and kind of the web guy and living in Spokane, there weren't too many opportunities to wave the flag. For me, this weekend is even more special because I get to wave Ol' Crimson maybe even just for a little bit, at a College GameDay set, and in Pullman."
Will Walker (1997 WSU graduate, five-time flag waver): "I've been pretty emotional all week, not realizing the impact it's had. The coolest thing we do is take the money we raise and give back to the school. It's a never-ending loop. It's just been fulfilling."
Greg Trinkle (1993 WSU graduate, 22-time flag waver): "In 2009 I started, they called me and said 'We need you to do it,' and I said, 'Tell me what you need me to do.' I heard some stories from people saying locals down there (in the South) give you a hard time, but I have not experienced that. When I went up to Clemson, it was a great time. Everybody wanted to be around the flag and wanted a picture with you. They kind of treat you like a rock star."
Craig McDonald (1986 WSU graduate, all-time leading waver): "I've done Army-Navy three times. That's a great one, because it's not a drunk group of kids in the mosh pit. It's cadets and midshipmen at attention. That's a fun one. Normally we fly Old Glory, the American flag, and then Ol' Crimson below it."
Chawn White (1993 WSU graduate, 19-time waver): "At the University of Wisconsin, we were at Camp Randall Stadium, and it was when they had the show down on the field and they had the students in the stands. We showed up and there were no poles allowed on the field. They go, 'Oh, Washington State.' They put as at the front of the line, open these big gates and we walk right on through. ESPN really started to appreciate what we were doing because we kept showing up, and that helps."
Andrew Pannek (2002 WSU graduate, 18-time waver): "When GameDay moved their set location midweek, when they were set to go to Baton Rouge and the hurricane rolled in, and they actually had to switch to Blacksburg (Virginia) basically on Wednesday night. So Tom (Pounds) called me, just frantic because we had just zero people in Blacksburg, and I had to jump on a red-eye and spend the night in Cincinnati in the airport there and then head out to Blacksburg the next morning. But that all worked out. That was probably the most frantic, hectic one."
McDonald: "You can turn in your expenses to the Ol' Crimson network, to John Bley, who's the treasurer. But I've never turned anything in. We just drive and have a good time representing the Cougars."
Walker: "Back in the early days when we were waving, hardly anybody know who we were so it was a little rougher. For instance, in Gainesville, Florida for a Florida-LSU game, they didn't want us around. But just a couple years later, it was just about, 'Can we take a picture with you?'"
McDonald: "I was in Eugene five weeks ago and there was some crude comments at the beginning, but you just kind of say, 'Ah, been there, done that, kid.' I've got gray hair, I'm 60, so I've been around.'"
Pannek: "First lieutenant Chris Pannek, Marine Corps, we were fortunate enough that he could get access to the ship there when they were in San Diego. We were worried, but as soon as they announced I knew my brother could do it. That was my first thing was, let's get him involved, let's get this planning. So it all came together, it worked out beautifully."
White: "(Saturday) is going to be very different because most of the time people want to come up to us and take pictures and, 'Oh my god are you the same guy that goes all around the country?' When we started, people wanted to kick our ass. They didn't want us there. What the hell are you doing here? And that was a lot of Ohio State. I'm like, 'How can you be that drunk at 7 in the morning?' They would give us a lot of grief and we would have to go in groups. Now we are truly celebrities and it's just a fun experience. I don't want that to end.'"
Trinkle: "Tuscaloosa's (Alabama) probably been the farthest, it's about a four-hour drive from where I live in Atlanta. So when I do Tuscaloosa, which is probably the most I've done, is a four-hour drive, wave it for three (hours), four-hour drive back."
McDonald: "John's (Bley) daughter did the second one in the streak at Bowling Green and some people got kind of rough and snapped the pole. His daughter called John and he said, 'Get out of there, you made the appearance, you did it.'"
White: "I've got photos of my son at these College GameDays, and it's just been one of the coolest things that we've shared. My son was a trouper. We put him in the car at 2 o'clock in the morning and we'd drive three or four hours, two or three hours in the middle of the night, get to the show in the morning, and he would stand there through the whole show. I think you'll find out … there's a lot of standing. The time I've spent with him was phenomenal."
Pannek: "The last time I waved was in 2010, for the 100th show in Salt Lake. So I did that show and then I basically grabbed the flag before the show ended, sped out to the airport, jumped on a plane and flew into Lewiston and got the flag here for kickoff back in 2010, so it was pretty cool."
Trinkle: "I did Auburn last year the day after Thanksgiving. No one else showed up, so I was the only one with the flag. It took me two hours to walk back to my car, because everybody stopped me and wanted pictures of the flags. When I first did it, we didn't know what we were doing. So everyone wanted a picture, we'd take our flag down and it wouldn't be up on the GameDay screen. After that, we always had somebody bring a flag with them just to tell the people, 'If you want a picture, you can do it with this and if you want to hold the real flags, you've got to wait til after GameDay.' "
McDonald: "We've had some nuts times, where it's just hammered Ohio State students with Bud Light boxes on their heads for hats, just slobbering dunk. My son was with me, like 8 or 9, and to disarm them, we would video it, and I've got some hilarious videos, six hours of video from 2005. I could say to Ohio State, 'What if I released this?' "
Pannek: "It's such an ingrained piece of the show now. ESPN considers the flag as one of the main characters, so I don't even know if we want it to stop if we could. (Saturday morning) I kind of just envision a mass of crimson and gray as the sun comes up and hits things. Just a mass of Cougar fans, just going bonkers. It's tough to kind of put it into words, but it's going to be dark when the show starts, and when it gets light, I think it's just going to be a pretty awesome scene."
Walker: "I really like the hashtag that was going around it was #Cougstock, instead of Woodstock. Because it kind of explains what that place is going to look like. Because you and I both know that there's not going to be a parking space to be had, people are going to have to start camping out on people's farms and stuff and I've already seen those offers go out on Facebook. It's just going to be a madhouse."
McDonald: "I don't think the area there's big enough. They're expecting 80,000 in town. How many of those go to GameDay, I don't know, probably 40,000. That place can't hold 40,000."
Pannek: "There was no doubt in my mind we could sustain this and we can forever if need be. The network we have now, it'll keep going years and years into the future."
KHQ
Local journalism is essential.
Give directly to The Spokesman-Review's Northwest Passages community forums series -- which helps to offset the costs of several reporter and editor positions at the newspaper -- by using the easy options below. Gifts processed in this system are not tax deductible, but are predominately used to help meet the local financial requirements needed to receive national matching-grant funds.
Subscribe to the Cougs newsletter
Get the latest Cougs headlines delivered to your inbox as they happen.
---