Sports > WSU football
John Blanchette: Washington State's Gardner Minshew is head and shoulders (and mustache) above Pac-12 competition
Oct. 20, 2018 Updated Sat., Oct. 20, 2018 at 11:43 p.m.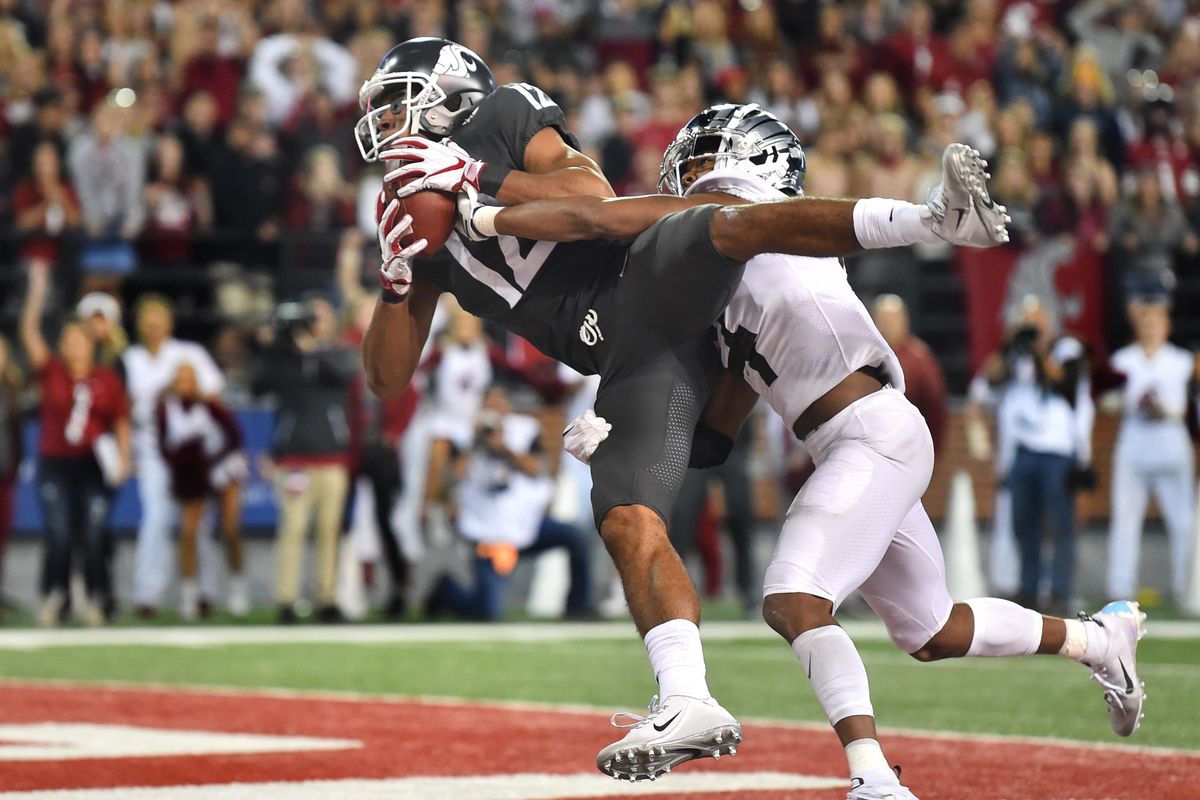 Washington State Cougars wide receiver Dezmon Patmon (12) hauls in a touchdown pass against Oregon Ducks cornerback Thomas Graham Jr. (4) late in the fourth quarter of a college football game on Saturday, October 20, 2018, at Martin Stadium in Pullman, Wash. WSU won the game 34-20. (Tyler Tjomsland / The Spokesman-Review)
PULLMAN – Credibility Creek has run dry through Pac-12 country, so here's a Hail Mary suggestion for Larry Scott, free of charge:
Just FedEx the Player of the Year award – Trophy? Plaque? Key chain? – to Gardner Minshew right now.
No, it won't get people to stop lobbing grenades at the commissioner or using the refs and replay folks as piñatas. Yes, it's premature and risky in the context of another crazy football season only half over. But it would be great cover for a conference in which the usual idea of damage control is filling more sandbags during a drought.
Besides, who else are you going to give it to?
Justin Herbert? Oregon's splendid quarterback tried to play himself onto a milk carton in the first half of Washington State's 34-20 takedown of the No. 12 Ducks on Saturday evening.
The kid running back at Oregon State? The receiver at Colorado? The hands-on vice president who likes to play God at Pac-12 mission control?
Nada. At this point, the bauble is Minshew's to lose, and the only reason the Cougars quarterback isn't getting any real Heisman love is that nobody outside of the 509 knows who he is – and nobody much expected Wazzu to be 6-1.
Maybe Saturday changed that.
"He's the straw that stirs the drink for this team," said former Cougar quarterback Alex Brink, who has tracked Minshew's rise from the radio booth, "and he's created what's been a perfect storm."
And speaking of perfect storms …
From before sun-up to well after sundown, the big stage in college football belonged to Washington State and for maybe the first time in history, the Cougar collective managed to not spill a single drop of the fun. They packed the compound for the TV show at dawn and rejoiced in ESPN's court jester crawling inside the big cat head. They wedged 33,152 strong into Martin Stadium for the game – which was almost an afterthought this week – and maybe 700 more into Beasley Coliseum to watch it on TV. They thoroughly Martinized the visitors on their first series and saw it carry over for an entire half. And, finally, they stormed the field to carry off the improbable quarterback savior.
Storybook, all of it. Gardner and the Wonderful, Joyful, So Good, Very Glad Day.
If there was a hiccup, it was that Minshew and the Cougs took all of the third quarter and most of the fourth off after cruising to a 27-0 lead – but, hey, it's hard to keep the gas pedal to the floor every minute of a 16-hour day.
Besides, without a little dramatic tension, there can be no defining moment.
And what a moment – a clinching drive that started with Travell Harris' leaping tug-of-war catch, was kept alive by another Harris snag on fourth down and ended with Minshew finding Dezmon Patmon in mid-jete.
"We'd just been getting in our own way – and a lot of that was on me," Minshew said. "But there was no doubt in my mind that we were going to go score."
Minshew's tale would be charming enough on a .500 team. How he was on the verge of transferring to Alabama where he'd be a fifth-wheel apprenticing to be a coach. How he didn't arrive on campus until May. How the mustache had people calling him Uncle Rico at first, and how he shows up at postgame pressers in shades.
Plus, he leads the country in passing. But there's more.
"What he's done takes someone really confident in their own skin," Brink said. "He's got the knowledge and the tools to make the plays and get his team behind him."
People will remember Harris' catch as the game-saver. But the ball went airborne propelled with a lot of faith.
"We've got a lot of belief in each other," Minshew said. "That's not going to stop just because of a couple bad drives."
But just as important, Minshew has made Leach's offense more multidimensional – which seems like an odd circumstance with five passing routes in progress almost every play.
"Because of his feet, the defense has to react to something they haven't seen on film," Brink said. "They've seen the Air Raid plays over and over and all of a sudden there's a scramble and guys are breaking back or across.
"In the Air Raid, you need two things to make it elite: a premier pocket passer like Luke Falk, or a guy who can make off-schedule plays. That takes it up a notch."
On Saturday, fans took Gardner Minshew up a notch, hoisting him on their shoulders to finish a day both full and fascinating.
"I started to think, 'Man, I think I made the right choice coming here,' " he said.
He's certainly given the Cougars credibility. Maybe someone at the league office would like to borrow a cup.
Local journalism is essential.
Give directly to The Spokesman-Review's Northwest Passages community forums series -- which helps to offset the costs of several reporter and editor positions at the newspaper -- by using the easy options below. Gifts processed in this system are not tax deductible, but are predominately used to help meet the local financial requirements needed to receive national matching-grant funds.
Subscribe to the Cougs newsletter
Get the latest Cougs headlines delivered to your inbox as they happen.
---