Sports > WSU football
TV Take: Washington State caps perfect start to day with field-rushing finish in win over Oregon
Oct. 20, 2018 Updated Sat., Oct. 20, 2018 at 9:17 p.m.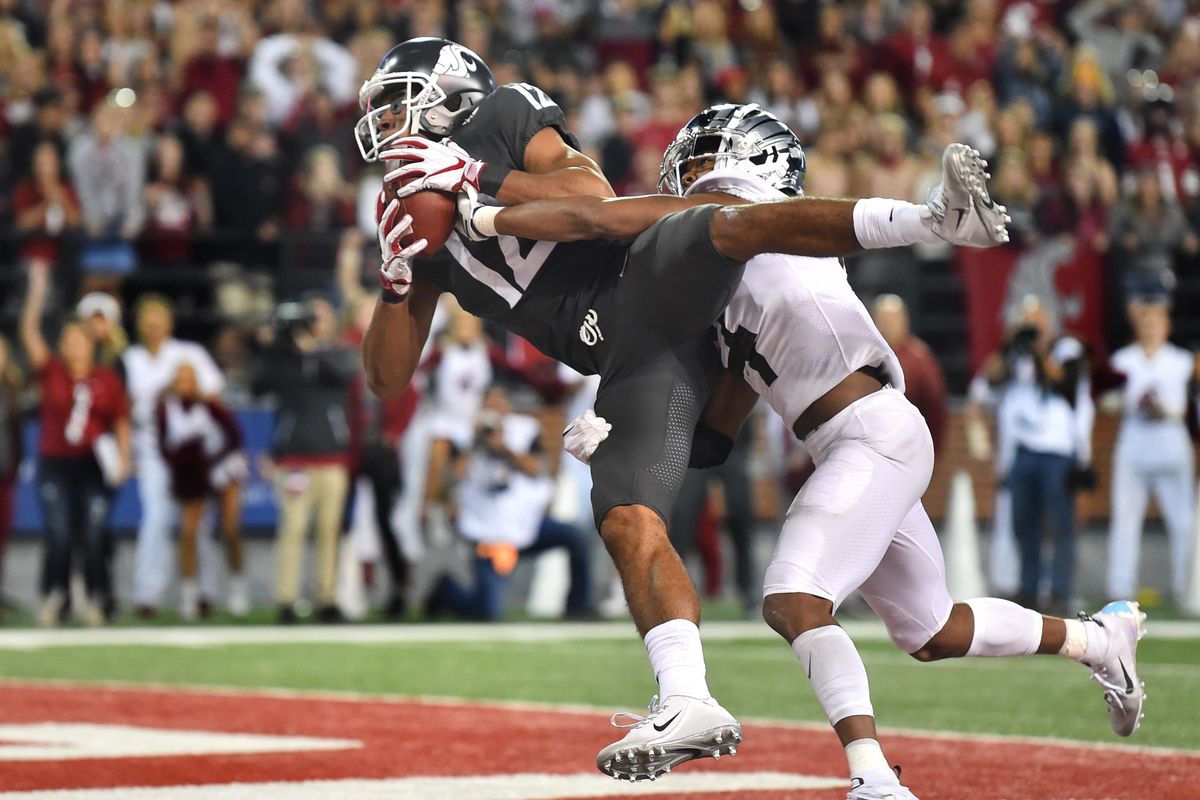 Washington State Cougars wide receiver Dezmon Patmon (12) hauls in a touchdown pass against Oregon Ducks cornerback Thomas Graham Jr. (4) late in the fourth quarter of a college football game on Saturday, October 20, 2018, at Martin Stadium in Pullman, Wash. WSU won the game 34-20. (Tyler Tjomsland / The Spokesman-Review)
Has there been more of a win-win Saturday for Washington State University?
The Cougars won the morning with the three-hour Palouse advertisement that was ESPN's College GameDay. And they won the all-important football game with Oregon in the afternoon and evening, holding on after a tense second half to beat the Ducks 34-20 before 33,152 at Martin Stadium.
From the pre-sunrise celebration to quarterback Gardner Minshew crowd-surfing after the game, it was a day those in Pullman will never forget.
What they saw …
It's obvious that Tim Brando, who was doing the game play-by-play for Fox, saw the GameDay show in the morning, the first time ESPN had brought its iconic pregame extravaganza to the Palouse. But you wouldn't have known it from his pregame comments, which alluded to the event but never mentioned the competition's party.
Which is odd since Brando, early in his career, hosted the first two years of the show when it was in Bristol, Connecticut. And later, when he and Spencer Tillman, who was doing the color commentary for Fox, spoke about the Cougar flag touring the country, they still didn't mention ESPN, though Brando did refer to its headquarters city.
But all that was a sideshow to the main event, the 5-1 Cougars versus the 5-1 Ducks. WSU going for its fourth consecutive win against Oregon.
And what turned out to be a dominant first half.
A half that included Washington State having a 295-39 edge in yards, an advantage of almost 23 minutes to 7 in time of possession and a 27-0 lead.
Oh, and James Williams scoring the first touchdown on a highlight-reel run. It came off the "Big Gulp" formation, Leach's version of the swinging gate designed by a friend with Microsoft.
During the 24-yard, first-quarter scamper, Williams was touched by either nine or 10 Ducks, though none did more than touch him.
"I don't believe what I just saw," Brando said of the run, using his signature call.
It was just the beginning of many of the heard-it-before sayings, like Tillman describing Williams as "smoke through a keyhole" and laying on "a 211 in progress" after Travell Harris stole a key pass late in the game from Jevon Holland.
That allowed Minshew, who threw for 323 yards and four touchdowns, to once again play the starring role postgame, among the students and fans who rushed the field.
"They gave us the best atmosphere I've ever seen," Minshew told sideline reporter Holly Sanders, surrounded by a crowd of the fans who supplied it.
What we saw …
Sanders called it a tale of two halves when talking to Mike Leach afterward, but it was more a tale of maybe the best half WSU has played under Leach – and an equally awful third quarter.
From 27-0 to 27-20 early in the fourth, it looked as if the Cougars had lost momentum and most of their hope.
That is, until Minshew threw a 37-yard, hope-he-catches-it rainbow toward Harris. The 5-foot-9 slot receiver outfought the 6-1 Holland, giving WSU its first big play after halftime. And it led to Minshew's 22-yard, game-clinching pass to Dezmon Patmon with 3:40 left.
That allowed Tillman, the longtime Fox analyst, to explain what happened. And when he did that, he was clear, concise and informative.
The clear part was echoed by Fox's high-definition images, one of which included a first-half close up of Oregon quarterback Justin Herbert, after being hit again by a Cougar, mouthing the words "what the" followed by a word that probably made lip-readers across the nation blush.
What WSU was doing in the dominant first half was attacking new right tackle Brady Aiello, starting because of an injury that necessitated some shuffling on the Oregon line. Add in a series of late blitzes, and the Duck offense was reeling.
But Oregon made adjustments at halftime, leaving a running back in to block and allowing Herbert more freedom to run. They worked.
"This is a game of adjustments," Tillman said, "and now Washington State has to find a solution."
The Cougars did, though it took a while and caused more than a few headaches. Or maybe those were from Wazzu fans being up since before 6 in the morning.
We'll never know. All that can be said with any certainty is from before dawn to after dusk, it was a day for Cougars to remember.
Local journalism is essential.
Give directly to The Spokesman-Review's Northwest Passages community forums series -- which helps to offset the costs of several reporter and editor positions at the newspaper -- by using the easy options below. Gifts processed in this system are not tax deductible, but are predominately used to help meet the local financial requirements needed to receive national matching-grant funds.
Subscribe to the Cougs newsletter
Get the latest Cougs headlines delivered to your inbox as they happen.
---