News > Spokane
Friends and family gather to remember teenage shooting victim Eddie Daniels
Oct. 21, 2018 Updated Mon., Oct. 22, 2018 at 8:40 p.m.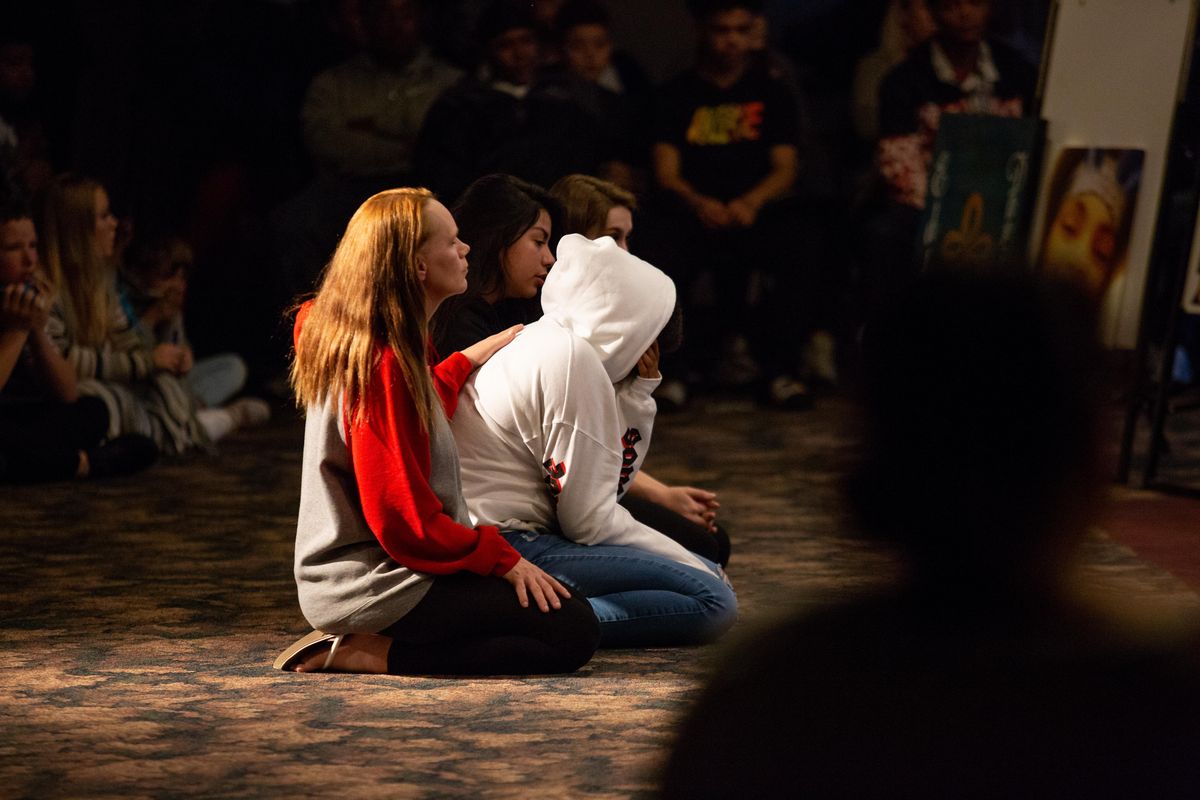 People attending a benefit for Eddie Daniels IIl kneel at the front of the house in memory of Daniels at Healing Hands Ministry on Oct. 21, 2018. Daniels was a 15-year-old student at Lewis and Clark High School and an active member of Youth for Christ. (Libby Kamrowski / The Spokesman-Review)
While a few of the friends and family gathered to honor the memory of 15-year-old Eddie Daniels III said they loved his smile, most said the best thing about him was his kind, welcoming heart.
Hundreds of of community members gathered Sunday night to remember Daniels, who was shot in downtown Spokane last week after police say a man tried to sell him and several other minors a marijuana pipe. Joel C. Taitch, 27, was arrested for allegedly shooting Daniels and appeared in Spokane County District Court Thursday on a second-degree murder charge.
While some attendees at the gathering shared their reactions and shock at Daniels' unexpected death, many stood up in front of the crowd and shared their favorite memories of playing sports, such as boxing and wrestling, with him, while some recalled how he went out of his way to make their day better.
A few students who spoke publicly were Daniel's classmates from Lewis and Clark High School, but many were friends from middle and elementary school.
Exavier Williams, a 14-year-old North Pines Middle School student, said he first met Daniels when he introduced himself in the Chase Middle School lunchroom. After becoming friends, they played basketball and video games regularly. He said Daniels was friendly and loved making others happy.
"Once you get to know him," Williams said, "He's a sweet, nice person."
Daniels' girlfriend, Lexy Franks, 13, said she had known him since elementary school and was always struck by how happy and welcoming he was to others. She said Daniels was usually surrounded by friends, but was always open to making more.
"He always was with a big group and (there was) always a couple of new faces," she said.
The event included a benefit concert, which featured a tribute performance from three teenage rappers who were friends of Daniels, a performance from Christian music artist Triple Thr33 and Christian messages from Youth for Christ leaders.
The event, which also included a candlelight vigil and march, was hosted and organized by Youth for Christ and The Healing Room to raise money for Daniel's family and funeral expenses.
Jeff Ross, City Life director at Youth for Christ, said Daniels, who frequented the youth center, was like a son to him. He said the group raised about $5,900 through GoFundMe and $3,500 at the benefit concert. Their goal is $10,000.
Local journalism is essential.
Give directly to The Spokesman-Review's Northwest Passages community forums series -- which helps to offset the costs of several reporter and editor positions at the newspaper -- by using the easy options below. Gifts processed in this system are not tax deductible, but are predominately used to help meet the local financial requirements needed to receive national matching-grant funds.
Subscribe now to get breaking news alerts in your email inbox
Get breaking news delivered to your inbox as it happens.
---