News > Nation
Man orders 2 waters at NC restaurant, leaves $10,000 tip
UPDATED: Sun., Oct. 21, 2018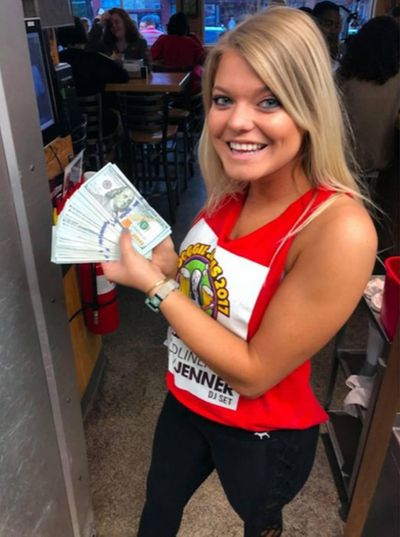 A man walked into Greenville, N.C.'s Sup Dogs restaurant Saturday and ordered two waters.
He had a few sips, and then left $10,000 in cash on a table, with a note that said "thanks for the delicious water," Sup Dogs owner Brett Oliverio said.
"Ended up being a YouTube star, Mr. Beast," Oliverio said. "They filmed the server's reaction as she picked up the money. Crazy."
Sup Dogs in downtown Greenville is a favorite of residents and East Carolina University students, and customers have left big tips before – But nothing like this.
"That's the biggest ever," Oliverio said. "Second closest was $500."
"Good people are still doing good things these days," Mr. Beast said, according to Oliverio.
The server who gave Mr. Beast his waters was ECU student Alaina Custer. She kept some of the tip, but "wanted to split it" with the rest of the staff, Oliverio said.
"I literally didn't think it was real," Custer said. "I picked it up and it was a giant stack of hundreds. I was shaking and just kept asking Bret, 'What is this?' I thought someone was playing a joke on me."
Custer said when Mr. Beast left his table, there were two other men at another table "just kind of watching my reaction and filming. I was so in shock I didn't even realize he was filming until after."
After delivering the waters to the table, Custer said she gave Mr. Beast and another man he was sitting with a moment to look at their menus. When she returned, they were gone, leaving the cash and the note on a napkin in silver marker.
"I tried to start counting, but I was shaking too bad and it was way too much to count," she said.
When Custer went to serve a second table with the two men who had a camera, she said she asked if they knew what was going on with the generous tip.
She said the men asked her to subscribe to Mr. Beast's YouTube channel.
"They just told me about their YouTube channel and how they were going around blessing servers' days," she said. Then, Mr. Beast and the other man returned to rejoin their crew and Custer said she "hugged them all."
"I was so blessed to have that money," she said. "I mean, most of us that work at Sup Dogs are broke college kids and that's going to help me out so much. We got to all split it up, which will help a lot of people."
Mr. Beast is a North Carolina YouTuber named Jimmy, with more than 8.8 million subscribers who has done multiple videos featuring large donations, such as $30,000 to his favorite Twitch streamer, dropping $20,000 from a drone, tipping a pizza delivery person $10,000 in cash and more.
Local journalism is essential.
Give directly to The Spokesman-Review's Northwest Passages community forums series -- which helps to offset the costs of several reporter and editor positions at the newspaper -- by using the easy options below. Gifts processed in this system are not tax deductible, but are predominately used to help meet the local financial requirements needed to receive national matching-grant funds.
Subscribe to the Coronavirus newsletter
Get the day's latest Coronavirus news delivered to your inbox by subscribing to our newsletter.
---