News > Idaho
There are clear differences in the Idaho congressional race between Russ Fulcher and Cristina McNeil
Oct. 21, 2018 Updated Sun., Oct. 21, 2018 at 9:35 p.m.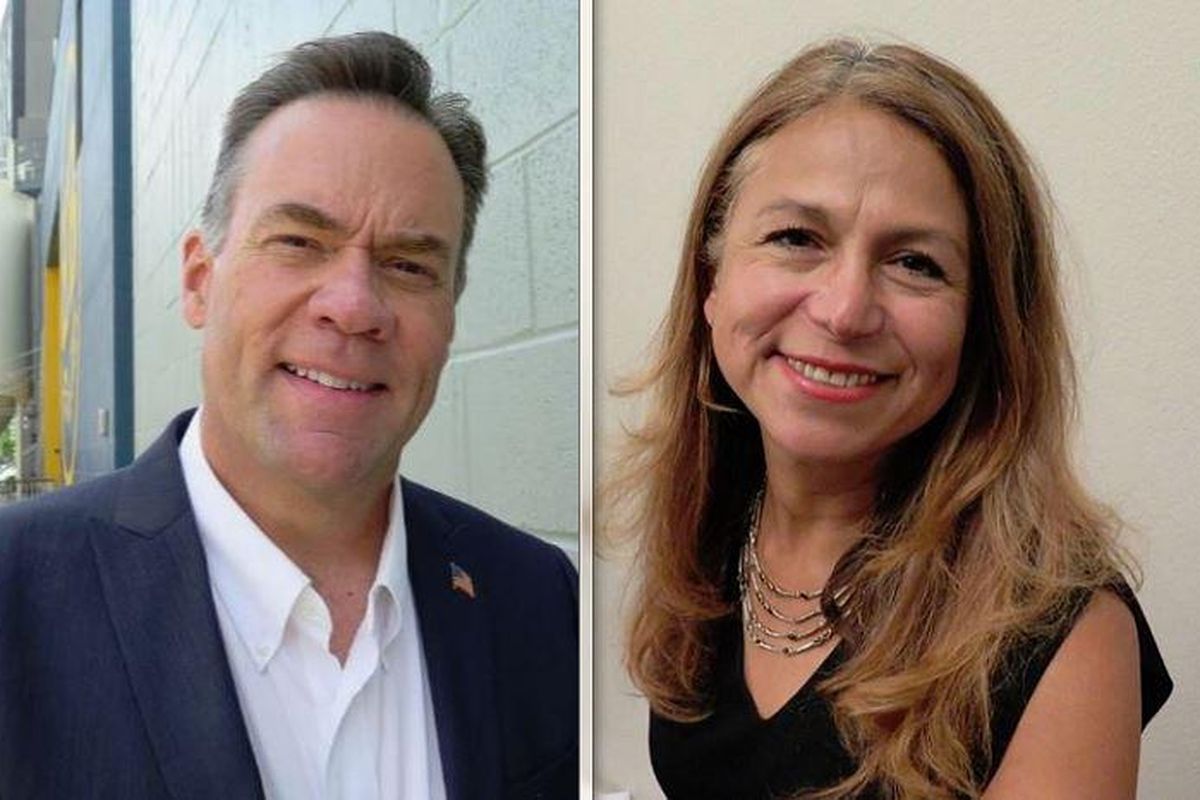 Republican Russ Fulcher faces Democrat Cristina McNeil in the November 2018 election to replace Raul Labrador in Idaho's 1st Congressional District. (Betsy Z. Russell / Idaho Press)
In a state where Republicans hold every seat in the congressional delegation and every statewide office, Republican Russ Fulcher might seem guaranteed a win in his bid for the open 1st District congressional seat against Democratic hopeful Cristina McNeil — but Fulcher doesn't see it that way.
"There's a dynamic on this ticket that at least in my memory, we've never had before," Fulcher said. He cites "an era in which female candidates have been doing really well, all across the country;" a high-profile race for governor of Idaho between former Democratic state Rep. Paulette Jordan and Republican Lt. Gov. Brad Little; and the strong national focus on politics surrounding a high-profile and controversial president.
"We just don't know who's going to be motivated to show up at the polls," Fulcher said.
While Fulcher served 10 years in the state Senate and ran unsuccessfully for governor in the GOP primary in 2014 as a tea party favorite, McNeil is making her first run for office. But the real estate agent and community organizer, who also co-chairs the Idaho Democratic Latino Caucus, said she's been seeing interest in her campaign from across the country.
"I've been having a lot of people from other states calling," she said. She tells them she raised less than $5,000 in her three-way contested Democratic primary. "They say, 'What, and you won?' I say, 'Yes, I did!' " she said.
She hasn't raised much more than that since the primary. According to federal campaign reports, McNeil only had raised about $13,000 by the end of September.
That's about 60 times less than the amount Fulcher had raised: $800,000.
McNeil said she believes "a tight group" of dedicated volunteers making calls or knocking on doors can be more powerful than a million-dollar TV ad campaign.
"We're also focusing quite a bit within the Latino community," she said. "Twelve percent of the population of the state of Idaho is Latino. I want them to know there is someone there bringing the voice and representing them."
McNeil has campaign literature printed in both Spanish and English. A dual citizen of the United States and Mexico, she's long been an advocate for immigration reform and social justice as a community organizer; she served as vice president of the Idaho Community Action Network. Health care is a top issue for her; she's outspoken in favor of the Medicaid expansion initiative that's on the November ballot, which Fulcher opposes. She also lists education and reducing mass incarceration among her top issues.
"We are building more prisons and less schools," she said.
Fulcher said that as he travels the state, he hears about the same three top issues everywhere he goes: health care, immigration and federal lands.
Fulcher challenged fellow Republican Gov. Butch Otter in 2014 largely over Otter's push for Idaho to create a state health insurance exchange under the Affordable Care Act, a move Fulcher opposed. He said he still favors market-based solutions for health care, such as health savings accounts and increased transparency. Care needs to become more affordable and accessible, he said.
Expanding Medicaid might help with affordability "in the short term," he said, "but the access component is a different deal." He fears health care providers won't want to serve those newly covered under Medicaid, because government reimbursements for Medicaid and Medicare are below those from private insurers.
"My fear about Medicaid expansion is that it does not satisfy the accessibility component, and therefore I don't support it," he said.
McNeil believes health care is "a basic need and should be available to all."
Fulcher and McNeil could hardly be more different on immigration issues. He supports increased border security, and for legal immigration, favors doing away with "chain migration" that allows family members to bring in their relatives in favor of a "merit system."
"People have abused that with their kids, trying to use family as a tool for legalized citizenship," Fulcher said.
McNeil favors new options to allow migrant workers to work legally in Idaho industries like agriculture and manufacturing and supports legal status for young Dreamers who were brought illegally to the U.S. as small children.
"The public has been misinformed about this complex issue and we must set the record straight," she said on her campaign website. "Idaho is the fastest growing state in the union. We cannot plant and harvest our crops, tend our livestock and operate our dairies without immigrants."
Fulcher said his position on public lands has evolved.
"Four or five years ago, I'd have said there needs to be a land transfer," he said, from the federal government to the state. Now, he said, "What I'm learning is there needs to be some wisdom in how it's managed."
With wiser management, he maintains, federal public lands could produce more and have fewer catastrophic wildfires. Asked about the role of climate change in the worsening wildfires, Fulcher said, "I'm not a big climate change guy. If you look far enough back in history, things cycle." He added, "To be honest, I haven't spent that much time thinking about it."
Overall, though, he believes public lands in the West need to produce more because in the future, Easterners will stop being willing to subsidize the West. Currently, Idahoans pay less in federal income taxes than they receive back in government spending.
Both candidates have MBA degrees. Fulcher, 56, had a 20-year high-tech career with Micron Technology and Preco Electronics and now works in commercial real estate. McNeil, 51, was a business owner in San Diego for five years before moving to Boise in 2003 and opening a business there. She struggled as a single mother during the economic downturn, giving up her "no longer affordable home" in 2008 to rebuild in "the new economy."
McNeil favors infrastructure investments; increasing the minimum wage; legalizing medical and recreational marijuana; and finding "common ground" on issues ranging from forestry to transportation.
She recognizes that some in conservative Idaho aren't receptive to her message. When she walks parade routes in small Idaho towns, "I have had some experience that some people won't take my card," she said. "But I haven't had anyone insult me."
McNeil said she's had conversations with some voters who are initially open to discussing issues but shut down when they find out she's a Democrat. But others remain receptive despite party labels. "They feel betrayed, like a lot of people have felt," she said.
In addition to McNeil and Fulcher, the 1st District race has five other candidates on the ballot: Independents Gordon Counsil, of Caldwell, Paul Farmer, of Meridian, and Natalie Fleming, of Fruitland; Libertarian W. Scott Howard, of Post Falls; and Constitution Party candidate Pro-Life, who was known as Marvin Richardson before the organic strawberry farmer in the southwest Idaho town of Letha legally changed his name.
Betsy Z. Russell is the Boise bureau chief and state capitol reporter for the Idaho Press and Adams Publishing Group. Follow her on Twitter at @BetsyZRussell.
Local journalism is essential.
Give directly to The Spokesman-Review's Northwest Passages community forums series -- which helps to offset the costs of several reporter and editor positions at the newspaper -- by using the easy options below. Gifts processed in this system are not tax deductible, but are predominately used to help meet the local financial requirements needed to receive national matching-grant funds.
Subscribe now to get breaking news alerts in your email inbox
Get breaking news delivered to your inbox as it happens.
---